Serena Williams is Not a Cry Baby, and Here's Why
Hang on for a minute...we're trying to find some more stories you might like.
One of the biggest topics of debate in the world of sports right now is the U.S. Open–specifically, one particular match.
During the second set of the match, chair umpire Carlos Ramos charged Serena Williams with three code violations for which she would ultimately be required to pay $17,000 in fines.
These were not the only costs.
The first was a warning for coaching (communicating with her coach during a game), which cost her no points. The second two — racket abuse and abuse of an official — cost her a point, then a game. The International Tennis Federation (ITF) strictly prohibits these three things; no one is contesting that. The real debate is whether Williams was fairly treated in the enforcement of these rules and the severity of such enforcement.
In the past, Ramos has had several heated disagreements with male tennis players that have turned out differently.
Alex Abad-Santos of Vox, a news website, says that Serena's treatment is so astounding because "male tennis players frequently aren't punished and are sometimes even celebrated for defending themselves against what they perceive to be bad calls."
In John Isner's match against Nicolas Jarry, Isner had a complete meltdown after losing a game and looked at his coach in the midst of it. Then he destroyed his racket. Isner was only given a verbal warning in response.
The issue is much more complicated than the question of Serena violating ITF rules.
Why does this matter for us as Whitman students? Why should we care?
Similar things affect your classmates, neighbors, even your closest friends. The majority of our school is comprised of women and a good percentage of them participate in sports in one capacity or another.
The Wire spoke with several current and former Whitman athletes to see what kind of impact incidents like these really have. Sophomore Blythe Eickerman and junior Akane Kleinkopf are on the ultimate frisbee team. 2018 graduate Kendra Winchester used to play for the Whitman basketball team. Senior Sierra Meyers is on the volleyball team.
If you are familiar with the Serena Williams incident, what are your thoughts on the matter? Do you think she was right to contest the calls?
Winchester:  "I think the entirety of Serena's career has been fraught with gender and race discrimination. It has been so infuriating to watch, but at the same time empowered me. Although I was never on the same magnitude as her in terms of my sport, I felt as if I was right by her, feeling those same feelings and saying those same things. I believe that in any sport, talking to a ref about a call or what is happening during a match, game, etc. is completely appropriate. From my experience, even if a ref will not change the call there is always opportunities to have a discussion about why they made that call. When you're in that moment, you are just an athlete who is filled with adrenaline and frustration. The world sees otherwise. They see you as a woman overreacting, a black person who is aggressive and angry, etc. It's unfair, and it hurts."
Meyers: "There are a whole host of things I take issue with on this matter. The most stunning of them being the absolutely terrible "Herald Sun" cartoon where Serena is portrayed as a ginormous angry crybaby (there is an actual binky on the floor of the court) and her opponent Naomi is portrayed to be a white blonde woman, tiny in comparison and respectfully holding her racket and talking with the umpire, and it's just absolutely ridiculous. You see a picture of them side-by-side, and they are almost exactly the same size. This is just another thing that is out there to tear Serena down, and it is a racial issue and also incredibly sexist because, as Serena pointed out herself, if this was a man using the word 'thief,' there wouldn't be an issue … However, I will say there is some good in this because Serena brought to light the rampant sexism that is prevalent in the sport of tennis and really every sport (and aspect of life unfortunately) … but unfortunately Serena is having to take this entire wave of criticism, and it is taking away from the legend that she is as just an athlete, and now she has to be up for conversation all of the time. She should just be able to go and enjoy the thing she does best, and instead she is having to take on this social change that is so desperately needed by herself."
Have you ever experienced anything similar? Have you ever experienced something in an athletic environment that you would consider to be gender discrimination? How did it make you feel?
Kleinkopf: "Losing one's temper is always going to be detrimental – there's almost never a time (especially in women's ultimate) that there won't be consequences for yelling at someone. However, I have noticed that men in ultimate seem to discuss calls more passionately while women are expected to discuss calmly. Perhaps I have been inadvertently contributing to the idea that women in sports ought to be quiet and dispassionate."
When talking about playing mixed or co-ed matches, Kleinkopf said, "there are always gender dynamics at play. Women always have to prove themselves worthy of respect while men have to prove themselves unworthy. In my experience, men get more touches on the disc, more space to work with and more credit. In high school, the girls' team got kicked off our own field because the boys accused us of stealing their frisbees (which we didn't). It was infuriating and frustrating and made me believe to some extent that girls were just worse than boys at ultimate. We just weren't getting the resources and respect we needed to learn."
Eickerman: "When I played varsity volleyball in high school, there was a time where I was changing my jersey (I played Libero, so I had to switch to be the opposite color jersey as the rest of my team) within my team's huddle, so no one could see me, but the ref (I can't remember if they were a man or woman, but I'm not sure it particularly matters) called it a violation and gave me a yellow card. To be fair, I don't know what would've happened if I were male and can't compare it to any other instance exactly. But I do believe there were times in high school where the boys' teams had more leniency with changing jerseys as opposed to the girls teams. It never feels good to realize that, as a woman, you can be doing something and be really good at it and still not get the recognition and/or support that you would/might if you were a man."
Winchester:  "I remember a specific incident where I received two offensive fouls back to back. It was beyond frustrating. I always felt supported by coaches, staff and fans, but nothing was ever done about it. They were upset and would speak to the refs, but nothing ever happened as a result. We would always have to change our style of play to adjust to what the refs were calling … I always found that the women's teams were given more fouls than men's teams. This was particularly frustrating to me because I played center and was always larger than most of the other people I would play. I think that two things were a part of these. 1) gender discrimination – women are not as strong and too fragile to be fouled and pushed around like men. 2) I personally felt like I was trying to prove that I was always as strong as men were. And that is because I was. We should not be penalized for being strong and physical. It is confusing to grow up and have coaches, etc. tell you to be both strong and physical then to go into a game and get punished for those very things that I was told to continue to do."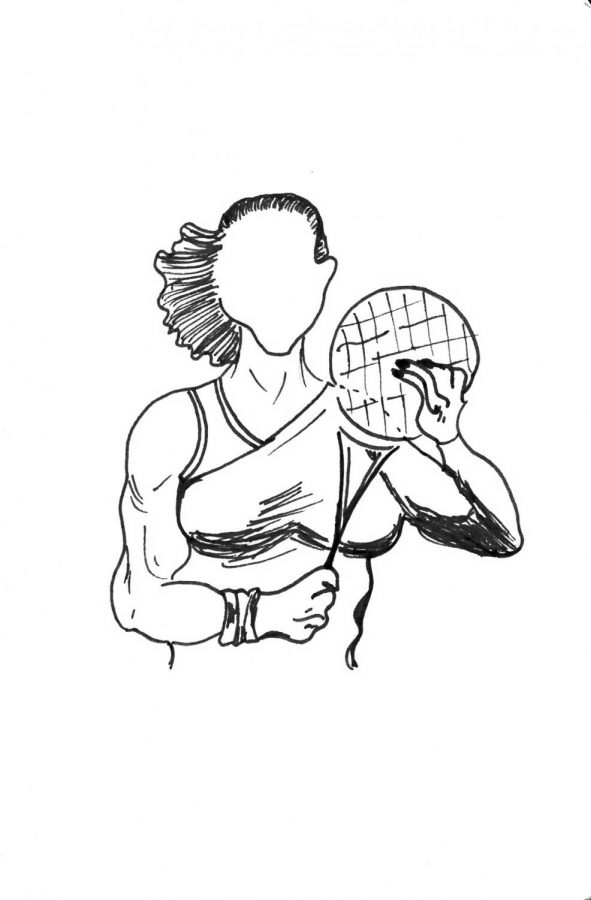 Meyers: "I can remember … a boy telling me in casual conversation that girls could never be good wrestlers because they just are not strong enough. And I looked at him and said, 'Oh really, that's interesting, maybe I should try out and see how it goes.' So I literally, because a boy told me I couldn't, tried out for the wrestling team, made the team and ended up winning the district championship and made six boys cry. I just needed to prove to myself and to this a-hole that I could do it and that I didn't need to lay down and make men feel comfortable. We're so used to taking the sexism constantly that we end up just saying 'whatever' because we don't want to get into it, but that was just something where I was like, 'I'm a phenomenal athlete, and I can pick this up and be pretty good at it, and I wanna give men a run for their money and remind them that we are just as strong and capable and watch me."'
Overall, do you feel supported by the college as a female athlete?
Kleinkopf: "I feel that Whitman has been great with our team. We get field space, funding and respect as a club team, and I've never had the feeling that the men's team was receiving some sort of advantage. But we play a club sport that plays at tournaments instead of regular games, which is very different from varsity sports. I notice that women's varsity sports never have nearly as many spectators as the men's sports. As a female athlete, I feel that I am receiving plenty of resources and support from the school, but I also notice that women's sports in general on this campus need to be lifted up more."
Eickerman:  "There's been a lot of talk between the frisbee teams here on campus about bringing in more conversations about equity – especially gender equity – within our Whitman Sweets community. I'm actually working with Josh Shin from the men's team to create more opportunities to discuss and hopefully recognize and eventually get rid of instances of gender discrimination or bias within our teams. This is a super cool position/committee that Akane Kleinkopf, Hannah Filley and Mackenzie Timbel (the women's captains) created this year for the team."
Meyers: "I definitely think there is some sexism in Whitman athletics; I don't think any environment is rid of that. Specifically, last year there was a time where emails were being sent out inviting Whitman students to come out and support men's sports and the homecoming of the men's basketball team; meanwhile, the women's team had also just been in Texas competing in a high-profile tournament and no such email was there for them."
While these women cannot speak for all female athletes on this campus, there seems to be an acknowledgement of an issue both on and off campus.