Women's Soccer Preseason in Chicago
The Whitman women's soccer team began their 2018 season on the road, playing against the University of Chicago and Illinois Institute of Technology. Whitman suffered a 5-0 loss to the University of Chicago and ended in a 1-1 draw against the Illinois Institute of Technology. However, the team looks to take this tough preseason to spark fight and determination, as they begin to approach conference season.
The squad includes five seniors graduating in the spring, including senior center back, Chelsea Day. "It can be truly difficult for each person on the soccer field to be in sync, however, when it happens, our team displays our true capabilities," Day said.
Day starts off her senior year with enthusiasm for her final year in a Whitman jersey. "I am so excited to be playing soccer with a sizable group of strong, incredible and independent women," Day said. "Everyone on the team works so hard to support her fellow teammates and I believe that is one of the keys to the success of the team and hopefully the season," Day commented.
The squad also added six first-year players to the roster after losing two seniors in 2017. The first-years have made an immediate impact on the energy and pace of the game, including first-year defender Mehrija Selava.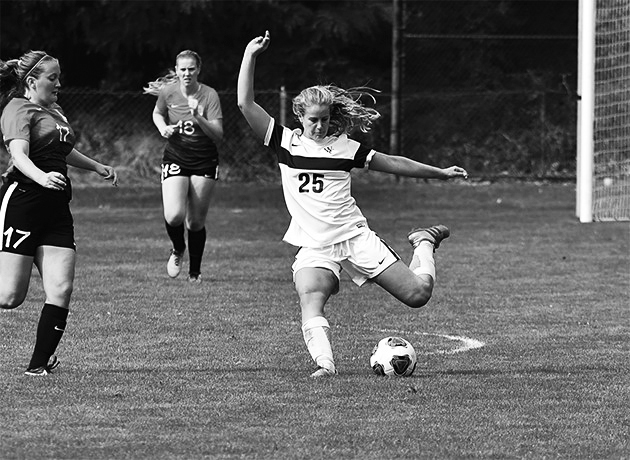 Selava speaks highly of one of her first collegiate soccer experiences. "Being able to play one of the best schools in the nation was truly an inspiring event for me," Selava said. The trip also allowed for a little team bonding as the season is just opening up. Selava, as a first-year, already expresses love and high hopes for her team this season. "I can easily say that this is the most supportive team I've ever been on in my years of playing soccer. The girls on the team have made me feel as though I've known them for years," Selava said.
From first-years to seniors, the whole team shares a positive and optimistic mindset heading into the rest of the 2018 season. The Blues head to Tacoma this weekend to begin conference play, taking on the sixth ranked University of Puget Sound and fifth ranked Pacific Lutheran University.