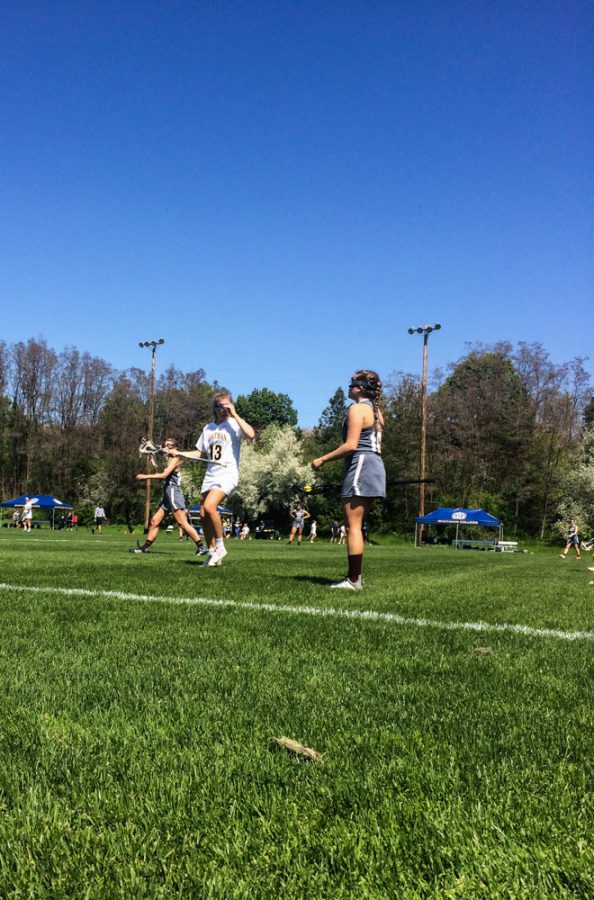 Chloe Carothers-Liske
Lax Program Establishing Itself as NWC Contender
The lacrosse season ended this past Sunday, as The Blues beat Puget Sound 20-3 to finish the season with a record of 7-5 (5-2 in the NWC) in only the fourth year of the lacrosse program. After a season with a new coach, the players shared their thoughts with The Wire and let us know how this season went for the team.
Nina Moore, a sophomore from Freeport, Maine, shared her expectations from before the season started. "I expected us to be contenders in the conference and face some stiff competition in out of conference games over spring break in Florida. I expected there to be a lot of growth, as we're still a pretty young team (only four upperclassmen), and especially with a new coach, I expected the learning curve to be pretty steep," Moore said.
Lindsay Schwartz, a junior from Kilder, Ill., talked about the arrival of a new coach. "Coach Kirk has a really focused 'work hard, play hard' approach. She pushed us physically and mentally in ways that our team hasn't been pushed before, adding much more conditioning and more plays than we were used to having. Practices were fun but definitely hard work," Schwartz said.
Ellie Teare, a sophomore from Yarmouth, Maine, talked with great enthusiasm about the change brought by the new coach. "There has been a huge change. She brought a lot of commitment and intensity to our program. I think she has a great eye for the game, which has improved our team strategy and how we work as a unit. I have grown more this season than I have in any season before," Teare said.
Moore also shared her opinion about the environment on the team this year. "I think our program is special and unique in that it celebrates each player not only for their talent, but also for their individual personality. The flow of the game is really beautiful when we're working together like that," Moore said.
Teare highlighted the beginning of the season, that proved to be difficult because several players had concussions and other injuries. "We lost eight players at the beginning of the season, we had a really rocky start. We did not even think we were going to field the team. Everything was up in the air at the beginning of the season," Teare said.
Moore also mentioned the rivalry with George Fox, a program that they have not been able to beat. "I'd say our main goal is to come out at the top of the NWC, and that specifically entails beating George Fox," Moore said. "A decisive victory over the Bruins would be really exciting for the program moving forward, as we have yet to beat them since becoming a varsity sport."
Scwartz had a few words about her teammates' work this season. "Keifer Nace is an incredible teammate and an integral part of our defense as well as mental game. She always keeps a level head when it is hard for others to and keeps everything in perspective. Olivia Engle works her ass off every single game without fail. She brings a level of intensity that is unmatched. Then of course we have our two graduating seniors, Emma Bishop and Kate Whittingham, who started the varsity program their first year and stuck with it throughout. They have always brought a special aspect of fun to practice while being understanding mentors to the rest of the team," Schwartz said.
"I'm excited to see the team reach new heights next year. We hope to successfully compete in more out of conference games and even win our conference." Schwartz continued, "I'm also excited to see the growth of our first and second year players, they all have so much potential and will be key players in the years to come." 
With young players, the lacrosse team looks forward to next season to defeat George Fox and finally get to the top of the Northwest Conference.