Why You Should Follow the MLB
Hello peers,
I am writing to let you know that Whitman students should pay attention to the MLB. Why? Because exciting things are happening in the places where Whitman students tend to be from! I am talking about Seattle, California, Colorado and Minnesota of course (sorry Oregon, but at least you have the Trailblazers, and if you really want to watch baseball, the Bend Elks play the Walla Walla sweets in the summertime).
Following a poll of 50 Whitman students from these areas, I learned that students tend to watch only one game a year, and that is mostly conditional on if they actually attend a game as a novel experience. In fact, most students would say that, although they consider themselves fans of their home teams, they can only name one to two players on the roster. With this in mind, here is a breakdown of Whitman MLB teams, why you should pay attention and some fun facts so you can come off as informed if anyone asks.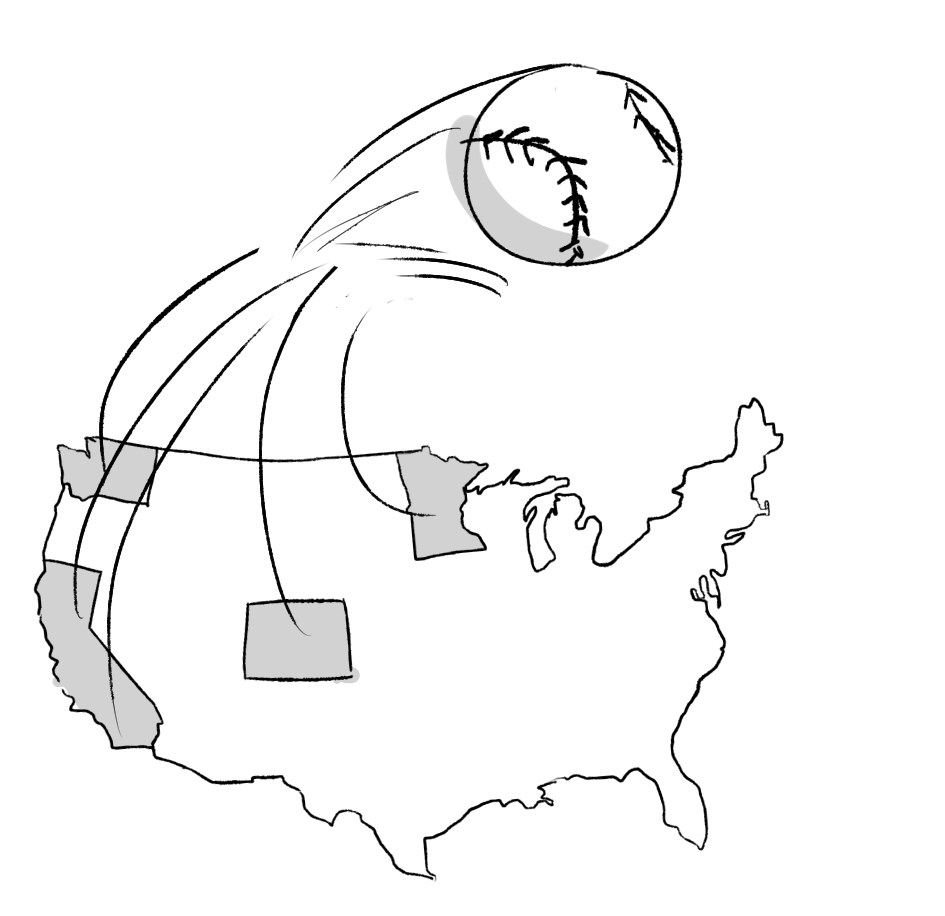 Seattle Mariners: Obviously the best team in baseball (I'm not biased, who's biased?).
At a Glance: Ichiro has returned! Felix is healthy! An eagle landed on our token Canadian's shoulder (James Paxton, look it up)! Good omens abound!
Fun Fact: Kyle Seager, our long-time underrated third baseman, just landed his one-thousandth career base hit on Saturday night.
Whitties appear informed if they know: Seattle fans had mixed feelings about acquiring Dee Gordon from the Marlins, especially considering the M's move to convert the 28 year-old second baseman to an outfielder, but it is going very well so far and the two-time all star has added a hot bat and some speed to our lineup.
San Francisco Giants: The ones who your friend from the bay area pretends to follow.
At a Glance: Madison Bumgarner is injured again, Buster Posey is probably the best catcher in baseball, Andrew McCutchen had six hits in a game last week including a walk-off home run.
Fun Fact: The Giants won the world series in 2010, 2012 and 2014, leading many to think that they were unbeatable in even years. Maybe in 2018 they can restart the pattern.
Whitties appear informed if they know: Infielder Joe Panik became the first player ever to homer in back to back 1-0 victories during the Giants opening series against the Dodgers. It is rare in a team sport that one player can so literally win the game by themself.
Oakland Athletics: The ones from "Moneyball." You saw "Moneyball," it had Brad Pitt in it.
At a Glance: The A's have a talented roster rounded out by young players like third baseman Matt Chapman and veterans like Jed Lowrie (who are both having hot starts with 15 hits). If anything will hold back Oakland this year it is their young pitching staff (although Sean Manaea has had two quality starts so far).
Fun Fact: A's closer Blake Treinen lives in Walla Walla in the offseason and works out with the Whitman baseball team. He also has the sharpest two-seam fastball in the game.
Whitties appear informed if they know: This year, the A's will have a free game on April 17 to celebrate the 50 year anniversary of the team's first game in the Oakland Coliseum.
Los Angeles Angels: The team with the best player (Mike Trout) but no rings to show for it.
At a Glance: The Angels have a powerful offense featuring Mike Trout and Albert Pujols, a solid middle infield consisting of Andrelton Simmons and Ian Kinsler and an underrated pitching staff led by Garrett Richards, Matt Shoemaker and J.C. Ramirez.
Fun Fact: This year, rookie two-way player and international sensation Shohei Ohtani currently has recorded more strikeouts on the mound than all-star Max Scherzer, and has hit more home runs than Yankees slugger Aaron Judge. He also had a perfect game going through six innings in his second big league start. Believe the hype.
Whitties appear informed if they know: Angels slugger Albert Pujols is only 17 knocks away from having 3,000 career hits.
Los Angeles Dodgers: The ones that lost the World Series last year and are back for revenge.
At a Glance: The Dodgers have a fantastic lineup and a top notch pitching rotation. They should be one of the best teams in baseball this year if the pitching staff realizes their potential.
Fun Fact: After the 2017 World Series, Dodgers Rookie of the Year Cody Bellinger has now played in both a Little League World Series and the Major League World Series.
Whitties appear informed if they know: Dodgers ace Clayton Kershaw is still the best left-handed pitcher in baseball after a decade in the MLB. Kershaw, who just turned 30, finished Spring Training with a 0.00 ERA and is on track to have a promising 2018.
Colorado Rockies: The team that has a geographic feature as a mascot (kind of like Whitman).
At a Glance: This is the year the Rockies will win the World Series, just ask Rockies fans. Carlos Gonzalez is back and is already hitting massive home runs, Blackmon just signed for six more years of bearded glory and Nolan Arenado has enough gold gloves to cover every finger on his throwing hand.
Fun Fact: After a few down years, the Rockies had an impressive 2017, finishing 87-75 and clinching their first playoff spot since 2009.
Whitties appear informed if they know: the names Trevor Story, DJ LeMahieu and Jon Gray. Nolan Arenado and Charlie Blackmon steal the spotlight, these playmakers will be incredibly important if the Rockies are going to have another postseason run.
Minnesota Twins: The ones who played their coldest home game in history last week at 27 degrees.
At a Glance: The Twins are off to a hot start in 2018 and are currently at the top of the American League Central Division. Brian Dozier and Byron Buxton will bring consistent defense and solid bats to Minnesota's well-rounded lineup.
Fun Fact: If you ask any Minnesotan Whitman student about Joe Mauer, they will tell you a long story about how they have some vague personal connection to the poor guy.
Whitties Appear Informed if they know: Even though the Twins lack big name pitchers like Kershaw, Sale or Scherzer, they do have a solid staff led by Ervin Santana, Jose Berrios and ex-Mariner Fernando Rodney. Also Joe Mauer is still playing.