March Madness
On March 17, 1939 the first NCAA Division I men's basketball tournament began; only eight teams competed, with the University of Oregon reigning victorious over Ohio State. Every year since, fans have gathered in stadiums across the country and around their televisions to see a now 68-team field duke it out in a single-elimination tournament for the NCAA Division I basketball title.
Beginning on March 11 this year on Selection Sunday, the tournament has been categorized by its vast number of upsets. Just to name a few: 13-seed Buffalo beats 4-seed Arizona 89-68; 7-seed Texas A&M beats 2-seed North Carolina, 86-65; 9-seed Florida State beats 4-seed Gonzaga 75-60, after upsetting 1-seed Xavier 75-70; and 11-seed Loyola-Chicago with four different upsets to place them in the Final Four of the tournament. Little Caesar's even gave out free pizza after 16-seed UMBC beat 1-seed Virginia, 74-54.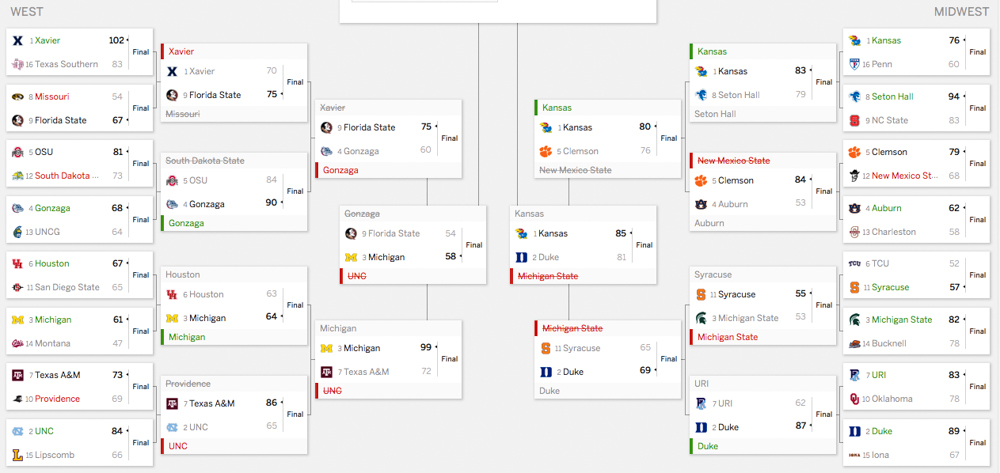 Most of the conversation around these upsets was not only focused on the fact that they were upsets, but also about the many brackets created by fans that were busted much earlier than usual. Matthew Bowman, a first-year at Whitman commented on his now busted bracket.
"I created a bracket, but it is awful. I am usually very good at making brackets but I'm currently only in the seventeenth percentile." He is "usually a Wisconsin fan, but this year I supported Villanova because I like their coach and players. I also enjoy the way they play," Bowman said.
Eric Ma, a sophomore, reported that his bracket, "was busted in the first round since I had Arizona winning it all."
Jo Jo Wiggins, a senior on the men's basketball team, reported the same:
"My bracket is terrible, and as each round goes on it just gets worse." He had been supporting Michigan State, who was knocked out by Syracuse, that had barely made it to the tournament, receiving one of the final spots.
In addition to the long list of upsets, some regulations were changed for this year's tournament, most prominently the fact that the definition of a "quality win" was altered. Winning away now counted much more than winning at home. Some other regulation changes had also been made prior to the start of the 2017-2018 season which would inherently impact the course of the game in the tournament.
When asked why these three students followed the tournament this year, all expressed a love for basketball that brought them back to watching almost every year.
Bowman commented, "I'm a big college basketball fan, and nothing is more fun than March Madness. It's awesome because everyone pays attention and the first weekend is such mayhem. I always compete against my Dad and my friends."
It was almost too obvious that Wiggins would be a consistent watcher of the tournament, given that he was indeed a participant in the Division III version of the tournament. In addition, Wiggins stated, "I watched it a lot as a kid with my family."
Eric expressed the same, considering that, "Being in college and being a basketball fan, I watch the NCAA tournament every year."
All in all, the tournament seems to encapsulate a rollercoaster of emotions, from anger to elation, but ultimatly brings together a unified love for the game. For those who are anxiously awaiting the tournament to come to a close and for a champion to be crowned, the Final Four games will occur on March 31, with Loyola-Chicago facing Michigan and Villanova facing Kansas. The championship game will close the tournament on April 2.