#4 Blues Keep Winning Streak Going
Whitman women's basketball has had an incredible season so far. With a record of 18-1, 18 victories in a row and ranked 4th in the nation, the team has high aspirations for this season. Senior Emily Rommel talked with us about the team's performance and goals. For Emily, the fact that the team is first and undefeated in its conference is a good start for the team's expectation to go far in the NCAA tournament.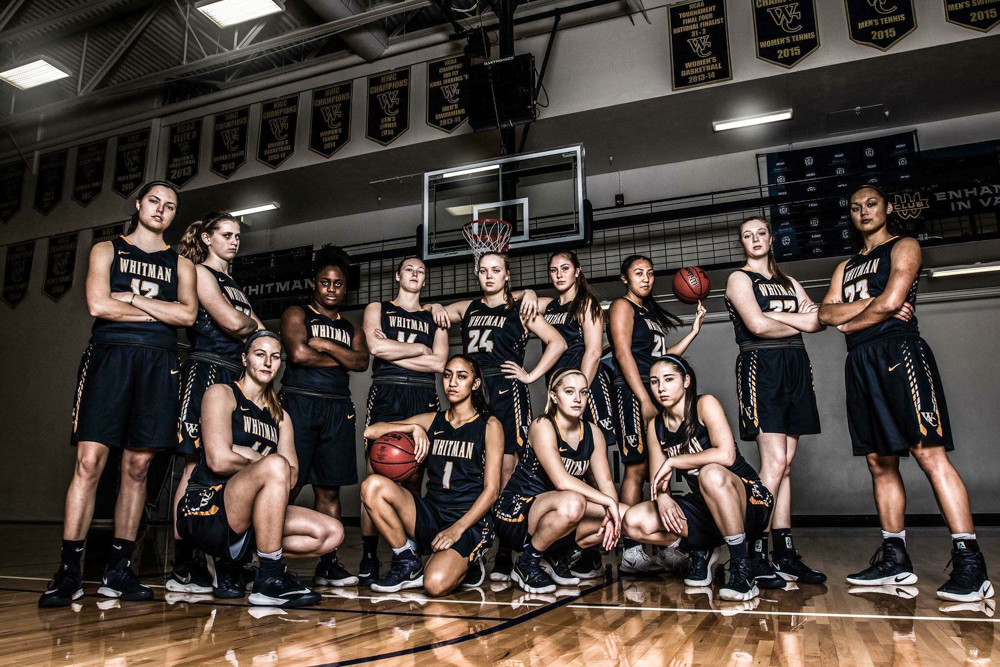 Contributed by Emily Solomon
"It has been one of our goals specifically to make it farther than last year. Last year we made the Elite Eight, despite finishing third in the conference. I think that also shows the strength of the NWC, that three teams went to the national tournament, and we consistently make a deep run. That being said, this year we hope to make the Final Four, and obviously the ultimate goal would be the National Championship," Rommel said.
Sophomore Mady Burdett also expressed her thoughts on the nearly perfect current season and preseason expectations.
"You can never expect a good or bad season because of how tough the Northwest Conference is. But I did realize how good we could (and were going to) be when I finished the first practice of the season and saw how focused and determined the team was," Burdett said.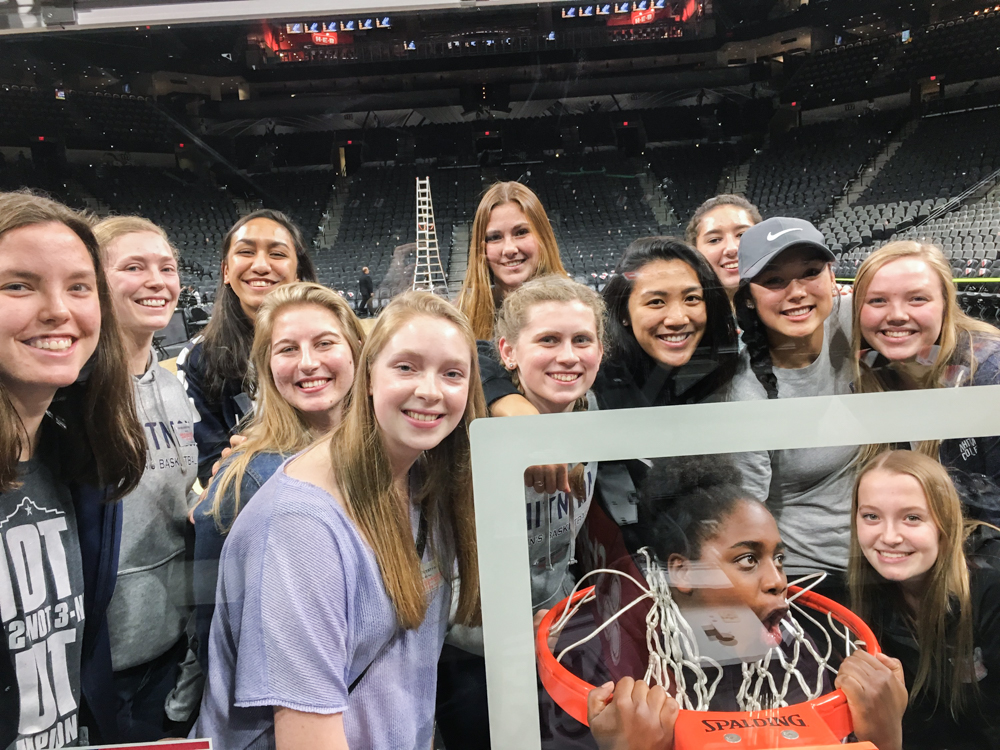 Contributed by Emily Solomon
Rommel was clear on what she thinks are the strengths of the Blues: ball movement and getting everyone involved.
"We take a lot of pride in how much we share the ball. I think we might average the most assists in the country, which is great. It also means that we play really well together as an entire team. We rely heavily on our bench, and it's great to know that we have so many solid players that can go off on any given night," Rommel said.
Burdett praised the work of the first-years, contributing to a top program in their first year of NCAA basketball.
"Our freshman class is really talented. Taylor is really good at setting the pace of our offense and finding open players. Kaelan is a lights-out shooter and always works hard every single practice. Aly Murray is dynamic all around; she will play any position that coach asks her to, never complaining. And Emily Solomon can shoot the three even though she is listed as a post player, which makes it tough for anyone to guard her. All the freshman are so dynamic that it is really tough for defenders to match up. Plus they work hard every single practice, so it's going to be a really fun next couple of years as they will all keep improving and adjusting to the pace of college basketball," Burdett said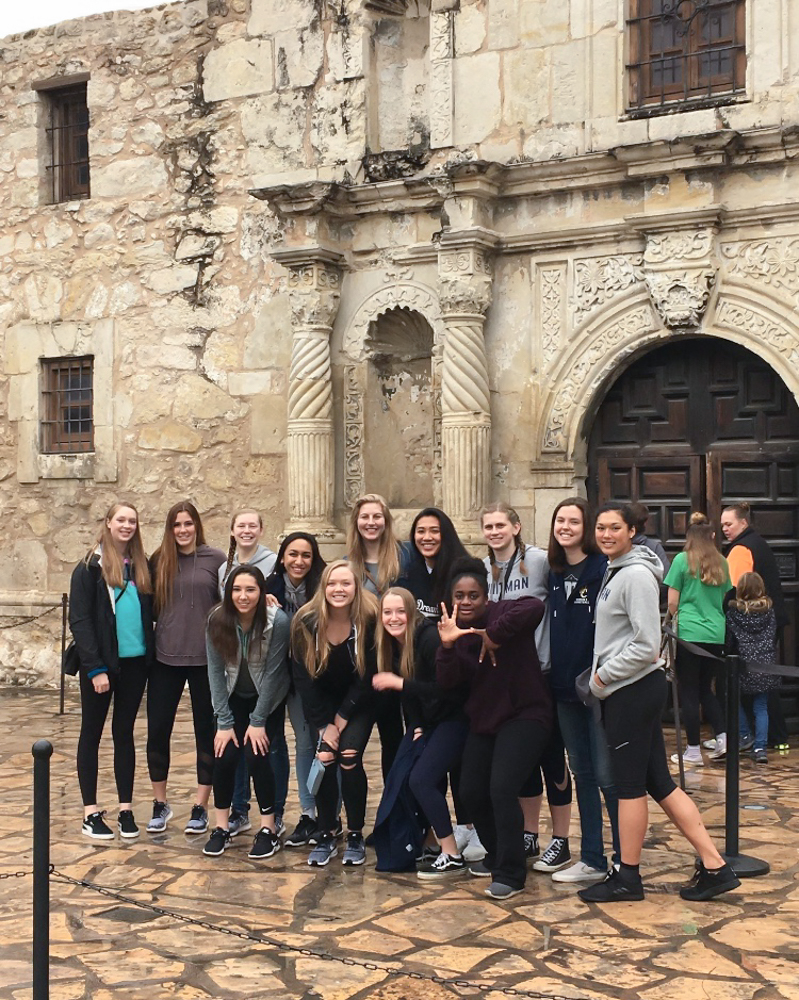 Contributed by Emily Solomon
The end of this season also marks the end for the college basketball careers of seniors Casey Poe, Sierra McGarity and Emily Rommel. The latter two expressed what has made this year and their careers special.
"I'm just really proud of our team and all the success we've been having this year. I know that when this senior class leaves, we'll leave the program with a positive legacy. Personally, knowing it's my last year gives me some extra motivation to give it my all," Rommel said. "My favorite experiences have been traveling to Hawaii with the team, winning the NWC tournament last year and being able to play in the NCAA tournament. Those were such amazing memories that I will never forget," McGarity added.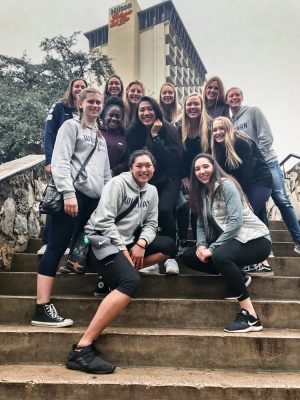 Contributed by Emily Solomon
Burdett also gave her thoughts on the state of the basketball program and what it has already done for her in just her second year.
"I love it. I'm only a sophomore but I can already tell how well this program gives me and the rest of my teammates the ability to challenge each other's ability every single day while still having a really fun time. This balance between working hard and still enjoying each other's company on and off the court is sort of rare, so it is something I really enjoy and acknowledge from the basketball program," Burdett said.
The women's basketball team will finish its regular season playing at Sherwood on February 17 vs. Linfield College. All of us here at Whitman hope that the Blues finish this season reaching their ultimate goal at the National Championship.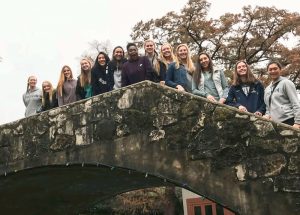 Contributed by Emily Solomon