Expectations High for Blues Basketball
Number one in the nation. Number eight in the nation. Deep runs in the NCAA tournament. Strong cores of returners and dynamic first years. To every opponent Whitman's basketball teams will face this year, the back of the Blues' jerseys are adorned not with numbers but with massive, dripping red targets.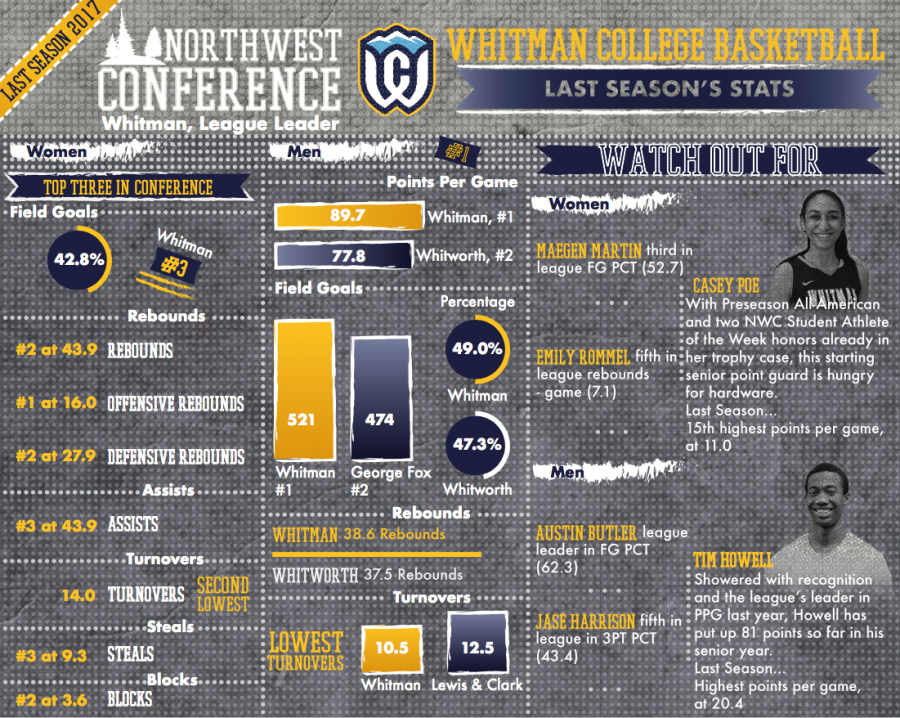 All the rankings and hype mean nothing until the ball falls through the hoop and the final buzzers sound. In just the second conference game of this season, UPS would have toppled the men's team Sunday had the Blues not rallied from a late deficit to squeeze out a 111-108 victory. The women's team fell to NAIA's Eastern Oregon University 64-73 in mid-November. Nothing is guaranteed.
Yet Whitman remains optimistic, and for good reason. Both teams swept their first weekend of conference play to start the season at 2-0. The no. 8 ranked women have outscored opponents 543-431 in seven games, and the no. 1 ranked men 569-368 in five. The men are now undefeated in 26 consecutive conference games in a record that spans three seasons, and the women proved their strength in high-stakes games last year as they battled from a third place finish in the regular season NWC standings all the way to the national Elite Eight.
Preseason All-Americans Tim Howell and Casey Poe, of the men's and women's squads, respectively, have already demonstrated dominance on the court. Poe just claimed her second consecutive NWC Student-Athlete of the Week honor with a strong performance in the first weekend of conference play.
The men take on Colorado College Friday in their last 2017 home game before embarking on non-conference travel to southern California and Las Vegas. The women visit Spokane and Texas for non-conference play in advance of returning to action in Sherwood Center on January 5.
The Wire's Players to Watch
Women:
Casey Poe – With Preseason All-American and two NWC Student Athlete of the Week honors already in her trophy case, this starting senior point guard is hungry for hardware.
Makana Stone – The sophomore forward racked up 28 points in 44 minutes of play in last weekend's two conference victories.
Kaelen Shamseldin – Shamseldin has earned 180 minutes in her first year campaign so far.
Men:
Tim Howell – Showered with recognition and the league's leader in PPG last year, Howell has put up 81 points so far in his senior year.
Austin Butler – The dynamic junior playmaker led the NWC in FG PCT at 62.3% last year and has kicked off the season with 16 assists and 14 steals.
Darné Duckett – First year Duckett held nothing back in his first NWC showdown against PLU Saturday, racking up 25 points, seven assists, and six rebounds.