Whitman Men's Golf Debut Shows Promising Signs
In last week's Pacific Lutheran Invitational competition, Whitman's golf team retained last year's position and finished 11 out of 14 teams with a total score of 633. As the Whitman team's debut performance of the year, many of the players were pleased with this finish.
"I was impressed with how everybody handled the first tournament jitters. You're always going to be nervous for the first tournament of the year, but our guys went out and played determined golf, which is encouraging for tournaments that lie ahead," sophomore Luc Birchfield said.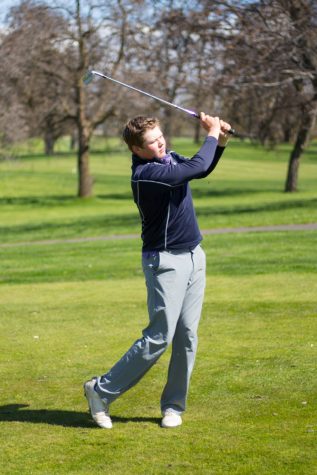 On top of that, it was the first taste of the golf team's newest players in a competitive atmosphere. Judging by the scoreboard, the newcomers did not seem to be the least bit daunted by this fact.
Transfer student Tobias Zabel, a sophomore, had the second best score on the Whitman team, with a score of 79 on the first day and 80 on the second day of the of competition. Eric Wasserman, a first-year, had Whitman's best score—shooting 75 on day one and 80 on day two. Both broke top 50 at the Lutheran Invitational.
"The biggest highlight was hanging out with the guys and getting to know them better," said Wasserman, who ranked 33 in the competition overall. "They're all super easy-going and supportive no-matter what, which you can't say about every team."
Birchfield also commented on the team's atmosphere and leadership.
"We always cheer each other on while on the links and make sure to help each other out if a teammate is having a bad round. Our greatest strength is the fact that we can come together at the end of a round and help each other to analyze our performances. We go hole by hole, seeing how we can improve shot making and mental skills to shave strokes the next day. Whether it be practice or a tournament, we are always looking to help each other improve."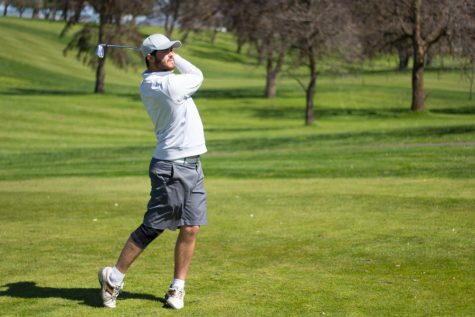 Charlie Schneider, a sophomore on the team, brought up another example of the team's fortitude.
"In addition to each player's individual talent, it says a lot that we can hold it together for all four and a half hours of the competition. Nobody loses their focus and determination."
All the more impressive since they were fighting through the wind and rain of Dupont, Wash. during the Pacific Lutheran Invitational.
There is a lot of positivity on the team moving forward. Everyone is in high spirits about the rest of the season, predicting a place in the top four in future competitions as they progress and keep improving at a steady rate.
Schneider attributes this confidence to having both a well-rounded team and a high degree of potential in regards to each player's individual talent.
This first competition was a tough one, playing against weather, first-tournament nerves and strong teams from other schools. However, the Whitman men's golf team more than held their own, and their positivity and support for one another was evident on the fairway. As Birchfield said, they are a team on track to be "sneaky-good" in the Northwest Conference.