Mad Money: A History of Soccer's Expensive Transfer Fees
In a transfer window filled with ludicrous amounts of money being thrown at soccer's biggest talents across Europe, Brazilian superstar Neymar's world record $263 million transfer from Barcelona to Paris Saint-Germain has been the exclamation point on the enormous influence money plays in the landscape of global soccer. It not only turned PSG into a legitimate contender for the UEFA Champions League, but also immediately increased the value of all other players around the world. Borussia Dortmund's Ousmane Dembele was brought in by Barcelona as a replacement for a staggering $180 million, Liverpool has turned down multiple offers for their Brazilian playmaker Phillipe Coutinho that exceeded the $100 million threshold and Monaco's wonder-kid Kylian Mbappe joined Neymar in Paris for near $180 million. While there has always been money in soccer, it appears as if a breaking point has been reached as transfer fees begin to hit truly astronomical heights.
Transfer fees have increased exponentially in the last twenty years due to the rising popularity of the European leagues around the world and the massive television contracts that have been negotiated in recent years. Specifically, NBC just bought the rights to the English Premier League for just over $1 billion over the next six years. The progression of the most expensive transfers has begun to increase at an alarming rate in the last two decades. When the legendary Diego Maradona moved to Napoli in 1984, he went for a then world record fee of around $6.45 million. The fee steadily climbed for the next 20 years until Zinedine Zidane moved to Real Madrid in 2001 for $60 million. This massive fee remained a record until 2009 when Real Madrid splashed the cash and signed Cristiano Ronaldo for just over $100 million. In the next seven years, only Gareth Bale and Paul Pogba were signed for fees that reached the $100 million mark. Neymar's transfer more than doubled the previous record.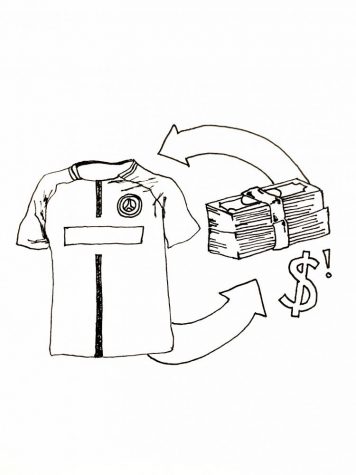 As a sports fan, the sheer amount of money in the market is worrying if your team is not in the upper echelon of clubs owned by billionaires, the Qatari Royal Family or a powerful corporate board. While I am of the opinion that Neymar is worth every penny of his transfer fee due to his undeniable talent and the massive marketing boost that PSG will receive from his jersey sales and television revenue, other players' values have hit ridiculous and unsustainable levels. Kylian Mbappe only broke into Monaco's first team in the second half of last season. He is a 19-year-old with less than a full year of first team soccer and may become the second most expensive transfer in the history of soccer.
Another important consideration are the actual, tangible results that such massive spending has had on teams' results. While an influx of millions of dollars has improved teams such as PSG, Manchester City, Monaco and Chelsea, they have not quite reached the pinnacle of European accomplishment. PSG and Manchester City have each fallen flat year after year in the Champions League. In recent history, it has been Barcelona, Bayern Munich, Atletico Madrid, Juventus and Real Madrid that have been the true heavyweights in the Champions League. While each of these teams has spent large sums of cash to attract superstar players, they have recruited efficiently and responsibly. Real Madrid is the best team in Europe and has won three of the past four years in the Champions League. Players such as Luka Modric, Toni Kroos and Keylor Navas were brought in for relatively cheap as established international players with minimal risk. The Barcelona teams from the 2010 era were likewise constructed and both teams will go down as some of the best in history. Manchester City has spent hundreds of millions of dollars and only won the league twice since 2010. While the worry that billions of dollars may dilute the traditional paths to success and glory have some basis, the role that effective management, intelligent coaching and the players' buy-in and determination are still the metrics that most accurately predict European glory.
As a supporter of the less illustrious Swansea City in the English Premier League, the insane increase in player's wages and transfer fees is terrifying. The difference between staying in the Premier League and being relegated often comes down to a number of important players in a squad. With prices rising, a team in Swansea's position can realistically only attract a player of the necessary caliber every other summer. If other teams can offer double or triple the wages and offer half of Swansea's yearly operating budget for a player, it becomes increasingly difficult to hang onto these crucial players. Iceland and Swansea star Gylfi Sigurdsson left the club this summer for a club record fee of just under $60 million. So far Swansea has spent $20 million to bring in Sam Clucas, a fairly unknown player who was just relegated with Hull City and who, in past years, would never have cost more than $10 million. Although the Neymar transfer fee is groundbreaking and demonstrates the massive increase in popularity soccer has experienced around the world in the past few decades, the parts of the game that cannot tap into those global networks have become obsolete and irrelevant.