The Competitive Community of Intramural Sports
Whether you're an ex-athlete looking for a space to put your muscle memory to good use, or a bunch of friends looking for a good time, intramural sports are one of the most accessible and entertaining pastimes at Whitman. Here, IM sports have a strong focus on community. Seventy percent of Whitman's student body participates in at least one of nine intramural sports, largely in teams that draw from and build on existing groups on campus.
"The success of Whitman's intramural sports programs and the friendly yet competitive spirit of our intramural teams are examples of the powerful sense of community on the Whitman campus," states Whitman's IM website. This sense of community brings all walks of Whitman life to the IM fields and courts, as members of Greek organizations, athletes, non-athletes and independents alike participate in various IM sports.
"In general, people tend to group together for these IM teams as part of a group they feel they belong in, whether that group is Greek, an interest house/residence hall section, a cappella group, club or simply a group of friends. I don't think there is ever just a random selection," senior IM athlete Taylor Berntson said.
Rain Drop and Serving Face, two 2017 IM volleyball teams, demonstrate this community focus especially well. Throughout the past four years, both squads have seen various iterations of their respective teams, gaining players from all walks of Whitman life.
"We've been together almost every year here, however people have graduated and therefore the team has fluctuated. It all started with our IM softball team Big Sticks Hot Chicks," senior Kendra Winchester said of Serving Face. Her team comprises of former and current women's basketball players, as well as members of Greek life.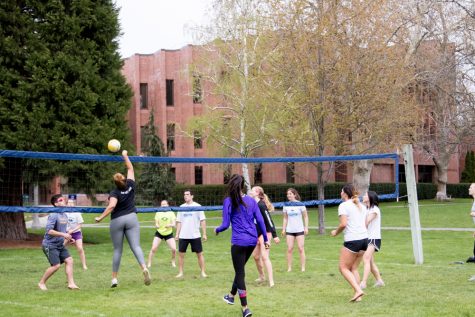 Of Rain Drop, a team of graduating senior soccer players and non-varsity athletes, senior Tray Foy noted, "what makes our team so unique is that it is a group of people that normally don't run in the same friend groups, but still make up a driven fun team that has the same goal."
With the season just underway, Serving Face is 1-0 while Rain Drop is 2-0. Needless to say, the teams are both off to a good start.
The competitiveness of teams do vary. Any sporting competition is naturally competitive, but IM sports also allow for a fun, loose atmosphere.
"Competitiveness is a word that's used for us a lot; competitiveness is fun. I don't know any other way. In all seriousness, we have fun and relax, but we are in it to win games because as a team made up of a mix of recently 'retired' Whitman varsity athletes and competitive high school volleyball players … we like to play well and walk away with the 'W,'" Rain Drop member and women's soccer senior Haley Case said.
For Berntson, a member of a third team, Bump n' Grind, the experience is more about the joy in playing with friends.
"As someone who played volleyball competitively for years, I think that my favorite moments come when we are 100 percent uncompetitive and truly just having fun," she said.
For Case, it's the blend of competitiveness and fun that makes the IM experience so unique.
"I so enjoy the little moments of coming together and improving as a team. When someone aces a serve, nails a spike or even when I get hit in the face when a teammate botches a dig but we almost get the ball over the net anyways–these memories will stay with me as highlights of Whitman," she said.
When asked which three words that summed up their team cultures, Foy said Rain Drop is "competitive, scrappy and athletic," while Case described the team as "chillin', chortling, champions." Serving Face, on the other hand, was described simply as "lots of laughs," by Winchester. No matter what branch of the Whitman community you hail from, it's clear that participation in IM sports is worth consideration, as attested to by these enthusiastic IM players.