Tennis Confidence High as Conference Tournament Looms
Both Whitman men's and women's tennis teams wrapped up their seasons with wins and now look forward to next weekend's Conference Tournament.
The men's team finished on top of the Northwest Conference with a perfect 12-0 record, going 22-6 overall.
"This season has been going pretty well. We started off strong with a huge win over top 10 team Pomona. Since then we've been pretty steady, beating the teams we should be beating. The new ranking system has put us at 9 in the nation and we're really playing like it. Last weekend we went to Texas, where we had a great win over No. 17 University of Texas at Tyler and a close loss to No. 15 Trinity," junior Chase Friedman said.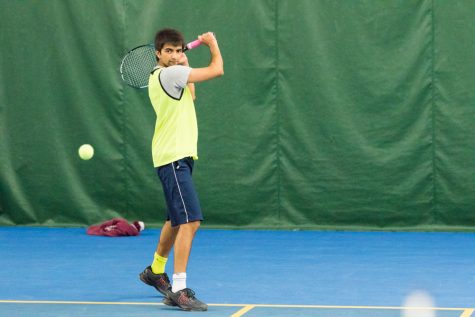 For a team with as much success as they've had in past years, one of the challenges is finding challenging situations to sharpen their play. This year, Coach Jeff Northam scheduled a bevy of challenging nonconference matches to improve their skills.
"We've traveled to Philadelphia, Texas and California, and had to play top teams on their home courts. "Even though we didn't win all of them, we've kept positive attitudes throughout the matches and I think that's an important thing to have," junior Gary Ho added.
For Friedman, the key to the team's success has been in doubles.
"Our doubles this year has been really strong. We usually go up after doubles, which makes it a lot easier to finish off teams in singles," Friedman said.
Senior Petar Jivkov has been one of the team's strongest performers in his final year. Jivkov seized a vital singles win 6-3, along with a 8-5 win in doubles with partner Zach Hewlin in the 5-4 win against University of Texas at Tyler.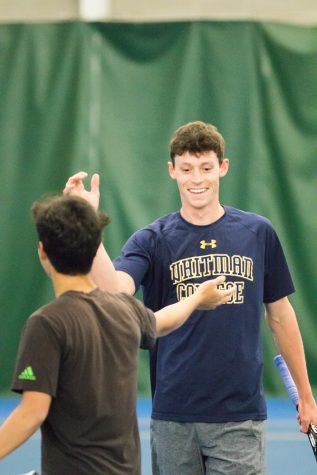 "He's really stepped up as a leader and he's playing unbelievably well," Friedman said.
This weekend the men's team beat George Fox 9-0 and Pacific University 8-1.  
The women finished tied for top of the Northwest Conference with Linfield with an 11-1 record (13-5 overall), but will enter this weekend's conference tournament as the second seed due to a close loss to Linfield on March 11. The women are in good shape after a very strong regular season.
"A few weeks ago we traveled to California and had a huge win against Redlands. This was the first time in my four seasons here we have beat them. That match was also really big for our national ranking. A combination of that win and the strength of our schedule pushed our ranking up from 28 to 24, which is the highest in our conference," senior Allie Wallin said.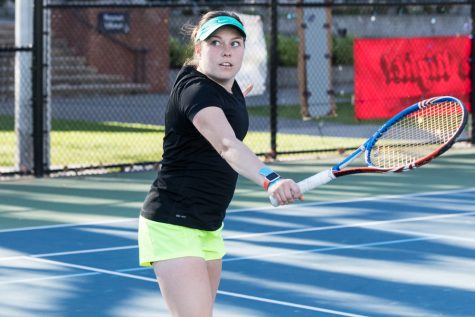 One unique aspect for the women's team this season has been their small roster of only 8 players.
"Having a small team has been challenging, but it has almost been an advantage for us because we all get a lot of playing time. Because we are also a very young team, getting lots of match experience for the underclassman has been key," Wallin said.
For Wallin, all focus is on the upcoming conference tournament. The team will be playing third seed Lewis & Clark at 2 p.m. Saturday at Linfield.
"Our goal is to win next weekend's conference tournament and earn an automatic bid into the NCAA regional tournament. We won the conference tournament my first two years and it would be really great to finish off my last season with another conference tournament title," Wallin said.
The aim is similar for the men's team, who open the tournament by playing George Fox Saturday at 10 a.m. on Whitman's home court. The team is hoping to use the conference tournament as a springboard for the national tournament.
"Moving forward, we're looking at nationals. This year we have a genuine shot of making farther than we ever have before. Based on the way we're all playing I expect a great national tournament," Friedman said.