Team Positivity Sets Men's Golf on the Upswing
While the men's golf team here at Whitman might not always have a place in the spotlight, the team has been quietly creating an impressive program oriented for the future.
The team has finished in the bottom half of their past nine tournaments and their record this season has not exactly been exemplary, but that has not hindered team cohesion and development from growing steadily.
"We might not be the best team in terms of scoring compared to other schools, but we are definitely one of the most united and caring," first-year golfer Nick Xiang said.
This collective positive atmosphere has allowed the team to bond and encourage each other, all while developing their game as golfers along the way.
"One of the best parts about the golf team is how close we've become over the season. We all work together and support each other to improve as a team," first-year Charlie Schneider added.
"I don't really know how to express it, but it just makes me feel happy to be with my teammates, and practice and improve our game as golf players," Xiang continued.
The youth of the team adds another level of hope for the future. The team has no seniors, and four of the seven members are first-years.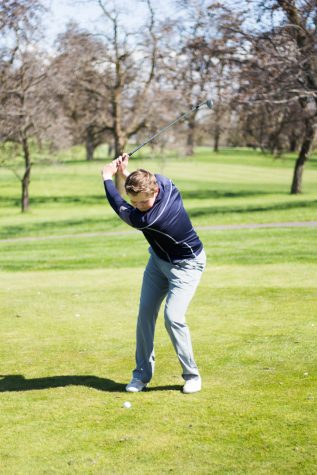 "Since I have been here, we've only had four or five players, but this year we got four first-years. The team is young and we have high hopes for the future. The first-years have all shown potential and improvement throughout the season," Mario Santos-Davidson said. Santos-Davidson is one of the two juniors on the team.
While the success is set for the future, the process and progress has already started.
"We're moving up and are starting to compete with the middle pack of our conference now. Our tournaments work by counting the best four scores each day for our team, so even having a fifth solid player to have options when someone is having a bad day is huge. Having been abroad in the fall, it's been great coming back into such a big team, which has led to great competition each day in practice," Santos-Davidson continued.  
With Whitman always looking to develop their athletic programs, some sports may shine more than others. But while the men's golf team might not be the most famous on campus, they certainly have a bright future ahead of them, and will be one to keep an eye on in the coming years.