Scooping up Talent: Varsity Lax Finds Success in Third Year
April 13, 2017
With their best record in the program's three short years at the varsity level, the Whitman lacrosse team has quickly evolved into a Northwest Conference contender. The team's young core and competitive attitude have them poised for long-term success, which could culminate in a bid to the NCAA Tournament in 2019 when the NWC gains eligibility.
The team's intensity has increased dramatically as it becomes further removed from its roots as a club sport. Older players like junior Captain Emma Bishop have been a major factor in this change.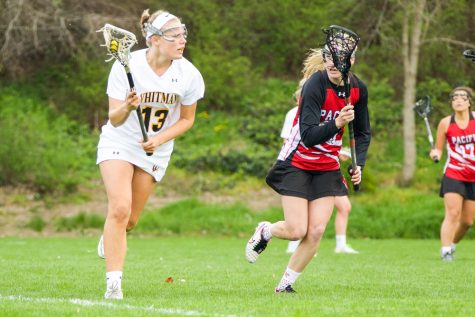 "Our work ethic grows every year, and I think each year the intensity grows because we want to make the commitment a serious one, and we've lost people who weren't making it as intense of a place to play… we also happen to be a very competitive group of upperclassmen," Bishop said.
Head Coach Kate Robinson is largely responsible for change in competitiveness and an strengthening of Whitman's reputation. Robinson came to the program in 2014 as the first varsity coach after serving two years as an assistant coach at Stevens Institute. This season, Robinson scheduled a challenging non-conference slate of games against teams like nationally ranked Stevens Institute and West Region No. 4 Pomona-Pitzer. These games gave young players invaluable experience and serve as a recruiting tool.
Senior Anna Melville attributes much of the team's recent success to Robinson's recruits. Melville, who has been with the program since its club days, has witnessed consistent progression in terms of skill.
"The first year the team was varsity our coach recruited a couple of senior soccer players. They were really athletic, but a lot of the first year we were focused on teaching players how to play lacrosse. Now, with how skilled our sophomores and first years are, we can spend more time on skill related drills," Melville said.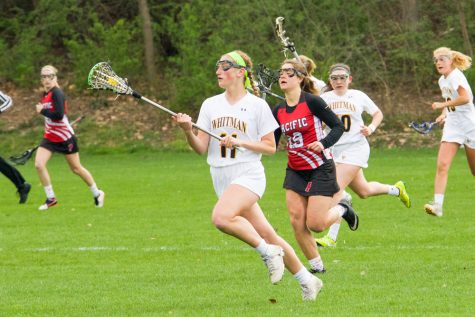 The team has also experienced an uptick in talent from both coasts the past couple of years. Lacrosse is a rapidly growing sport on the West Coast, but the East Coast typically has stronger youth and collegiate programs. Having players from across the country creates a unique blend of playing styles.
"It's not necessarily where they come from that matters, Kate recruited really good team members from both coasts which strengthened our depth. The amount of girls that play this year compared to the past is a testament to that," Melville added.
Last weekend's heartbreaking 17-5 loss to George Fox eliminated the team from NWC Championship contention. With two games next weekend the team can lockup a second place conference finish, but they will enter next season hungry for first.
With seven first years and five sophomores on the team, only three seniors are graduating this year. The team's top two goal scorers, sophomore Lindsay Schwartz and first year Mary Noyes both return to the team and will look to propel the Blues to their first Conference Championship. Sophomore forward Chantal Arnold has high hopes.
"Everyone's super stoked that we've been winning and we want to keep it up in the future. We're looking forward to next season and we are looking to be Northwest Conference champs. Our team has really good chemistry on the field and we've been able to put it all together," Arnold said.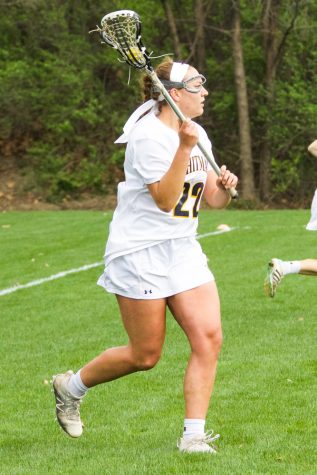 In many ways, the 2017 season allowed the team to make a name for itself on campus. Still, the sport's history at Whitman makes it easy for the players to feel like the program is overlooked.
"Sometimes we are given less respect than other sports on campus, and it's a point of frustration. I think the team takes it really personally. We're definitely recognized for our individual players and we are a really good team for our conference. I think it should give us some form of credibility," stated Bishop.
Similarly, Melville hopes at this point "Everyone should know that we're a varsity sport."
In conjunction with their solid play, the team has looked for other ways to incentivize fan attendance. Last weekend, the matches were promoted with free pizza, drawing in a larger crowd than normal and raising campus awareness for the sport. Even if many students do not know much about the team now, they shortly will, as the Blues are rapidly evolving into one of the strongest lacrosse programs in the NWC. With their core of young talent, Whitman Lacrosse hopes to be a force for years.