Lifting Away Gender Stereotypes: Kendra Winchester's Journey into the World of Weights
April 6, 2017
On any given day, the Baker Ferguson Fitness Center teems with students, faculty and alumni looking to squeeze in a quick run on the treadmill, train for a varsity sport, crank out an abdominal workout or just tone up some bicep muscles with the dumbbells. Over by the squat racks, however, is a different kind of gym-enthusiast. For junior Kendra Winchester, the gym's lifting platform is her domain. Heading to the gym is more than just a supplementary activity for Kendra; rather, it's an essential part of her newfound identity as a competitive power-lifter. 
Last year, Kendra gave up her lifelong sport of basketball, not knowing that she would find another sport that would rejuvenate her love for competition and show her the importance of body confidence.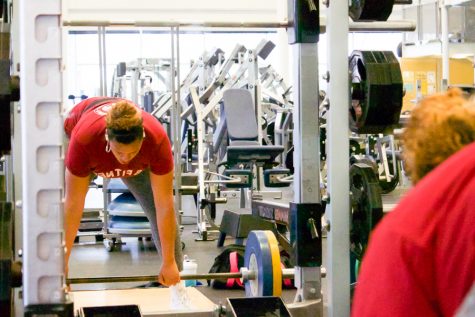 Kendra's drive to compete originated from basketball, and it is what brought her to Whitman College to continue her career as a collegiate athlete.
"A series of events led up to me not wanting to play anymore, and I just wasn't getting out of it the effort I was putting in. It was disappointing and at some points heartbreaking, but at the same time, it was a good thing in the end to stop playing," she said. "I still wanted to compete, and to continue be strong and feel strong. It all kind of fell into place."
A chance encounter with the owner of a power-lifting gym in her hometown of Pasco, Wash., catapulted her into the competitive niche of power lifting.
"During a workout with my stepdad, I just kept going up in weight, and then the owner came up to me and told me, 'You realize you're really close to breaking the record without training.'  I was honestly just lifting as much as I could," she explained.
She has not been an active member in the sport for very long, but her recently developed relationship with power lifting has already transformed both Kendra and the community. In regards to both gender and age, Kendra finds herself in the minority, yet she has wasted no time in leaving her mark. She currently holds the national record in the dead lift for her weight class in the junior division, which consists of women ages 18 to 23.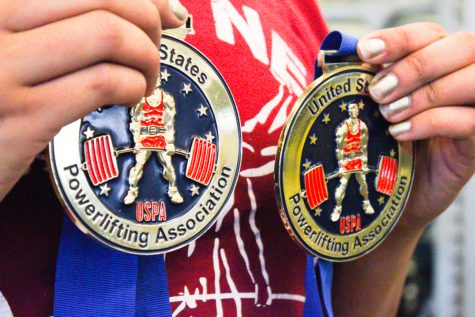 Even during practice, Kendra keeps her competitive spirit alive, using the adrenaline she feels when lifting in contest.
"I try and imagine that I'm at a competition and I have everybody watching me. When all eyes are on you at a competition, and a judge is watching you, you don't want to fail," she described.
Power lifting has bled into other areas of Kendra's life as well, inspiring her to invest time and money into keeping her body and mind in their best possible shape. Her diet revolves around getting the proper amount of protein and amino acids in her system so she can see peak results from every workout. She constantly monitors how foods make her body feel, and does everything she can to allow her body to build the muscle it needs to lift incredible amounts of weight.
The power lifting community has also evoked in her a sense of belonging and pride in the strength of her body. Even though she is part of only a handful of women in the community, she has found a niche where the strength and power of the female body is celebrated.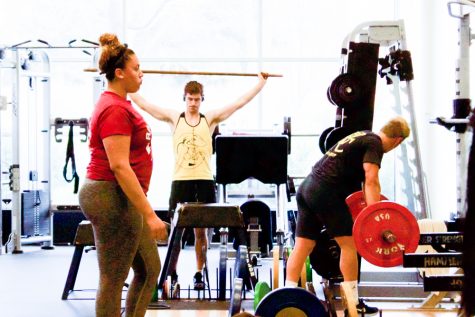 "People in the power lifting community recognize that you're strong and they want you to perform well and do well overall. Although it is gendered, it's a more uplifting community. Most of the gendering comes from the outside community, where others may be put-off by my strength. But within the community, I'm motivated to be as strong or stronger than those around me."
Female power lifters, like Olympian Morghan King, a native of Seattle, inspire Kendra to continue her growth in the sport. Kendra has the potential for shattering more records, and even breaking into the international power-lifting scene. She continues to gain expertise from her stepdad, her coaches back in Pasco and the online community of lifters. While academics and self-care take precedent over all else, she looks forward to pursuing success in her new found passion.
"It's definitely something I want to keep pursuing, because I have a lot of potential left, and a lot of other people see that. And it's really fun!"
__________
Recommended in sports this week:
Quiet Powerhouse: Women's Golf Ready to Take On the Nation