Drilling, Racing and Pole-Whacking: Alpine Skiers' Guide to a Great Training Trip
Many Whitman students pride themselves in their snow-loving alpine affection, but few can match the level of those on Whitman's Alpine Ski Team. Over winter break these 26 snow chasers set out on their preseason training trip to Grand Targhee Resort in Alta, Wyoming for training, team bonding and fun in the snow.
Whitman's Alpine Ski Team is a club, but they race with other varsity ski teams in the Northwest Collegiate Ski Conference. Their competition includes schools of all sizes from the Northwest, including the University of Washington, University of Oregon and University of Puget Sound.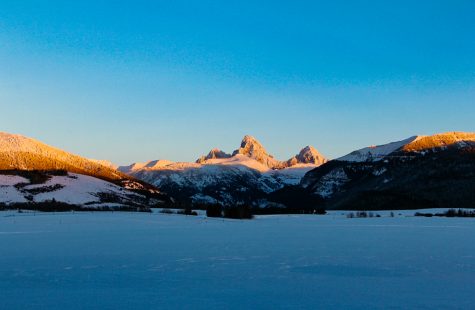 The team's winter break trip consisted of three days of skiing. Due to heavy snowfall the day before, the first day was spent free skiing in fresh powder. The morning of the second day, the skiers trained hard with coach-directed drills before they practiced racing giant slalom in the afternoon. Finally, the last day of skiing consisted of training on a slalom course, free skiing around the rest of the resort and enjoying the beautiful mountain scenery.
"For those who haven't raced, [the goal] of the trip was to help them become familiar with gates and racing in general," senior captain Ben Hernried said. And for those who have been racing for years, Hernried urged, "one can always learn more."
This training trip was unique in the fact that it had so many participants, especially including the large number of newcomers to the team and the sport of competitive alpine skiing. Thanks to the two coaches, Gordon Finnegan and Whitman alum Patrick Finnegan '14, and the guidance of experienced racers on the team, the amateurs learned quickly.
"It was exciting to see how a lot of the people totally new to racing really got after it. Many were trailing the experienced racers and asking them to watch as they ran the course to give more input than just what our coach was already giving. That kind of excitement is infectious, and it was hard to not have a good time," another senior captain, Mitchell Cutter said.
"There are so many first years this year, which is awesome," a women's team captain, Sophie Connelly said. "A lot of people were nervous, but it definitely gets easier each time."
Joining a new team and picking up a new sport can be overwhelming to some, but the Whitman team prides itself on providing a fun, welcoming environment to all those enthusiastic about downhill ski racing.
Connelly, a senior who became a member of the team her sophomore year, recalled when she first joined the team.
"When I first joined, I think I was the only person who had never raced before so that was pretty intimidating, but everyone just made me feel really comfortable and that's how the team has continued to be," she said. "It's definitely the sort of community where everyone is supporting each other and rooting for each other."
The trip was also a great team bonding experience, both on and off the mountain. The team was able to grow close on the long drives to and from the mountain, as well as through watching ski movies and hanging out in the large house they stayed in.
Both Cutter and Hernried shared the momentous final run of the trip as being their favorite memory, and as a great way to sum up a fantastic training trip.
"We all went up the lift to this vista where we could see the Grand Tetons. We all took a picture lined up on a ridge and skied down together. That was really fun," says Hernried.
"My favorite run was my last. This was my last training camp as a racer at Whitman, and probably as a ski racer, period," Cutter said. "The whole team 'pole-whacked' a cat-track before racing to the bottom en masse."
The training in Wyoming led straight into the team's ski race season. This last weekend, they raced a slalom course at Hood Meadows in Oregon, and this upcoming weekend they are looking forward to racing at Mission Ridge in Wenatchee, Wash.  To wrap up the season, the team is looking forward to qualifying for Western Regionals, taking place at Brundage Mountain in McCall, Idaho at the end of February.