IM Basketball Heating Up
As the intramural basketball season comes to a close, it is worth reflecting on an activity that has brought both lighthearted fun and competitive spirit to so many in the Whitman community.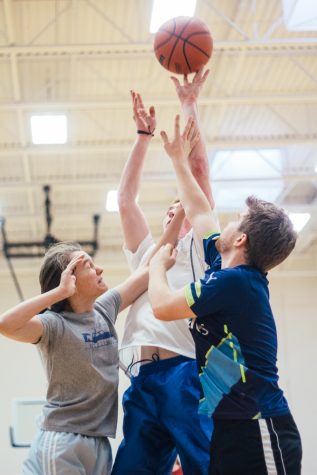 Competing and training in the Sherwood multipurpose gym, the athletes of Team 40 Oz—perhaps one of the more spirited teams—have poured their hearts into the game. Their season was characterized by regular practice sessions, inspirational pre-game speeches and intricately constructed custom plays.
"I will say that I have written the majority of our teams plays, most notably 'Potato Salad.' It's a play where one person gets down on all fours underneath the basket while another leaps off of them to dunk," sophomore Ben Johns said. Johns also dedicated time to practicing variations of famous speeches in front of his bathroom mirror to help motivate his team before games.
Perhaps an even bigger backbone of the team is sophomore coach Nate Rudder. Although Team 40 Oz participated in the less competitive second division, Rudder still stoked the fire of his team, taking every game seriously. "Coach Rudder brings Division I dreams to the Division II intramural side of a Division III school," Johns said.
Team 40 Oz has managed to turn their season into a Cinderella story of sorts. After entering the playoff as the sixth seed, with a regular season record of 2-3, they matched up against the second seeded team, 'Sports in the Hall,' who had a record of 4-0 prior to the game. The underdog team earned a decisive victory and shockingly upset Sports in the Hall, a group of seasoned IM veterans who consistently fare well in the race for blue shirts.
Not all teams consist of players with little experience like Team 40 Oz. The X-Letes—the current favorites—have several former varsity athletes on their team. One such ex-varsity athlete is junior Eve Goldman, who used to play for the Whitman women's basketball team.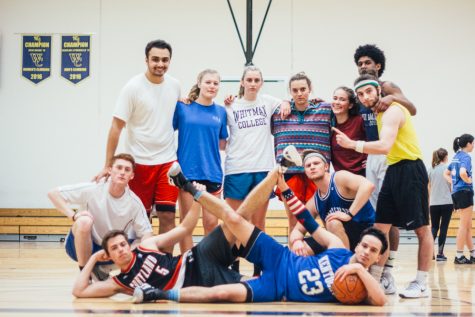 "IM basketball is special because it allows people, like myself, who quit varsity 2 years ago to have the opportunity to continue to play the game I love in a relatively competitive setting," Goldman said. "While I wouldn't take back my time on the varsity team—it was an incredible experience—IM basketball is less competitive and allows me to have fun with people I wouldn't normally play with."
Goldman touches what is perhaps the most impactful aspect of IM sports; creating an environment where students from all different social groups come together for the same activity.
"In our intramural basketball leagues during the fall season we have 18 teams competing weekly between two divisions, tallying 164 participants," said sophomore Robbie Farwell, who organized the season. "Being a part of an intramural team on campus is a great way to bring groups together in an environment outside of academics. Intramurals provide a place for the pure fun of sports to be emphasized over victories and win-loss record."
Whether they be seasoned IM veterans, newcomers or ex-varsity athletes, intramural sports has a place for every student or staff member.