The National Anthem Becomes a National Protest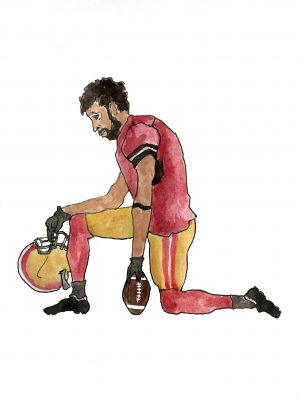 Before Whitman's home volleyball game on Sept. 16, senior Cherokee Washington released a letter of solidarity informing the Whitman community that she would decline to stand during the game's national anthem.
Washington's letter made it clear that her actions were in no way intended to "disrespect, or disregard acknowledgement of the millions of brave American men and women who fight for our country every day," and she cited her own family's involvement with the American military. In her letter, Washington described how her "posture is being taken to signify solidarity, respect, affirmation, and support of [her] fellow Black and Brown bodied brothers and sisters affected by the infringement of civil and human rights under our nation's current state of affairs."
Washington invited any members of the community at the game to join her in declining to stand in an effort to promote community solidarity and peaceful measures of protest on Whitman's campus. Her message has resonated with a number of people throughout campus, including Whitman Academic Resource Center Director Rebecca Frost, who wrote a letter that appears in the opinion section of The Wire this week , and athletic director Dean Snider.
"I support any person's right to voice or act in respectful social protestI have great respect for Cherokee. I also really appreciate the respectful tone of her address to the community. The issue that she highlights is, in my humble opinion, very real and she has my personal support for, and appreciation of, her stance" wrote Snider in an email.
Protesting the national anthem has been a hot topic in the news since the NFL preseason, when professional athletes began sitting and kneeling. "My choice to kneel during the national anthem is inspired by 49ers football player Colin Kaepernick's decision to no longer be a patron of a standard American sports tradition that dismisses the subjugation of Black and Brown bodied Americans," Washington wrote in her letter.  
As Washington mentioned, the first major national anthem protest was performed by San Francisco 49ers quarterback Colin Kaepernick. Kaepernick stayed seated and unnoticed during the National Anthem for the first two preseason games before he made headlines when he remained seated during his third.
"I am not going to stand up to show pride in a flag for a country that oppresses black people and people of color," Kaepernick said in a statement released by the NFL. Kaepernick has since made it clear that he intends no disrespect towards the military or veterans, but is protesting as a way to raise awareness of social issues.
Kaepernick's lead has prompted similar actions across football, with Seahawks cornerback Jeremy Lane and Broncos linebacker Brandon Marshall following in his footsteps. When questioned about the protest, Seahawks head coach Pete Carroll expressed that he had no problems with his players choosing to sit or take a knee. Leading up to the season opener, the Seahawks locker room began planning a team wide demonstration of support for Kaepernick's message. The initial plan was for the Seahawks to take a collective knee during the anthem. After several players with close ties to the military expressed their discomfort, the team changed to a plan of standing with interlocked arms. Maintaining team unity heading into the first game of the season was a top priority.
The "Kaepernick Effect" is spreading to athletes all across the United States. Though especially prevalent in the NFL, these protests are spreading beyond football and into many high schools as well. As the Whitman community has already seen with Cherokee Washington, this movement is reaching athletes throughout the collegiate landscape and has displayed the new and fundamental role athletes play in protesting injustice in America.