Whitman Soccer Takes LA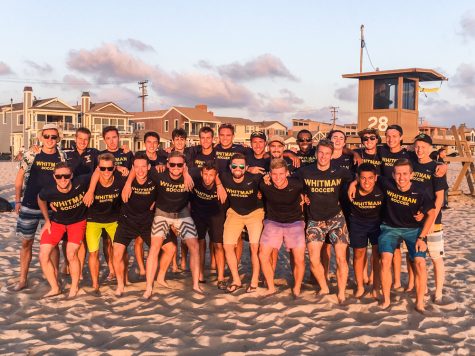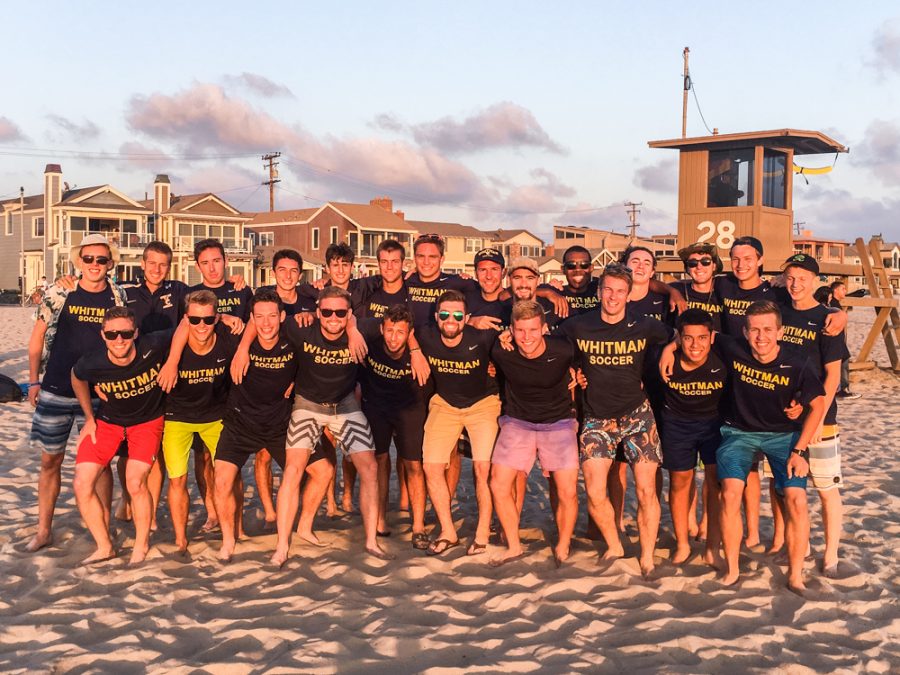 While many students were acclimating themselves to campus the first weekend after classes began, the Whitman Men's and Women's Soccer teams were busy playing in a combined five games in Southern California.
Pre-Northwest Conference trips like this are typical for the soccer teams. Last year the Men's team played three games in Southern Texas prior to conference play and the season before they traveled all the way to Eastern Virginia. A general theme amongst the players is that these trips serve two important purposes: fine tuning on the pitch and off the field camaraderie.
Senior Captain forward Eric Conte stated, "The main purpose of team trips in preseason is to fine tune everything we've been working on for weeks," as it is finally an opportunity to "put our hours of practice into a game setting and getting ready for conference games to start up."
Junior Captain midfielder Jacob Fritz shared similar thoughts, but touched on the coaches' perspective of the trips.
"[Team trips] like the L.A. trip are to prepare for the season both physically and mentally, but it is for the coaches just as much as for the athletes. They are looking to find the right combinations of players and energy which is important to have dialed before conference play starts."
Both players agree, however, that these trips are inherently a great way for the team to bond. So much time spent together in airports, van rides, the hotel and in the locker room "allows us to find our chemistry," according to Conte.
Fritz echoed the importance and benefit of this bonding: "What we are really trying to build is a strong relationship off the pitch so that it will translate when we are on it." Establishing this relationship early in the season is critical for the team this year, as there are 14 first years on the squad.
When asked about what additional bonding activities the team planned for the trip, Fritz explained that, "Away trips don't require as much special bonding activities because bonding is happening kind of all the time." Conte added that, "Our team chemistry comes from the sheer amount of time we spend together. It's not always structured or productive time (like waiting to board a plane), but its brings us closer together each moment."
Prepared bonding activities occur on campus when the players are not spending as much time together. Conte did disclose, however, that the team spent the afternoon of their one off day at Newport Beach—a well deserved chance "to take a step back from soccer." While they did not make it to the beach, members of the Women's team had a similar opportunity to unwind at their Thousand Oaks, CA hotel. 
"After one of the games, we all jumped into the tiny hotel pool to stretch out. How we fit the whole team into that pool I'll never know," senior captain Lena De Guzman said. "The coaches had a belly flop competition."
One of the most challenging aspects of the teams' California trip was the student athletes' responsibility to complete their schoolwork. Balancing the rigors of Whitman academics with the performance expectations of being a varsity athlete is difficult.
"Balancing everything requires forethought and planning," Conte said. "At any seldom moment of downtime, 80 percent of guys had their schoolwork out."
Pre-Conference trips are an essential part of the team building process both on and off the pitch. With careful planning, Whitman athletes are able to stay on top of their studies and take advantage of this unique opportunity.