Exploring the Daily Life of a Whitman Varsity Athlete
Whitman Men's Golf scored a season low 306 at the Northwest Conference Golf Spring Classic earlier this April. Senior Daniel Hoffman has been the embodiment of the student athlete with a number of strong performances and leadership for the team averaging a 77 over the course of the year. In many ways, the life of a student athlete differs from the average student. I had a chance to sit down with Hoffman, along with his teammates and housemates to try to get the full picture of the life of a student athlete.
One of the biggest and most important time commitments for varsity sports are practices. One of Hoffman's teammates, sophomore Will Selman, spoke about the time requirements a varsity athlete has during an in-season week.
"During the season, you're usually practicing three hours a day. We'll work out occasionally, since the golf team's conditioning isn't as strenuous as some other teams," Selman said. "The real big time commitment is missing five weekends out of a seven week season. Which can be tough for missing labs, especially for me because I have a Friday lab. Getting work done while you're on the road is a lot more difficult."
Hoffman agreed that the time commitment each afternoon drastically changed his day to day life during season. Losing a three hour block every weekday limits the time athletes have to work on schoolwork and extracurricular interests.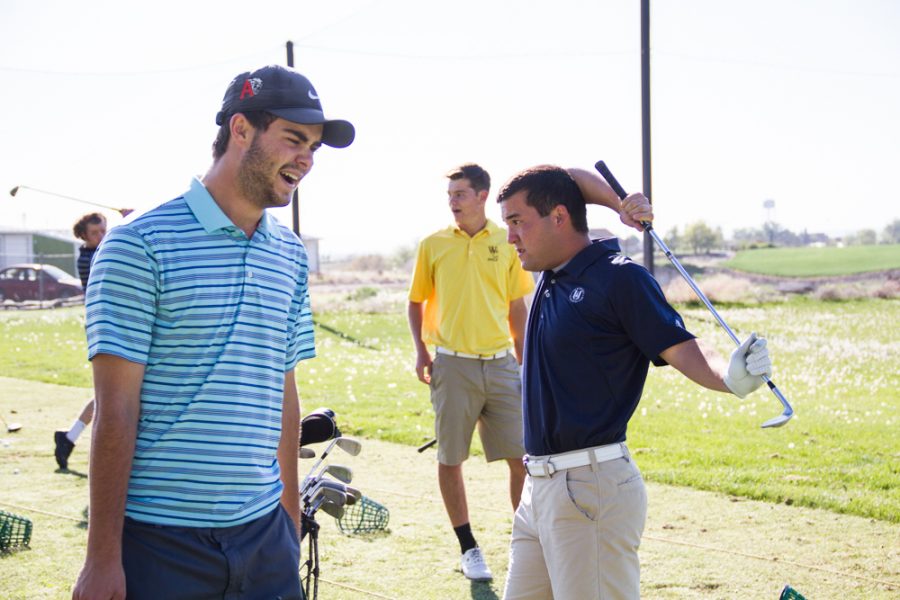 "The biggest struggle was being able to clear out that afternoon segment, and being okay doing your homework later than everyone else, and not letting it bog you down during practice. When you're in practice you just need to be able to focus on practice. I think as I've gotten older, I've realized practice is a sanctuary," Hoffman said. "It's limiting since you only have so many hours in a day, but its led me to appreciate the opportunities I have had to participate in the extracurricular that I've had a chance to participate in, whether they be Greek life or student clubs. It lets me cherish my time I have away from the sport."
Being away for a large number of weekends pre semester and the time commitment of practice create a different experience for varsity athletes when compared to the average Whittie, according to Selman.
"The time is the biggest difference between a student and a student-athlete. Being at Whitman, there is so much stuff that you want to do. You want to go rock climbing because you live across the street from a rock gym and you want be a part of all these cool OP trips," Selman said. "You have to be willing to make that sacrifice that you are willing to give up the whole Whitman experience for the varsity athlete experience, for being part of a close knit team. We know each other on a different level than everyone else."
While the weekly time commitments of the average varsity athlete are intense, there are athletes on every team who tend to go above and beyond. For Men's Golf, Hoffman is far from average, and takes of that leadership role.
"He'll have some days, probably about two a week, where he has a five hour practice essentially. He puts in a lot of time. Even in the mornings before class, he'll go in," Selman said. "What I really admire about having Daniel on the team is that he very much takes the golf team seriously. He's the best player clearly, and a very strong presence in practice, but he doesn't take himself too seriously. Which is a great sort of attribute to have."
Hoffman's housemate, senior Baker Conte, furthered Selman's sentiments about his work ethic.
"He usually goes to bed around midnight or just before, and if he doesn't have to get up, I don't see him until around ten. So he gets good sleep," Conte said.
Despite all of this extra work Hoffman puts in, he doesn't consider himself more invested or busier than most Whitman students, a sentiment shared by Conte.
"I don't think there's that much difference at the Division III level between a student and a student athlete. Most of the teams don't have the crazy time commitment like at the Division I level. So I would say most the people here that are varsity athletes for the most part are involved in other things. Their sport isn't the only thing that defines them," Conte said.
Hoffman added how the mentality of students at a school like Whitman causes more similarities between the two groups.
"Everyone I've met here is so invested in their extracurriculars. The biggest difference is being away on the weekends. If I go out on Ankeny and see the Frisbee team or club sports teams, they're putting in a lot of time too and are heavily invested in what they're doing," Hoffman said. "In terms of practice, varsity sports are more structured, but at a place like Whitman where everyone is so passionate, there won't be as much difference as at a place in the Division I level."
Hoffman's work ethic is clearly evident in the success that he has had this season on the golf course. He is but one example of many immensely talented student athletes on this campus who put in similar levels of dedication to both their education and their sport. The feats of time management required of our student athletes every week are ones we should praise as a campus.