Whitman Sweets gain young talent, look to improve on last year's impressive results
As most Whitties were headed for home and family, Whitman's Ultimate Frisbee teams traveled to Seattle for the University of Washington's annual Sundodger Tournament. The men's team placed fourth in a strong showing at the end of fall season while the Lady Sweets had to settle for a one day round robin tournament as wintery weather led to a cancellation on the women's side of the tournament.
Senior Captain Marlena Sloss was pleased by the resiliency the Sweets showed in the quick change of fixtures.
"At the round robin tournament we just played in Seattle, we beat Western Washington, UW and Montana. The team was definitely able to step up our intensity and take the games seriously, which shows some serious potential for our mental game," Sloss said in an email interview. "All players improved their game [in] just over the three games, and it really helped to have one of our coaches present to give players specifics to focus on."
After a trip to nationals last spring, Sloss is confident this year's team will be able to repeat the feats of past year's squad and potentially better them. Despite losing four players to graduation, including a captain, Sloss thinks the team has gained ability within the first years.
"The first years are definitely filling in some holes that the seniors left; overall we didn't lose nearly as many key players as many teams such as UW and U of O lost last year, which is really promising for our team," Sloss said. "It's going to be a really exciting season–the past three years improving our performance at nationals, and my goal for the team is to do even better this year."
The men's team has not reached the heights that the women's team has in the past few years, but senior Brennan Johnson thinks the team is at a tipping point where that could change. After losing key players like Peter O'Rourke, David Ball and Russel Arkin last season, a strong first year class was vital to the team's chances at success. For Johnson, the new class is exactly what the program needed.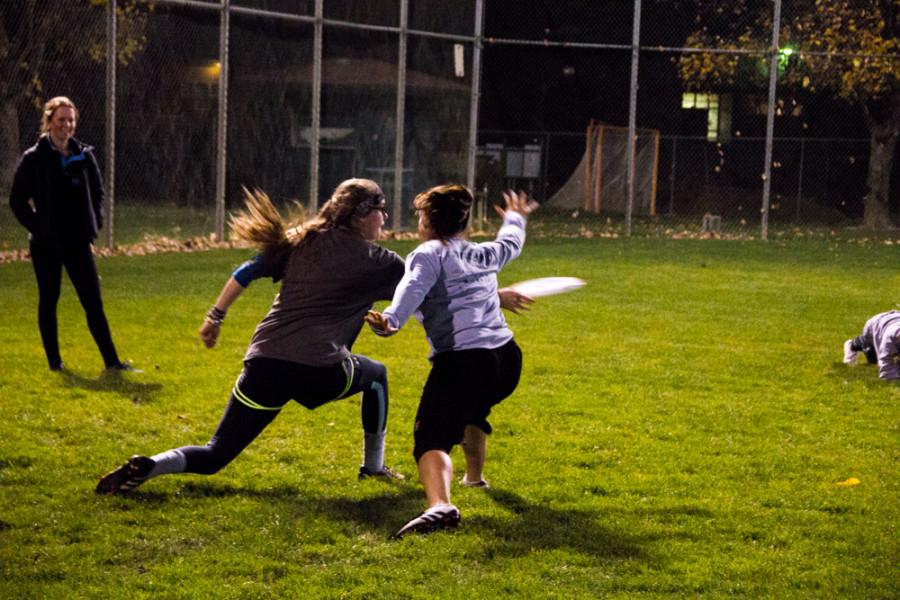 "This year is all about the first years. They're incredible. A few of them have experience and are very good and have caught on to our systems really quickly, and those who haven't played before have also contributed in a lot of ways. More than anything they really make up this team energy we have this year and excitement," Johnson said. "The bulk of our team is the first years and they are so much fun to be around. We've bonded so much already and they're the life and soul of this team. Seeing myself from four years ago in them is a really cool thing."
One of the first years making an impact is Cristoph Suhr. Suhr shared in an email interview how his transition from the high school game to the college one has gone, and also discussed his goal to improve this season.
"Ultimate Frisbee in college is immensely different than the Frisbee that I played in high school. At Whitman, there is much more of a time commitment due to practice and tournaments, and the level of play is much higher. In high school, Frisbee was much less of an organized sport and more of a secondary sport for most on the team," Suhr said. "Hopefully [I'll] be selected by the captains to play on the traveling team for our tournaments in the spring."
While the new players are providing unbridled excitement and fresh ideas, the experience and leadership provided by the seniors this year will have long standing effects on both programs. Johnson explained the goals he has for the team and the motto he is taking to heart as he designs the team's offense for the spring.
"My goal for us would be to make the most of every opportunity. We might not have the star players we've had the past four years, but we have more depth from top to bottom," Johnson said.  "If we can take that depth and athleticism and hone it into something that gives its all at every opportunity, I think we can surprise some people. Not just this year, but in the coming years we'll be a team to reckon with in the Northwest."
Sloss also shared what she hopes to give back to the young players in her final season.
"In my last season, I really hope to show the younger players what an amazing team that the Sweets are, and what an incredible sport Ultimate Frisbee is," Sloss said. "It's been my home and my community for the past four years at Whitman, and I hope to give that back to the first years in my final year."