Whitman Volleyball Looks for a New Beginning in 2015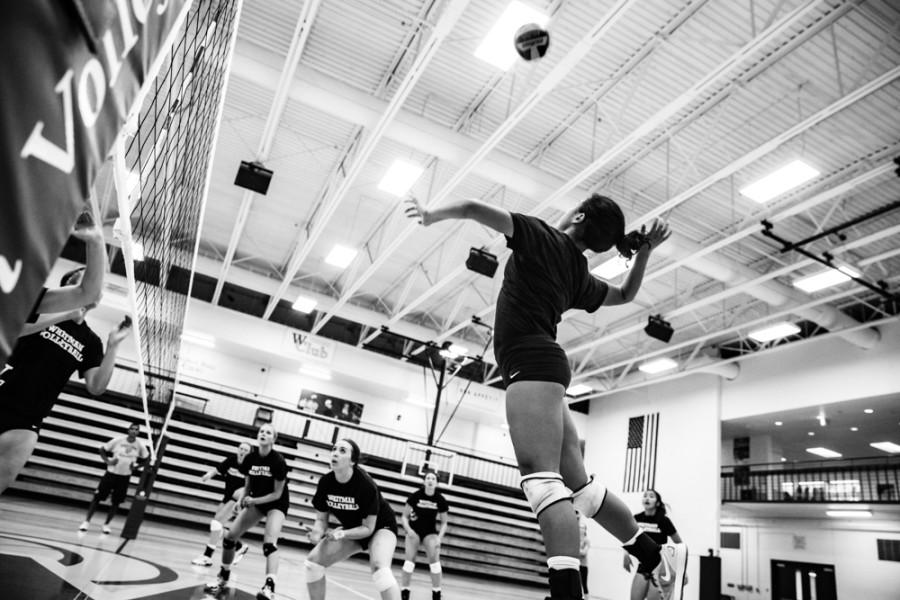 As the 2015 season kicks off, Whitman's Volleyball team is ready for a fresh start. Last season the Missionaries finished with an 11-14 record, and just missed out on a .500 season. After a preseason filled with hard work, the team is coming in ready to better that record. This season will be the first since Coach Matt Helm took over in 2012 in which every player has only ever played for or been recruited by him. The entire team has spent the entirety of their time at Whitman in the team culture he has created. To Senior Abby Seethoff, this culture is defined by family.
"We're all about family. We actively like to hang out with each other when we're not playing volleyball. We talk a lot about loving each other but also being able to hold each other accountable and being honest, as families are," she said. "We are the sum of our parts. Every single person here is important, every role matters."
Another role that has the potential to play a crucial part in Whitman's success is that of the crowd. In the season opening game, a large student section showed up and brought the fire. Whit City came out in force. Senior Hannah Linsenmayer was impressed with the turnout and energy in the stands on the first night.
"The fan section at home is so important for our team. Having that energy at home is great," she wrote in an email. "It is incredible to see support from our Whitman students just as a varsity athlete in general. Specifically, Whit City is such an amazing addition to Whitman Athletics this year, I am very excited to see how it progresses the already supportive community we have at Whitman!"
The off-season saw a number of players from last year's roster decide to stop playing. A combination of injuries and tough personnel decisions mean that this year's team will need the incoming first years and transfer students to step up immediately. Coach Helm believes that they are ready to do just that.
"We have more depth this year than in previous years," Helm said.
When prompted to name some of the new players that will provide an instant court presence, Helm wasn't picky.
"I'm listing all of my newcomers, but that's the way it is, I believe any of them can step in and do a good job for us," he said.
In the home opener against Walla Walla University, this depth was very apparent and vital for the first win of the season. First year Brooke Randall and junior transfer Cherokee Washington played a lot of sets with an instant impact. Linsenmayer is so far impressed with the new-look team.
"We have 8 new players who have brought a really fun and competitive attitude to our team. We really compete with each other in practice while managing to stay really positive and supportive of each other as teammates," she said.
The team's preseason trip is to Texas and sees them play a number of games against some competitive Texas schools, including Trinity who ranked in the top 25 last season. However, Coach Helm, while using the trip and games against some new opponents to test the squad, has his focus here in the Northwest.
"We're focusing on those teams in our region to try and compete," he said. "This year I think the conference is going to be very competitive. Whitworth returns everyone from last year's conference winning team, PLU and UPS always seem to be pretty strong. Lewis and Cark got a good recruiting class and will be tough."
In such a competitive and open race for the conference championship, Seethoff isn't worried about what happens in November.
"If we work hard and commit to the little things in practice, the results will show" she said. "We're a lot more focused on the process than the end game. We don't talk about what we're trying to do at the end of the season, we talk a lot about what we're going to do on the way".
With the positive atmosphere around the team, and the surplus of talent and athleticism to complement, there is good reason to believe the journey will be a successful one.