The Frontier Days Parade You probably Didn't Go To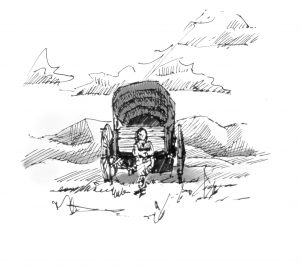 Last Saturday the pastoral smell of manure hung in the air as 150 flag-bearing equestrians rode through the streets of downtown Walla Walla in celebration of the sesquicentennial anniversary of the Frontier Days Fair. The cavalcade ended a parade representing more than 125 organizations, including the Confederate Tribes of the Umatilla Indian Reservation, the Pendleton County Bunch, and the Walla Walla Wagon Wheelers. Big names in attendance included republican "orchardist" Congresswoman Cathy McMorris Rodgers and local celebrity showman Tom Taylor, who would later perform at the Motorcycle Show n' Shine.
At least, that's how the event was marketed; the 150 et al. were supposed to be celebrating the 150th anniversary of a celebration. The subject of the original celebration was never stated—it was something in the background, only hinted at by words like "frontier" and images of blue-eyed cowboys wearing multicolored headdresses. Not a word was said about Columbia leading civilization westward, American exceptionalism, or the burden of frontiersmen, but pretty much everywhere you looked you'd be reminded of those things. This disconnect between the event's nominal purpose and its actual, intended purpose might at first seem foreign, but with a little reflection I think you'll find that it's a lot more familiar than you'd expect. It turns out that the words that you are reading right now are printed in a newspaper that dealt with precisely this issue last year, namely the problem of reconciling the name "Pioneer" with Whitman's dominant ideological stance.
The solution, of course, was to scrap the name. This was a feasible method in the case of a college paper, where hardly anyone sticks around for more than 4 years, but in the case of Frontier Days we find people like Marie Gauch Buckley, aged 95, a woman who has consistently attended since becoming Frontier Days Princess in 1936. When you have people that are nearly a century old involved in your organization change creeps along at a century-level pace. And this is where the central point of this article comes in: Colleges, by virtue of their use-and-discard—or, more politely, fly-the-nest— approach move at a hyper-accelerated pace compared to the outside world, and this gives students a distorted sense of their change-making abilities. It should be noted that I'm not arguing for passivity or that, as Chaucer proclaimed, "as tyme hem hurt, a tyme doth hem cure," but I do think we should recognize the sheer power of deep seated ideologies if we want to have any shot at influencing them. If not, we might find ourselves attacking the ideology's holder—the easier of the two targets—rather than the ideology itself. Then there's another far more subtle point underlying all this, namely that Ms. Buckley's beliefs—whatever they may be—are deeply connected to her memories. When someone like her argues for some degree of consistency in the celebrations, there's a sense in which she is fighting to keep her memories from dying with her, but this has so many implications that it warrants its own article.
The significant point is that Whitman and the broader Walla Walla community are both dealing with similar controversies at different timescales, and many of the perceived incompatibilities between us spring from a refusal to recognize this basic fact. We advocate for cultural pluralism within Whitman, but often refuse to step outside the college because of the contradictory belief that a pluralistic community is incompatible with a homogenous one, and the belief that the greater Walla Walla community is homogenous stems from the fact that their words and symbols change at a slower pace. Recognizing this and then taking the leap past the Mill Creek Brewpub on the edge of campus is key to achieving some degree of harmonious coexistence.