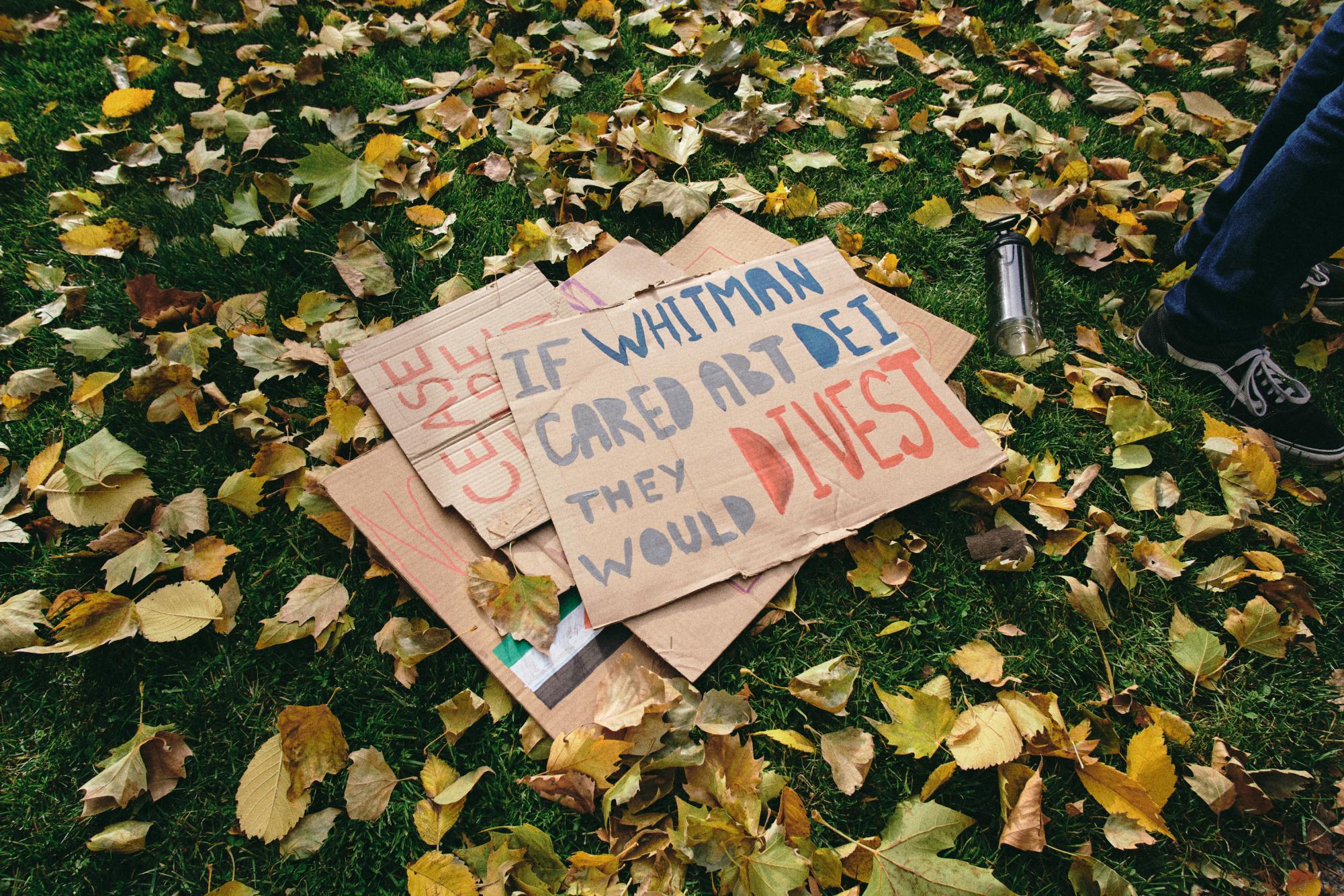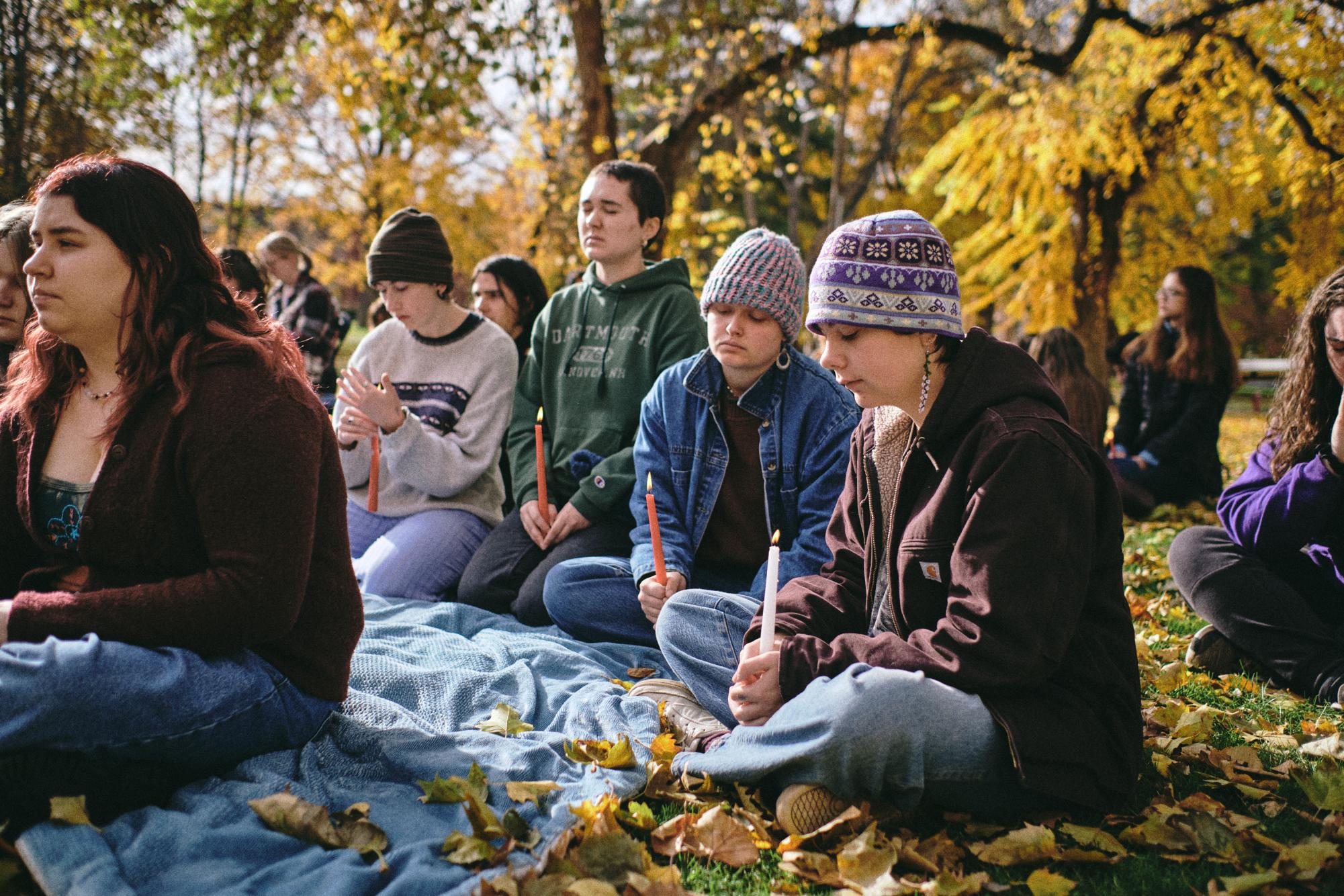 Editor's note: This article includes details from previously published breaking news updates. Additional reporting has been added to better provide a holistic view of the occupation and its consequences.
After four days and three nights, Whitman Students for Justice in Palestine (WSJP) and Student Action Coalition (SAC) leaders emerged from Memorial Hall (Mem) just after noon on Nov. 12 following a meeting with College President Sarah Bolton. As the crowd of student supporters of divestment came back together, the results of the meeting were shared: Student demands had been met enough for the occupation to end. 
Following the meeting, organizers informed gathered students that they had until 4 p.m. to vacate the building or Dean of Students Kazi Joshua would contact local law enforcement; Joshua has not responded to several requests for comment from The Wire. 
Divestment in Action
Emails shared with The Wire outline demands made by WSJP. They mirror those made by SAC leaders, and both groups have been brought into the same conversation. 
An Oct. 30 email sent after the Oct. 26 occupation outlined WSJP's demands, including that the College divest from "weapon suppliers to Israel, companies that are headquartered in Israel and companies that purchase from Israeli companies that need to be divested from urgently."
The email continued to explain why specific demands were prioritized, emphasizing the urgency student groups see for the College to act quickly.
"The idea behind this prioritization is that it would have the most immediate effect, both materially and symbolically, and would hopefully face less resistance, since it seems evident that Whitman is not an institution that is actively interested in supporting an apartheid state or ethnic cleansing," WSJP leadership said.
A follow-up email sent by WSJP leadership to Bolton on Nov. 6 further called for urgency, citing specific clauses within College bylaws.
"At the moment, we think it is necessary for the Board to meet and decide on the future of the college's investments, either upon your request of a "special meeting," or the chair's, or of at least three Trustees," the email said.
In a Nov. 12 email to the Whitman community, Bolton confirmed that student organizers will meet with members of the Board of Trustees virtually; the date of that meeting, as well as its participants, have not been made public as of the date of publication.
"The Chair of the Board has agreed to provide an opportunity for the students who had brought forward divestment requests to speak with a small group of trustees (via Zoom) about their concerns and ideas. This is not a meeting to vote on any specific proposal, nor has any vote been planned or scheduled," the email said.
Senior Dante Morelli is the Student Resources Representative for the Board of Trustees. In an email to The Wire, he explained his role in conveying student demands to the board. 
"As a student representative, it is my, along with Nat Lange (General Board Representative), Clarisse Yee (Experience Board Representative) and Maximilian Walthers (Advancement Board Representative), job to best represent student interests. As that relates to the occupation of Mem, we decided that the best course of action was to recommend that the board meet for a discussion, and as such emailed President Bolton a statement letting her know of our support for the calling of such a meeting to get a conversation going," Morelli said. 
Vice President for Finance and Administration and Professor of Mathematics and Statistics Jeff Hamrick explained that the divestment process is complicated in part because Whitman's endowment is managed by private investment managers.
"A significant portion of the college's endowment is placed with private managers – these are not publicly tradable mutual fund investments or ETFs, but rather private placements of capital with investment managers," Hamrick said.
The Investment Committee of the Board of Trustees sets policies related to the College's endowment; the current investment policy is under revision and will go before the Board in the coming months. As of now, the College's only exclusionary proviso is in regards to fossil fuels. 
A relic of this proviso is the College's divestment policy, which states several conditions under which college community members can request the Board to divest from investments. 
"Instances so extreme that they shock the conscience, such as genocide, ethnic cleansing, unjustified disregard of profound environmental degradation and other wide-scale acts of injustice, may call for an extraordinary response," according to the policy.
Hamrick explained that regional divestment, like that called for by student organizers, is more difficult than fossil fuel divestment in part because of how companies are organized. 
"Capital moves freely across borders and through different channels around the world. That makes it hard to say what is a U.S. company," Hamrick said. "Companies [can] do funky things like headquarter in Bermuda or the Caribbean for tax purposes, but their operations, activities and investments may be elsewhere. I'd raise the question: What does it mean for a company to be in or of a country? It's not as easy to pin down as one might think."
Student organizers called for divestment writ large, including within student clubs and organizations.
The Whitman Investment Company (WIC) is a student-led club started from the William M. Allen endowment. WIC maintains a $1.6 million portfolio and provides students with education about the finance world. Current divestment demands have also raised questions about WIC investments in companies like Boeing, which sells weapons to the U.S. and Israeli Armed Forces.
Senior Piper Brown, the CEO of WIC, clarified that while WIC is primarily operated by students, the ultimate decision-making authority does not rest solely with WIC members. 
"We are student-managed, but the College has ultimate say in any decisions we make," Brown said. 
Brown describes the purpose of the endowment, which includes providing students with real-world experience in investing. WIC's holdings in companies like Boeing are gifts from donors that come with explicit conditions, which define the parameters of how they can utilize those funds. 
"Boeing, as well as several of our holdings, are gifts from donors that contain specific stipulations outlining what we are allowed to do with the investment. Most relevant for us, not selling a holding for a certain amount of years. While we may vote as a collective that we want to divest of a holding, if the stipulations in the donation state otherwise, then we are not allowed to do so," Brown said. 
Moving forward, Brown explained the possibility for changes to be made in WIC's future in regard to recent divestment demands. 
"The executive leadership roles at WIC change yearly and that leads to specific investment goals and paths changing slightly from year to year. I speak for only the current executive board and myself when I say we are more than open to being involved in the current conversations and how we can improve WIC to become more ethical investors within the bounds of what the school allows us to do," Brown said. 
Community Support
Over the course of the occupation, faculty have supported students participating in the sit-in in a number of ways, both in and out of the classroom. Associate Professor of Art History and Paul Garett Fellow Lisa Uddin said that she assisted the protesters to show her support for student organizing, and to open more channels between professors, students and the campus at large to have challenging conversations about the war in Gaza.
"The student sit-in was well-organized, responsive, communal, resolute, welcoming, curious, pedagogical, creative, chill and beautiful. Supporting it was supporting student learning and supporting their right to exchange ideas. The goal of divesting from the state of Israel and/or weapons manufacturing more broadly will take longer than people might have expected. I see the sit-in as an event that produced the necessary culture and channels for it to happen," said Uddin.
Judge and Mrs. Timothy A. Paul Chair of Political Science and Professor of Politics Shampa Biswas, who provided food and support to the protesters, emphasized the importance of student organization and expressed that there are many ways for students to use their political agency.
"I often tell students stories of past student activism and protest. Students, when they organize, are powerful. I will continue to talk to my students about the power of political engagement, of which the recent student sit-in was just one form. There are many ways, some loud and some quieter, to use one's political agency," Biswas said. 
Visiting Assistant Professor of Politics Robert Flahive offered students flexible attendance options on Thursday and Friday in addition to dropping by Memorial over the course of the weekend. In an email to The Wire, Flahive explained that his participation was in part due to personal connections he has to Gaza, and the messages he has received from friends and former students experiencing violence firsthand.
"No one should receive such messages, because this horrific violence on a besieged and occupied population, mostly of refugees, should never happen," Flahive said.
Junior Jane Gotzler emphasized that faculty support served as a driving factor of the occupation's longevity.
"Having faculty support is so amazing. [It's] so moving to see people come in and offer what they can and know that when we stand up for what we believe in, there are people who have our backs," Gotzler said.
The Eastern Washington branch of the Party for Socialism and Liberation (PSL) provided various types of support towards students occupying Memorial Hall. Their involvement began with a march held by PSL on Nov. 9 that started at the Walawála Plaza and ended at Whitman's Memorial Hall in order to encourage the Walla Walla community to engage with Whitman students and their divestment goal. 
One PSL member, who asked to remain anonymous due to potential repercussions in the workplace due to their relationship with the PSL, explained that the party's role in student organizing was strictly supportive. This took the form of providing food and water to help students' needs the first night of the occupation. 
"The PSL, on campus, has played solely a supportive role in Whitman students' call for admin divestment. Some of us decided to bring warm soup, water and snacks for the first night of the students occupying Memorial Hall to help ensure that students' needs were being met and assist with maintaining a positive momentum," they said. 
This information was confirmed by PSL member Matthew Peinado. 
Just after student organizers announced that the occupation was coming to an end, Junior Stella Coomes explained how broad community support made Memorial feel safe during a contentious time.
"Everyone was very much supporting each other and going out of their way to make sure that everybody who was in Mem had everything that they needed [and] was taken care of," Coomes said. "It was well-organized and felt very safe." 
Future Directions
Although students called for urgent divestment, Hamrick emphasized that the process can not happen overnight – fossil fuel divestment is still in process, even though student demands to divest began in earnest a decade ago. 
"Most divestment policies, when adopted and then implemented, from a practical point of view, can't be implemented for about a decade," Hamrick said. 
Calls to immediate divestment face challenges as the College's investments have specific "lockup periods," a required amount of time where the College cannot withdraw capital. 
"Most of our contracts with those investment managers have long duration lockup periods. And so even if we were to decide to get out of that investment manager, for having no reasons to do with fossil fuels or a political movement, because we have a contract with that manager, we generally have to wait for that contract to wrap up," Hamrick said.
In an email to the campus community, Bolton said that some of the protests fall under speech protected by student code, which includes rights to "freedom of speech, expression and association," but that the College is aware of some behavior that it believes requires follow-up through the disciplinary process.
"The College supports freedom of expression, including protest that falls within the bounds of being respectful.  Some of the protests over the last several days fell within these bounds.  However, we did receive several reports of acts of harassment, which is absolutely not acceptable.  These reports were addressed immediately where possible, and are also being followed up via the conduct process," the email said.
In her Nov. 12 meeting to the Whitman community, Bolton said that custodial crews would clean the building prior to Monday morning. The Wire contacted Assistance Vice President for Facilities Services Tony Ichsan asking for a comment on the condition of the building following the four-day occupation; at the time of publication, Ichsan has not responded to the request.
Although tension between student factions and administration have been high, Hamrick was clear in emphasizing that student perspectives on the College's finances are central to its operation.
"I absolutely believe that our administration and our trustees are interested in the perspective of students, in terms of all of the college's priorities, its values and its operating practices. This is not a traditional for-profit business," Hamrick said. "It's a place of living and learning, a place where we expect to build and form lifelong relationships with people on the basis of shared interests, values, intellectualism and engagement with one another."
Whether or not Whitman will ultimately move forward on student calls to divest is unclear at this time; a clearer picture may emerge following the Board's meeting with student organizers. What is certain is that if the Board elects to move forward with divestment, there will be a long road ahead.