Alanna Sherman awarded Newman Civic Fellowship for community projects
Whitman junior and sociology major Alanna Sherman has been named a Newman Civic Fellow in recognition of her exceptional leadership and commitment to addressing social issues. This prestigious fellowship, awarded by Campus Compact, honors students who have demonstrated a deep passion for civic engagement and have taken bold steps to impact their communities positively. 
Campus Compact, a national nonprofit organization of colleges and universities, focuses on supporting the goals of higher education. The fellowship includes online learning opportunities, networking and a voluntary in-person gathering. 
Sherman has been recognized for her exceptional dedication to community service and her passion for promoting food justice. President Sarah Bolton, who nominated Sherman for the Civic Newman Fellowship, highlighted her accomplishments within the community.                
"Alanna [Sherman] has internalized the importance of community and the collective responsibility we all have to support one another. Alanna cares deeply about the food justice work she is doing as it relates to systems of oppression," Bolton said. 
Sherman reflected on the inspiration behind her community work, acknowledging organizations like the Black Panther Party for their significant contributions to food justice.
"A lot of projects I have been involved in during my time at Whitman center around mutual aid, food justice and food sovereignty. All of these frameworks were thought of and practiced by many community organizations such as the Black Panther Party, especially the women of the Black Panther Party who started initiatives, such as community meals and free breakfast programs," Sherman said.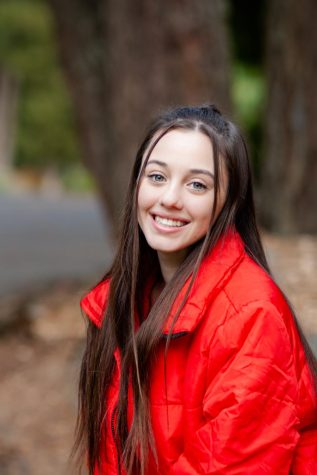 Sherman stated that her inspirations were the reason behind her decision to establish a free resources pantry during her second year of college. She received assistance from her friends in the Whitman Organic Garden to achieve this.
She explains that the pantry's goal is to offer food and essential resources to those who require it in the Walla Walla community.
Sherman's passion for promoting community values has led her to spearhead several projects at Whitman College, including the free resources pantry and the Food Justice Project, which supports initiatives to address food insecurity in the Walla Walla Valley.
"In the fall of my junior year, I started co-leading the Food Justice Project with Margaret Kanyoko. The Food Justice Project is a group through the CCEC that was started by two really incredible Whitman students, Devon Player and Olivia Lipson, in 2021. This group supports the Blue Mountain Action Council with their initiatives to address food insecurity in the Walla Walla Valley," Sherman said.
Last fall, Sherman initiated a project to collect used books and distribute them to incarcerated people in the Washington State Penitentiary. She credited Fatimah Nyeemah Warner for coming up with the idea of collecting books for incarcerated individuals. Warner is professionally known as Noname, the founder of the Noname Book Club, which sends books authored by people of color to incarcerated people in the United States as part of their Prison Program. The initiative influenced Sherman's book collection effort for people in the Washington State Penitentiary.
"Incarceration is a deeply dehumanizing experience, and simply having access to books may seem small, but it is so necessary," Sherman said. "Education and exploring the imagination needs to be made accessible to all humans, and sending books to incarcerated people is a really beautiful way of expressing love and solidarity with our communities. This book drive collected 255 books, which wouldn't have been possible without the help of so many lovely people in the Whitman community." 
Amid the challenges of college life and community engagement, Sherman advises not to lose sight of your goals while also prioritizing self-care as a crucial component to maintaining the energy needed to sustain meaningful work.
"My biggest piece of advice is don't give up on your goals, but also allow yourself the space to rest. Organizing and community engagement can be really beautiful but also emotionally draining, which is especially hard if you are a college student and possibly working other jobs," Sherman said. "I have definitely overworked myself in the past, and it makes it really hard to continue the projects you have started. Being intentional about the work you do includes taking care of yourself."