Together23: destigmatizing addiction and trauma
The Walla Walla Community Change Team (CCT) is a coalition of several Walla Walla organizations and community partners dedicated to promoting a trauma-informed, recovery-oriented system of care that centers around people with substance use disorders. Everyone involved in CCT works as a volunteer and brings expertise from their variety of disciplines.
CCT organizers include Karen Carman, Becky Turner, Peggy Needham, Jordan Green, Christian Galipeau, Jennyffer Landaverde, Brian Delano, Jerry Maher, Krista Timm and Devon Player. Their respective organizations involved in CCT include Hope Street, the Community Resilience Initiative, Blue Mountain Heart to Heart, Trilogy Recovery Community, Providence St. Mary, Walla Walla Public Schools, Walla Walla County Department of Health and the Career and Community Engagement Center (CCEC) at Whitman.
Executive Director at Hope Street Karen Carman stressed the importance of a recovery-oriented system for people with substance use disorders and trauma when describing the foundational methods of treatment.
"Recovery-oriented means a person-centered, person-driven recovery system. That trauma-informed concept is that we assume that there's a history of trauma and meshing those two systems together in a way that can help people to recover and to help our communities support people to recover," Carmen said.
Brian Delano is a community health worker at Providence St. Mary Medical Center who believes the diverse lived experiences within the coalition are what make the organization holistically successful.
"I see people that have lived a life and know what it's like to struggle and see somebody struggling with addiction," Delano said. "[CCT] is not just an amazing group of people either because they are all trying to also make our community better. I think lots of us have our own personal traumas that we don't want other people to experience, so we're going out there trying to help those people so their loved ones don't have to experience the things we've experienced."
CCT has planned an event titled Together23, which is set to be held on March 9 at 7 p.m. in Reid Ballroom. Together23 is a trauma-informed recovery event that will feature an educational panel, a large multimedia exhibition of visual artwork, spoken word poetry and a reflection portion to end the night.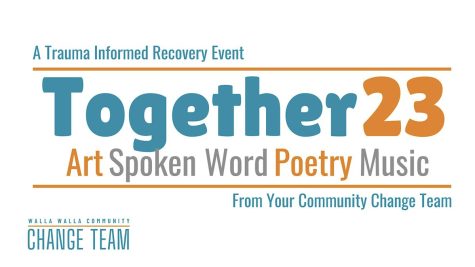 Senior Devon Player is a member of CCT and works for the coalition through a Community Fellowship that is part of the Community Fellows Program offered by the CCEC. She discussed the origin of the event and the importance of its inclusion within Whitman's sphere.
"The event stemmed out of this focus on connection, community building and developing a sense of collective responsibility, specifically around a topic that we don't necessarily talk about a lot within community spaces," Player said. "I also think, just in relation to Whitman, this is a very important event because [addiction and trauma] isn't something that just affects the community outside of Whitman. It can affect really anyone and does affect probably most of us in some way, especially through substance abuse disorders and trauma we don't talk about a lot."
Becky Turner is the Director of Community Engagement for the Community Resilience Initiative who believes people need to shift their perspectives around addiction in order to create systems of support that can realistically address the complexity of addiction recovery.
"The truth is, we need a whole community surrounding the folks who are struggling. Addressing the stigma is the first component, and it's vitally important. Not everyone's going to have that same experience [with recovery from addiction], but there's just so much attitude attached to the people who are suffering, and the people who are suffering are doing so for really organic and naturally explained reasons," Turner said. "It comes down to the community environment, the homes that they were raised in and the support systems that people have. What I would like to rally the community to do is to become that support system."
Carman and Turner see Together23 as a springboard for future CCT events and collaborations within the Walla Walla community. They described potential plans to partner with Walla Walla High School and Walla Walla University for trauma-informed addiction events.
"I feel like this event is a template that we can reproduce at different places. We're not really sure where CCT might go from here because Together23 is the first event, but I definitely feel like it's a really good example. [It's] kind of a first run at something that we can reuse," Carman said.
Recovery from addiction is possible. For help, please call the free and confidential treatment referral hotline (1-800-662-HELP), or visit findtreatment.gov.