What do WWCC students think of Whitman?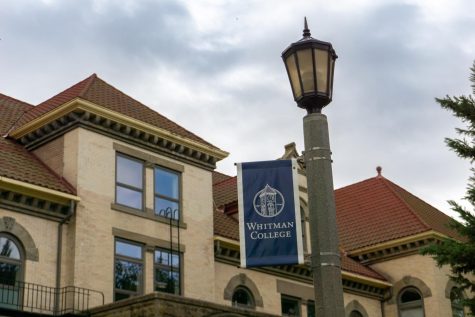 Walla Walla Community College and Whitman College share a town. While the two schools share many other similarities, they also have their key differences.
One of the main differences noted by Walla Walla Community College (WWCC) student Nick Hansen-Feruch is the lack of dorms, as WWCC is more of a commuter school where people go to campus for class but live at home.
"Having on-campus dorms definitely makes campus life more lively at Whitman," Hansen-Feruch said. 
Hansen-Feruch also noted the demographics at WWCC — his classes have adults of various ages. 
"WWCC, hilariously, is just like you'd imagine; there's a couple [of] older people in every class and everyone comes to class and then immediately goes home after," Hansen-Feruch said. "The age demographic is still 80 percent young adults."
Hansen-Feruch has spent some time on Whitman's campus because his girlfriend is a Whittie. He said he appreciates how Whitman welcomes him into the community and how he feels accepted at social events.
"I'm fortunate enough to have an amazing girlfriend that goes to Whitman, but if I didn't, I wouldn't have had the chance to meet all the cool people on campus," Hansen-Feruch said.
Sueli Gwiazdowski, a WWCC transfer student, had a different story to tell about social life at Whitman while she was a student at WWCC. She spoke about one instance when she was a student at WWCC where she was kicked out of a Whitman fraternity party, even though she had been invited by the host.
"I was outcasted from Whitman social life and called a 'townie' in a derogatory context," Gwiazdowski said. 
She also talked about some of the stereotypes she feels that Whitman students harbor toward those at WWCC. 
"Whitman students assume that if you're at the community college, you're less intelligent than they are. I have felt that my intellect has been discounted at times in my conversations with Whitman students," Gwiazdowski said.
Gwiazdowski also emphasized that WWCC has a much more accessible campus with more flat ground. This makes it easier for students with disabilities, like Gwiazdowski, to navigate the college.
"The community college is more structurally accessible. When I was there, I almost never had to be concerned about snow or whether there would be enough disabled parking spaces."
Gwiazdowski also felt that she was able to engage in conversations with those with more intellectually and politically diverse viewpoints at WWCC than Whitman.
"A majority of the students at the community college attain an AA [Associate of Arts] instead of a Bachelor's, so our education is often discounted. However, I found it more intellectually diverse at the community college, and I was able to have dialogue with people that I fundamentally disagreed with. Compared to the community college, Whitman seems much more monolithic in terms of ideology, and so I have had less genuine dialogue in this community," Gwiazdowski said.
Richard Middleton-Kaplan, the former Dean of Arts and Sciences at Walla Walla Community College who now works for the Academic Resource Center at Whitman, discussed their perspective having worked at both schools.
"I've appreciated how inclusive Whitman College has been towards professors and staff at Walla Walla Community College [by] inviting them to professional development events that we think may be helpful to them, as well," Middleton-Kaplan said.
He also spoke about how before COVID-19 there had been tri-college events between Whitman College, Walla Walla Community College and Walla Walla University. Students could meet and discuss college life and what it is like attending different institutions in the Walla Walla Valley. Additionally, on Martin Luther King Jr. Day in previous years, students from Whitman, WWCC and Walla Walla University were invited to a Martin Luther King candlelight vigil. Many of these events were canceled because of the COVID-19 pandemic, but Richard hopes that these events will pick back up again as COVID-19 cases decline in the future.