Discussing wildfire management as unhealthy air quality forces students inside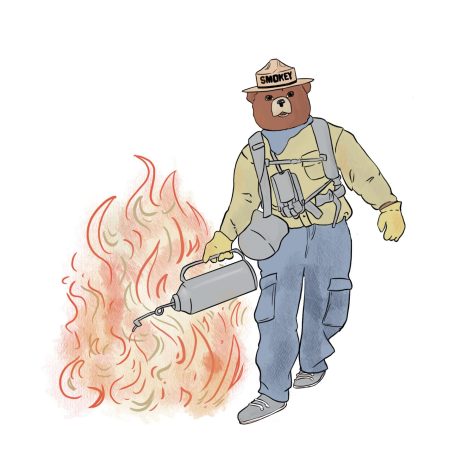 During the second week of September, the greater Walla Walla area and much of the West Coast experienced poor air quality as a result of regional wildfires. Air quality indexes, which measure the levels of smoke in the air, reached the 170s and 180s (levels above 100 are generally considered to be unhealthy). An increase in suspended air particles led to an air quality alert issued on Sept. 12 by the college. 
On Sept. 15, sophomore Natalie Saunders gave a presentation on the History of Wildfire Management.
"This is something I've done a ton of research on and just love talking about it," Saunders said. "The history behind wildfires and how beneficial it can be is something that I feel more people should know, and CampuSpeaks gave me the perfect opportunity to spread my knowledge to a wider audience." 
Saunders explained that early fire policy, such as the 10 a.m. policy of 1933-1978, was meant to be as suppressive as possible.
"The smoke we've been experiencing here in Walla Walla is a direct result of both geography and decades of fire suppression . . . Without fire to burn away the dead brush and trees, fuels were allowed to build up over the course of almost 50 years," Saunders said. "The overabundance of fuels created the larger, more intense fires we are seeing today."
Fire is necessary to many forest ecosystems, as some species need fire to germinate. Associate Professor of Sociology Alissa Cordner has conducted research that includes the social and political aspects of wildfire risk management.
"For many other ecosystems, including the mixed conifer forest that we have in the Blues right here, it's not so much that [trees] need fire to germinate necessarily, but that low-intensity historically . . . played a really big role in maintaining healthy forests in terms of forests that had a sort of diversity of different ages and types of trees and other plant species," Cordner said.
Both Saunders and Cordner explained that climate change, human development of land along the wildland urban interface (where buildings meet the forest) and fuels left unburned from 50 years of fire suppression have led to far more catastrophic fires.
Saunders and Cordner said that one of the best tools that humans have to combat wildfires is prescribed or controlled burns.
Prescribed burns involve firefighters intentionally setting fire to specific areas after extensive planning and safety precautions to ensure that the fire does not get out of control. These fires allow for fuels along the forest floor to be burned in a low-intensity fire, reducing future risk of wildfire.
Cordner stated that Native Americans have historically performed cultural burns.
"Indigenous folks have done [prescribed burns] since time immemorial here . . . in the Blues and other places in the United States, and [prescribed fire] is very effective at essentially applying low-intensity fire during times of the year when it can be effectively managed," Cordner said.
However, in the age of climate change, sometimes prescribed fires can break through fire lines and spread uncontrollably, such as during the 2022 Calf Canyon Fire in New Mexico. These fires can warp public perceptions about the safety of controlled burns, as the vast majority do not spread outside of their containment lines.
Associate Professor of Anthropology and Environmental Studies Eunice Blavascunas studies temperate forests in Europe. These types of forests are less prone to wildfire. 
"The single best tool humans have to combat wildfires is to curb our greenhouse gas emissions and to ensure that old forests are not clear cut," Blavascunas said. "Old forests are necessary so that they can continue to store carbon, retain water in the soil and influence the hydrological cycle."
In addition to prescribing solutions to combat wildfires, Saunders addressed the important role they play in our ecosystem.
"Wildfire, which has always been a symbolic enemy of conservation, must be treated instead like the friend it has always been to the western forests of the U.S. if we are to move towards having a more sustainable future," Saunders said.