"It has transformed the way that I will teach:" Reflections on the Long Tent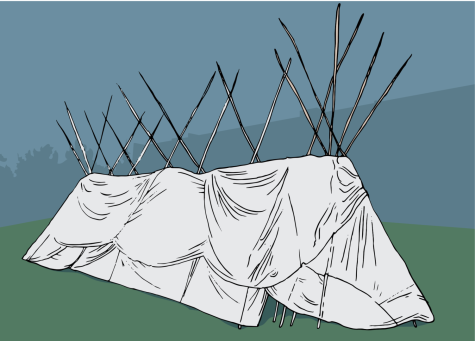 Last week, Whitman partnered with the Confederated Tribes of the Umatilla Indian Reservation (CTUIR) to build the first Long Tent ever to appear on a college campus. The Long Tent is specific to the Plateau People. Historically, families lived together in these tents and they were used for ceremonies. 
"I knew it was going to be great, but it was beyond my expectations," said Professor of English Sharon Alker. She brought students from her 18th century literature class to the Long Tent. 
Descendents from the Yakima and Nez Perce tribe, Lonnie and Stella Sammaripa, guided Alker and her class in the Long Tent. Alker said the Sammaripas spoke about oral teachings and history. They also discussed science and how it can be problematic, but also productive. At the end, Lonnie Sammaripa sang a song to the class about a raven. Alker said it left herself and the class in tears. 
"For 50 minutes we got an incredible amount of knowledge. And when we left, when it was over, and we had to go outside the tent because another class was coming in, my students didn't want to leave," Alker said. "It has transformed the way that I will teach this class in the future. I'm going to give a lot more prominent voice to Indigenous voices, voices of people of color."
According to The Wire's podcast episode with the Samarripas, incorporating Indigenous perspectives into the Whitman curriculum is exactly what they and other Indigenous community members want. For the Sammaripas, the Long Tent was a way to emphasize the role the Plateau People and local tribes have in Walla Walla and the Pacific Northwest. 
Director of the Career and Community Engagement Center Noah Leavitt helped organize the Long Tent. For Leavitt, the interactive experience of the Tent had a profound personal impact. 
"Seeing a structure that is Indigenous to this area, that's so different from all of the structures that now exist, was for me a constant reminder of how much imposition of white colonialism and capitalism and violence has been brought on to this land in a way that I have just never viscerally experienced before," Leavitt said. 
Leavitt also remarked on the Long Tent as an important step in the relationship between the local tribes and Whitman. 
"[Chief of the Walla Walla People Peo-peo-mox-mox, Donald Sampson's] favorable response to the college's efforts to put this tent up and put this tent up in the right way, to respond to all of the diplomacy and protocols that tribal relations and tribal governance works on, was especially powerful," Leavitt said. "To be able to do that and have it go well from the standpoint of the partner was incredibly significant."
Junior environmental humanities major Will Robertson attended the Long Tent for class and appreciated a renewed focus on land. 
"It felt really vital. I think that getting out of the Whitman bubble and interacting with people whose experiences have been shaped by their surroundings is really important," Robertson said. "I feel like too often we get distracted by academia [and we are] drawn away from how unique of a place it is where we go to school. I really enjoyed the fact that we were able to focus so much on place and so much about history."
Robertson hopes the Long Tent events from last week will change students' attitudes towards Indigenous history; he wants Whitman to focus more on growth rather than shame.
"I find that a lot of the dialogue on campus can be kind of guilt-ridden. People are really full of shame about how manifest destiny, or how manifest genocide has taken place and they don't really know how to go beyond it," Robertson said. "I thought Roger [Ammerman '80 (Choctaw)] did a great job of using warmth as a catalyst for dialogue and moving beyond just feeling bad about past terrible actions."
Leavitt, Robertson and Alker all hope that Whitman and the Plateau People continue to collaborate, whether with more Long Tents or other educational events. 
"Exploring other avenues through which we can have an ongoing relationship with native peoples and invite the Walla Walla community so that we are making the productive connections that will help us to envision solutions together going forward," Alker said.