Getting to know Whitman's incoming president Dr. Sarah Bolton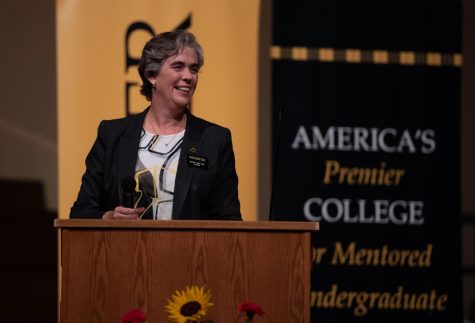 On Jan. 11, 2022, Dr. Sarah Bolton was named Whitman's new president, concluding a year-long search by the Presidential Search Committee. The announcement was made virtually in a Zoom meeting hosted by the Board of Trustees. Bolton will assume the mantle as Whitman's 15th president in July 2022.
Bolton has over 25 years of experience in higher education. She began as a professor of physics at Williams College, she became the Dean of Williams College in 2010, and in 2016 became the President of the College of Wooster. 
In an interview with The Wire, Bolton expressed her excitement about joining the Whitman community and discussed her prior work in academia. 
The Wire: What initially drew you to Whitman as a college?
Bolton: When I was interviewing with both students and alumni, people kept talking about how their Whitman education was affecting their lives. Recent graduates and alumni talked about how that education had really been transformative and made things possible for them, so I was really excited about the possibility of being at a place that was making a difference for students. Whitman seems to be a really collaborative community where students are thinking about the ways that the campus might be better for them, but also a lot about the way the campus might be better for somebody else. 
The Wire: Given your passion for Diversity, Equity, Inclusion initiatives (DEI), is there anything that you might see yourself implementing at the start of your presidency?
Bolton: I think figuring out the right next steps for DEI involves a pretty deep study, a kind of full understanding of where things are at the moment. What's working well, what's not working well, where might there be gaps, and if there are gaps how do we change that? How do we make it so that everybody is having the excellent experience that we intend? I can't say from right here necessarily what would be the most helpful thing to do. Obviously, there are a lot of people, students, staff and faculty, as well as administrative leaders, who are thinking about those questions right now. I definitely want to hear from people about some of the key things that they would like to see moving forward and find out what's most important.
The Wire: Looking at your extensive administrative experience and how well-versed you are in academia, how has it been being a woman in these fields?
Bolton: Besides my administrative experience, I'm also a physicist and physics is a field that has particularly few women. I can remember in high school, I was taking physics with lots of people, and I remember the physics teacher saying to me, "Oh don't talk to the boys in the class because they have a chance at becoming scientists and you could be interrupting that chance." When I moved from becoming a physics professor to becoming a Dean, I actually was in a much more gender diverse setting as a Dean than I was as a physics professor. I was the only woman in my department from the day I was hired until the day I moved on to become the President of Wooster almost 20 years later. I was really used to being in settings where I was the only woman for a long, long time. In any leadership position, I think there are always moments where gender bias appears. I'm sure I have my own gender biases and the biases of others up here, but I would say I've been very well supported and had great mentors and people who've been really helpful to me both in supporting my own work, but also in calling me out and pointing out places where my own thinking could be better or needed to be more equitable.
The Wire: What do you think your greatest challenge is going to be as Whitman's next president?
Bolton: I think part of the challenge as president is bringing together the perspectives from different people at Whitman. We don't live in an equitable or inclusive society. We live in a society that has all different kinds of structural racism and oppression, so we work hard to create a space that is welcoming for every student, and one that's inclusive and equitable for every staff and faculty member. We're trying to push back against the kinds of harms and inequities that are out there so that work is hugely important. 
The Wire: What do you think is the most effective method to bridging gaps between administration, faculty, staff and students?
Bolton: It's a little bit different on every campus, but I think just really talking to people honestly. I think honest conversation is really important, and I think that's the opportunity we have on small campuses. We don't have seventeen layers where it's hard for a student to talk to a Dean or to the Provost. We can know each other. I'm glad that we're getting into a better position with COVID-19 so that we can gather in person again. I do think that as much as I love a good Zoom call, it's really different to be in person. You can kind of see the inflection of somebody's face or hear them catch their breath when someone says something. We want to know one another and understand what respect looks and feels like to one another before and as we're engaging in any kind of difficult conversation.