Accounts of violence at the Washington State Missing Missing and Murdered Indigenous Women and People Task Force public meeting
As part of last year's Race, Violence, and Health academic theme, Rosalie Fish, a prominent activist, raised the problem of Missing and Murdered Indigenous Women (MMIW). Fish became infamous in 2019 for running track and field with a red handprint over her face, symbolizing the multitude of Indigenous women silenced by violence. 
Dozens of women have vanished in around the Yakima reservation, often facing sexual violence, kidnapping, sex-trafficking and murder. These disappearances have been overwhelmingly at the hands of non-Natives and often without legitimate legal recourse.
On Dec. 2 and 3, a statewide public meeting was held by the Washington State Missing and Murdered Indigenous Women and People Task Force. The meeting was held to hear personal accounts and recommendations on how to combat the crisis of missing and murdered Indigenous women and people. Family members and advocates spoke both in person and on Zoom, recounting tales of their loved ones either still missing or murdered.
An overarching theme of many of the speakers was the desire for a quicker response to the cases of their loved ones, empathy from law enforcement, effective communication about cases and respect from the people handling the cases.
Attorney General Bob Ferguson made opening remarks for the meeting, stressing the importance of drawing attention to the public and state legislature.
"The efforts of tribes, organizers and families have led to the creation of legislation by the state legislature to strengthen the response to this crisis [MMIW] which passed in 2018 and in 2019. For example, it created two Washington State Patrol Liaisons, mandated the Washington State Patrol Report and the natural progression was to start a task force that created space for everyone to come to the table," Ferguson said.
Above all, Ferguson underlined the activism of the tribal communities and organizations in building a foundation for the start of the task force.
"This event is really by and for the community, and as the Attorney General for the people of the state of Washington, I want to express my deep, deep appreciation for all that has been done and all that you're willing to share to make the work of this task force a success," Ferguson said.
Roxanne White of Seattle spoke first, giving her history and reason for speaking.
"My ancestors, my great grandmothers, my great grandfathers called me to break the silence, to share my truth and to heal and stand with other victims, survivors, family members and community members," White said.
Veronica Jimicum spoke on behalf of her cousins Nona Boulin and Gerry Davis for their missing sister, Mary Ellen Johnson Davis.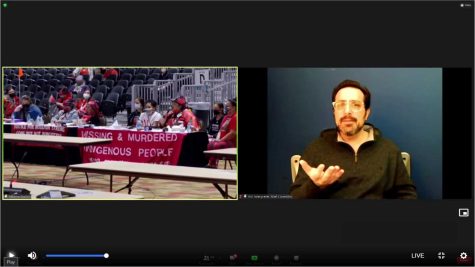 "Mary was last seen on November twenty-fourth of 2020, walking on Firetrail Road in Tulalip, Washington. She was heading to a friend's house but never made her destination. Gerry and Nona were contacted by the Tulalip Police Department… They were told that Mary was reported missing by her husband Eric Johnson on December ninth of 2020," Jimicum said, holding back tears.
More than a year has passed since Johnson was first reported missing, and family and law enforcement still have no answers as to what happened to her. 
Jimicum's testimony was one of countless, with many of the people still missing or found dead. The meeting approached close to five hours in length and predominantly consisted of accounts of people desperately missed by their loved ones.
Maelyn Foster, mother to Derek Wiley, spoke about how her son was murdered and dismembered, emphasizing the ineffectiveness of law enforcement and jurisdictional restrictions she faced in her son's case.
"There's no such thing as step, there's no such thing as foster, you're either mine or you're not. That child was born straight from my heart, all my children are. Unfortunately, the laws don't support 'foster parents' even though that's our cultural belief, that if you're born from my heart, you're mine," Foster said. "I shouldn't have to strong arm the prosecutor's office just to give me a copy of my son's autopsy."
Addressing the task force directly, Foster asked for recognition and consideration for families with missing or murdered people moving forward.
"That is my baby boy, and there are so many families out there, so many of our people who are missing and murdered who are products of the system, are children in care…we need an equal place and a cultural recognition for who we are…there needs to be cultural sensitivity around our role as 'foster parents,'" Foster said.
Task force members at the meeting emphasized the importance of taking care of families with missing and murdered loved ones as well as including their voices in government. Their traumatic experiences, difficult as they were to share, were slated as vital to laying the groundwork for the task force going forward.