Danielle Garbe Reser and Democrats' project to turn Walla Walla blue
It's been 15 years since a Democrat represented Walla Walla's legislative district in the state legislature. Danielle Garbe Reser, a moderate Democrat with a hefty resume, represented a rare shot for the alienated Party to build ground in the reliably red Eastern Washington. But cold political reality showed that Democrats' project in Walla Walla is an uphill battle.
After graduating with a degree in Politics from Whitman in 1997 and a Masters in Public Administration from Columbia University in 2001, Garbe Reser joined the Department of State for a 13-year-career as a U.S. diplomat stationed in Indonesia, Lebanon and Washington, DC. The Eastern Washington native ran the philanthropic Sherwood Trust in Walla Walla as CEO from 2015 to 2020 until she decided to run for Washington's 16th Legislative District state senate.
The 16th district covers all of Walla Walla County and Columbia County, and portions of Benton and Franklin, including Pasco City. Walla Walla is the geographic heart of the district and home to the highest number of registered voters.
The high-profile state senate race was the district's most expensive on record. Garbe Reser, 45, raised a whopping $460,000 compared to her opponent's $140,000, fueling Republican charges that the Democratic Party was trying to "buy" the seat in order to build an impenetrable Senate supermajority.
In the end, Garbe Reser's lengthy qualifications and prolific fundraising couldn't overcome the district's conservative legacy; she lost by a 60-40 margin to fellow Whitman alum Perry Dozier, a wheat farmer and former Walla Walla County commissioner.
The following exchange with Garbe Reser about her campaign and Democrats' long-term project to turn Walla Walla blue has been edited for brevity.
The Wire: More than 20 years after graduating from Whitman, you ran to represent its community in the state senate. What role, if any, did your Whitman network play in your campaign?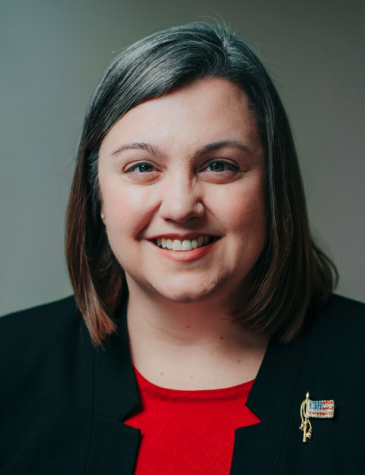 Danielle Garbe Reser: Running for office is a big team effort, and I was grateful that so many Whitman friends were part of our campaign team as volunteers, donors and voters for those who live in the district.
The Wire: It's no secret that your campaign raised a boatload of money. As we discussed before the general election, more than half of your fundraising came from individual donors (as opposed to PAC or Party money), and you outraised your opponent 3-to-1 in Walla Walla County. Still, your opponent and his backers consistently painted your campaign as the beneficiary of Democratic Party and Seattle money to "buy" a senate seat to enact Gov. Inslee's "radical" agenda. At a time when "money in politics" is a popular villain, what effect do you think this negative ad campaign had on your political profile and candidacy?
DGR: As a first-time candidate, showing fundraising success was important so that I would be seen as a credible contender and to have enough resources to reach voters in every part of our large district, particularly during the pandemic. I was grateful for the enthusiastic support of more than 1,200 donors who shared my desire to see our district better represented in Olympia.
As we track money in politics, it's important that voters have transparent and accurate information. We need news outlets to report not only on the money candidates themselves are raising, but also what outside groups, categorized as independent expenditures (IE), are doing to tip the scales in a race. The real Seattle-backed money in my race was the IE spending on behalf of my opponent [Perry Dozier.] They spent over $140,000 to support my opponent and knock out the other Republican challenger [Bill Jenkin] in the primary by distorting his voting record in the House and an additional $63,000 to attack me in the last two weeks of the campaign with lies about my fundraising and position on tax policy. My campaign received $0 in IE spending.
The Wire: Like every candidate running for 16th Legislative District office, you sacrificed in-person canvassing for video and phone calls and expanded online presence. The electoral boost from canvassing is well known and well established — especially for underdog candidates. Zack Zappone, the only Democrat in Eastern Washington who canvassed, lost the closest race in this side of the state with 48% of the vote. In hindsight, do you think your campaign made the right decision to forgo canvassing, or could you have safely connected with voters at their doorsteps?
DGR: The decision to forgo door-knocking was the right one for my campaign because I wanted to prioritize keeping my team and voters safe and to lead by the example of following the science and social distancing guidelines.
The Wire: Apart from WA's 3rd Legislative District in metropolitan Spokane, not a single Democrat won in Eastern Washington. How can Democrats improve their brand in the region? Are Democrats synonymous with higher taxes and so-called "PC culture" in the region? And what positive trends do you identify and hope to accelerate?
DGR: As a party, Democrats need to deliver for rural communities, such as supporting economic growth, providing broadband and strengthening our healthcare and education systems. Democrats also need to see rural regions for the assets we bring to key challenges, particularly addressing a changing climate and producing clean energy.
Our best opportunities to engage with voters and shape their perceptions of our party are by making sure we have candidates running in every race in every place. [Ed. note: Some races in reliably-red WA districts, such as Walla Walla's state senate race in 2016, feature no Democrat challenger.]
Many of our local party organizations are also actively involved in community service projects from food drives to mask distribution projects. As we saw with the 2020 electoral success in Georgia, community organizing and party-building activities need to continue year-round and over multiple electoral cycles. Democrats are energized to take these lessons learned to strengthen operations in every corner of our state, and I am hopeful that we can keep building on our momentum here in Eastern Washington in particular.
In January 2021, Garbe Reser was elected to represent the 5th Congressional District on the Washington State Democratic Party Executive Board. She hopes to elevate rural voices in the Party's deliberations and strengthen the Party's electoral operations in rural Washington.
This article was written in January 2021 before Chair of the Board of Trustees Nancy Serrurier announced that Danielle Garbe Reser will lead the search process for Whitman's next college president.