Washington Senator Patty Murray discusses her health equity report in Whitman-led event
Whitman students asked Washington Senator Patty Murray about her recent health equity report in a virtual event on March 31. 130 attendees listened to the event put on by the "Race, Violence, and Health" academic theme group, which was led by students Jasmine Razeghi, Salma Anguiano and Zidane Galant-LaPorte. Murray's report focused on how Congress can address racism and inequality in the United States healthcare system during the pandemic.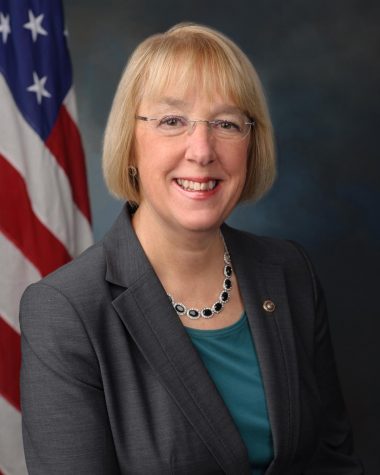 Sen. Murray was first elected to the United States Senate in 1992 and was most recently re-elected in 2016. The first female Senator from Washington State, Sen. Murray is currently Ranking Member on the Health, Education, Labor, and Pensions Committee and is a member of the powerful Appropriations Committee.
Sen. Murray called into the Zoom event for about 15 minutes and answered three student questions. For the remainder of the event, two members of the Senator's staff, Health Policy Advisor Garrett Devenney and State Director Shawn Bills, answered questions from the student panelists. 
Noah Leavitt, Director of the Student Engagement Center and member of the academic theme committee, reached out to the Senator's team last October to inquire about having her speak.
"When we heard an NPR story on October 1 about the [report] on racial inequities in how the pandemic was being experienced, we knew that research fit perfectly into this year's academic theme," Leavitt said. "We immediately decided to reach out to the Senator's office to see if she would speak to our community on these findings."
Politics professor Shampa Biswas said it took five months to secure the time with the Senator. 
"It took a long time to get it together, and then there was a lot of work involved in negotiating with the staffers on what we could and couldn't do, how it was going to run," Biswas said.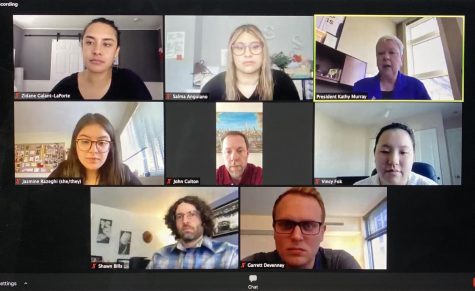 Zidane Galant-LaPorte, a senior sociology major and one of the student panelists, asked the Senator about the language used in her health equity report that pointed to systematic racism. Sen. Murray responded that the work to dismantle structural inequities must also go beyond focusing solely on the healthcare system.
"Equity is central to all of our work, and what I mean by that is that racial justice, for example, is not just about criminal justice reform — it is about healthcare," Murray said. "It is about jobs, it's about education and childcare and so much more. So if I were to write legislation for those important issues, know I am fully committed to addressing these issues in a way that is intersectional and always with broad input from a diverse range of voices and communities."
Salma Anguiano, a junior politics and Chinese major, focused her question on federal protection of undocumented workers. While Anguiano expressed her gratitude for Sen. Murray speaking at the event, she mentioned her concerns with historically marginalized communities not having a voice.
"Even if, let's say, undocumented people had the funds and the ability to go to Washington DC, it's still going to be uncomfortable to sit in a space like that," Anguiano said. "To ask them to come to the space that's so not what they're used to — it's really hard."
Anguiano plans on reaching out to the Senator's team and collaborating with them by sharing her research on workers' compensation and the power dynamic between big corporations and undocumented workers.
Galant-LaPorte pointed out that while the discussion centered around the racial discrepancies within the healthcare system, the Senator and her team were all white speakers. Similar to Anguiano, she believes that incorporating voices that don't necessarily have representation is an important step that still needs to be taken, and that goes beyond the use of the word "equity."
"They talked a lot about equity, and for me, I'm like, 'well, what about liberation?'" Galant-LaPorte said. "Equity is that everyone gets what they need to see over the fence, but I'm like, 'liberation is there [being] no fence, so what are you doing to get that?' and I didn't feel like they answered that."
Sen. Murray emphasized that she is striving to create a new and more inclusive post-pandemic "normal" in Washington State. Leavitt was particularly struck by Sen. Murray's discussion of a post-pandemic environment where the incorporation of more voices in government is part of the solution. 
"I agreed 100 percent with her assertion that 'normal isn't good enough anymore,'" Leavitt said. "I thought it was powerful that she and her staff invited Whitman community members to be a part of the processes for making changes to these outdated and unequal systems that have clearly not been working to help all Americans be safe, included and have opportunities to thrive."
A recording of the discussion with Sen. Murray can be found on the Race, Violence, and Health Youtube page.