The limits of mental healthcare in Walla Walla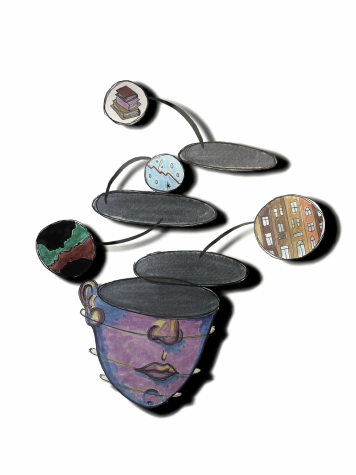 The trauma of living through the COVID-19 pandemic has dramatically increased demand for mental healthcare in Walla Walla. It has exposed the preexisting inadequacies and inequalities that disproportionately affect the most marginalized members of the community.  
"Remember at the beginning of [the pandemic], when everyone ran and bought toilet paper? That's what it's like," Associate Dean of Health and Wellness Rae Chresfield said. "Folks who were already trying to manage anxiety and depression were catapulted into a very intense, extreme environment that had so much more uncertainty than before."
Chresfield told The Wire that at the beginning of the spring semester, there were 30 students on the waitlist for Whitman's Counseling Center. 
"We were able to schedule folks pretty quickly," Chresfield said. "The issue became that over time the list got longer and longer, because we were trying to figure out how to see all the folks who are waiting to be seen; and at one point, [the wait] was about a month, maybe a month and a half. Then it was about three weeks. Now it's about a week."
With so many students on the waitlist, and most counselors already seeing an average of five to eight clients a day, Chresfield and her fellow counselors had to critically evaluate the needs of their clients and determine who to prioritize and who could be most supported by the resources offered by the Counseling Center. 
"We had to do a lot of critical evaluation of [our] clinical skills to [determine] who needs to meet every week; who can meet every other week; who can meet once a month," Chresfield said. "Then we had to go even deeper and ask, 'Who has health insurance that they would be able to utilize?'"
Whitman also does not currently have a nurse practitioner who can prescribe medications for students who need more than therapy or counselling can offer. 
However, the college does employ medical personnel who are authorized to help students with medications, but they can only ethically prescribe medication that they are familiar with. 
"The resource on campus is the student health center — they prescribe medication for depression and anxiety only," counselor Nick Duran Fair said. "So, if a student needs other medications to stabilize… bipolar disorder or schizophrenia, for example, then they would need to source that from outside of Whitman." 
In the past, students with the greatest need could go into the Walla Walla community or to the Tri-Cities for care. But COVID-19 along with increasing demand and decreasing funding has limited or eliminated many of these options. 
"All of a sudden community providers were packed," Chresfield said. "People in the Tri-Cities were also at capacity. Comprehensive [Healthcare] didn't have the grant anymore to provide services to people who had insurance. Waypoint, which was the facility where people could go if they felt like they couldn't keep themselves safe, could no longer take Whitman students either." 
Zoe Brown '21 is the President of Whitman's chapter of National Alliance on Mental Illness (NAMI).
"I think that there is a definite lack of specifically psychiatric mental health resources in the Walla Walla area and in Eastern Washington in general," Brown said. 
It is also important to note that Walla Walla does not currently have a psychiatrist. 
While Chresfield would not call Walla Walla a mental health desert, the availability of care varies, and many of the most marginalized members of the community have been left with few to no resources. 
"If you have a car and you like Seattle, and you can head over there every weekend, mental health looks like nothing to you, you know?" Chresfield said. "[However], if you have limited resources, your opportunities are limited. And if you add that you are in any way not a person who is in the majority, it also becomes extremely difficult." 
Both in and outside of Whitman, Black, Indigenous and people of color (BIPOC) and queer students face particular difficulties accessing mental healthcare. 
"Every identity actually needs a mentor," Chresfield said. "My focus has been on people of color and people who have been marginalized historically. I don't know how easy it would be to get [mentors] to come to this location."
"We're meeting the students' needs in the best ways we can," Fair said. "Every week [we talk about] about how we can serve our BIPOC students, our LGBTQIA+ students and students who have been so marginalized that they may not have had access to care outside of Whitman."
Out-of-state students also experience unique difficulties. For example, California and Idaho, two states that have a large share of Whitman students, have restrictive policies that prevent students from receiving healthcare in Washington.
"California said that it's illegal for [counselors] in Washington to work with residents of California even though they may be students of Whitman," Chresfield said. 
Despite the barriers to acquiring mental healthcare, there are new and existing resources that are available for Whitman students, staff and faculty. For instance, in addition to individual appointments, the Whitman counselors run and mentor campus groups and organizations that focus on and talk frankly about mental health. 
Fair is part of two such groups. On Wednesday, March 17, he ran the first session of "I Am Not My Thoughts: Somatic Techniques for Anxiety and Depression." The group is based on a series of workshops that Fair has developed since the start of the pandemic. He also mentors the peer listeners group.
Students have also been proactive in creating organizations that focus on eradicating the stigma surrounding mental health. One such organization is Whitman's Mental Health Awareness club, a college chapter of NAMI. 
"[It is] America's largest grassroots mental health organization," Brown said. "NAMI provides resources related to mental health, organizes political advocacy for mental health-related legislation and organizes training and workshops."
Online resources such as TAO and BetterYou, national mental health organizations and identity-specific help lines are also available for students who need them.
The online version of the article contains hyperlinks to mental healthcare resources. For more information on mental healthcare at Whitman College, visit the Counseling Center website or their Instagram account (@whitman.counseling.center)