"Budgets are statements of values": Whitman community continues to protest the FSR
Concerned students, staff, faculty and alumni gathered outside of Memorial Hall on Friday afternoon to protest both the Financial Sustainability Report (FSR) and a temporary hold placed on the Registrar's Office by Provost Alzada Tipton that bars first-years from declaring their majors until the end of the FSR process.
In an email to sophomore Fielding Schaefer, an organizer behind the protest, on Tuesday, Feb. 9, Tipton wrote, "A major goal of this financial sustainability review is to address a short-term budget gap. When we started this process we weren't sure if there might be recommendations to eliminate programs, and introduced a hold on first year students declaring majors to allow us the possibility of teaching out majors as quickly as possible to maximize savings. While eliminating programs is not recommended in the draft reports, this hold will stay in place until the end of the FSR process to avoid foreclosing options prematurely and leave open as many avenues as possible to achieve short term cost savings."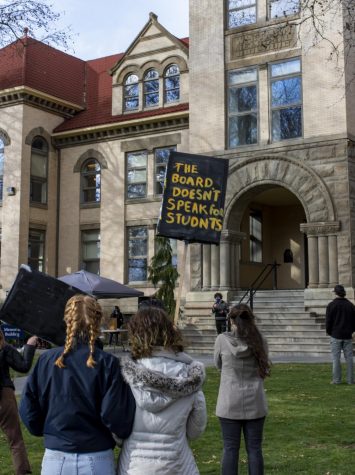 The protest was orchestrated as part of the #BecauseWeLoveWhitman campaign which, according to the Instagram page, seeks "to sustain the arts & humanities at Whitman College." They had previously organized a march on Sunday, Feb. 21 that garnered a small crowd of like-minded students who walked from Ankeny Field to Sherwood House, President Kathy Murray's residence.
On Friday, the demonstrators and onlookers gathered around the steps of Memorial, at the base of which students, faculty and alumni speakers took turns both to condemn the actions of the administration and to show their support for the liberal arts. The speakers included Jacob Klusmeier '21, Chloe Daikh '21, Lauren Yumibe '22, Ilse Spiropoulos '23, Associate Professor of Art History and Visual Cultural Studies Matthew Reynolds, Department Chair of Biology and Whitman AAUP President Arielle Cooley and Chloe Summerland '10.
Each speaker described how Whitman's liberal arts education had benefited them. Summerland demonstrated the need for the humanities in spaces that are more traditionally STEM-dominated. As a member of an intensive care unit during the pandemic, she faces daily situations where she needs to be able to show empathy and compassion.
She expressed her frustration with the administration and pointed out that they had other methods to protect the humanities.
"Whitman administration, I am disappointed in you," Summerland said. "I'm saddened and dismayed that you would name COVID as the excuse for the austerity that would tear apart the humanities."
While Summerland spoke from her own experiences, she also appeared at the event as a representative of a collective of alumni interested in the preservation of the humanities.
The professors were not so direct in their statements, but they did express their own frustrations.
Reynolds' speech was predominantly concerned with cuts to sabbaticals, but he also mentioned that these potential financial cuts were indicative of a greater shift within the college.
"I want to recognize that budgets are statements of values," Reynolds said.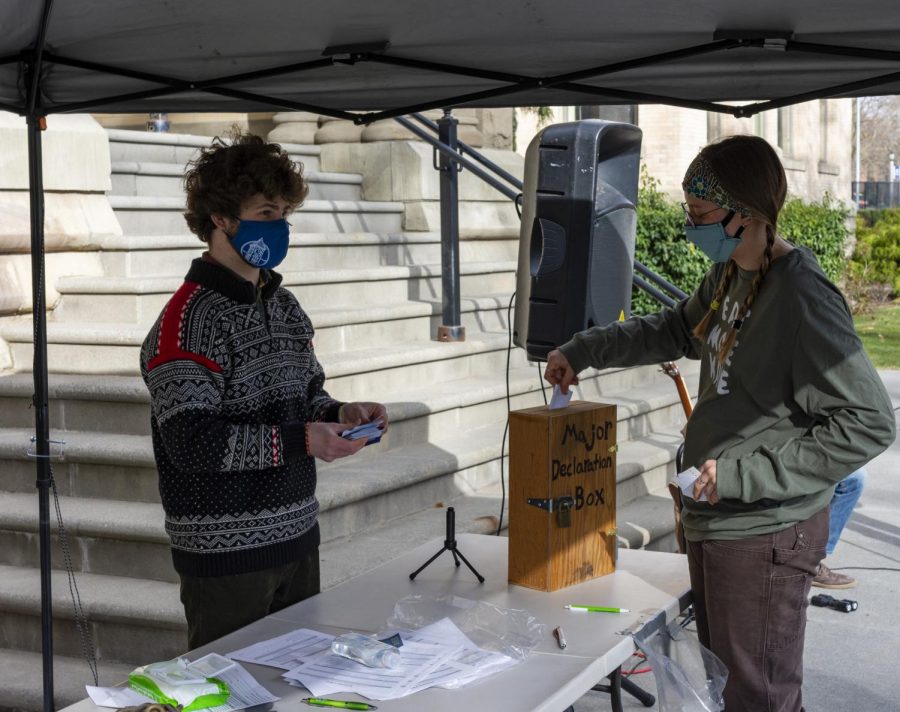 Cooley expressed both her support for the #BecauseWeLoveWhitman campaign and the work that students and alumni have done to educate their peers and voice their grievances.
"Turning education into action is hard but it [is through that process] that we can change the world," Cooley said.
Several of the student speakers have been doing just that in trying to stave off the potential effects of the FSR. One such student was senior classics and History double major Chloe Daikh who sat down with The Wire after the protest on Sunday. She initially responded to the contents of the FSR with a petition that called for increased transparency from the Board of Trustees and the release of Board minutes. As of writing, it has gained over 500 signatures from students, alumni and parents.
The #BecauseWeLoveWhitman campaign was initially predominantly composed of classics majors, but in the weeks following the release of the petition, they were joined by environmental humanities majors and allies. This group began thinking about and planning other forms of activism that might affect the Board of Trustee's final decision on the FSR.
"So, [Sunday] was just an initial protest to kick off a larger wave of student activism in response to the [FSR]," Daikh said.
However, according to Daikh, petitions and letter-writing campaigns have been largely ignored by the Board.
"The Board has basically written students off as mouthpieces for faculty concerns and they're kind of implying that we're not able to come to these conclusions that we've come to about the FSR on our own. They see that as faculty telling us what to think which is not the case," Daikh said. "We, as students, are also really angry and worried about the direction that the school is headed in and we wanted to have something student-organized as soon as possible."
Schaefer and Yumibe expressed similar sentiments about the Board of Trustees. At this time, however, The Wire has been unable to substantiate the sense that the Board believes that students are only mouthpieces for the faculty.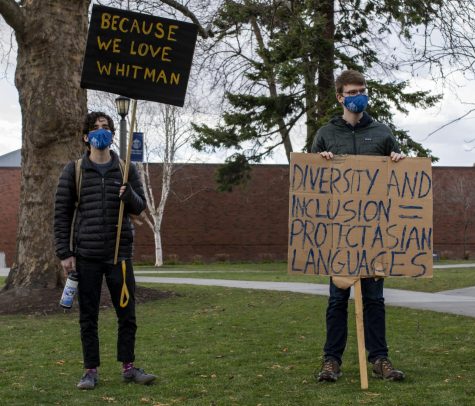 This wasn't her first time fighting to protect the classics department from being defunded, Daikh added. 
"I declared second semester my first year in order to make sure that ancient Greek would be offered my sophomore year because the administration was already trying to cut it at that point. It feels like a really integral part of my time at Whitman and it's really sad to see that I started off my career at Whitman fighting to preserve the classics department and then it feels like all of that work has been completely disregarded."
But protest-by-major-declaration is no longer an option for first-years due to the hold placed on the Registrar's Office. Although Tipton has said that the hold will last until the end of the FSR process, that date has not been made publicly available to the Whitman community and remains ambiguous.
Junior Japanese major Lauren Yumibe has faced her own challenges in protesting the FSR. 
"They're proposing to cut the Japanese major entirely after just one year and, I think, at least two decades of [Assistant Professor of Foreign Languages and Literature Akira Takemoto] fighting to make it exist in the first place when there are, by my count, at least 11 Japanese majors that just declared in the past year because this major was in such high demand," Yumibe said. "It's also irritating that I might graduate with a major that might, retroactively, not exist which devalues my experiences and the work that I put in to get it."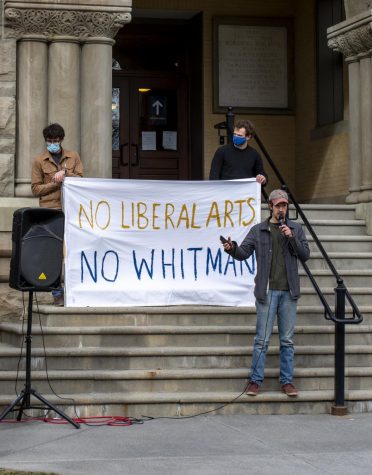 Yumibe sees the proposed FSR cuts as both harmful to students and faculty and also actively demonstrating the Board of Trustees long-term priorities. She decided to declare as a Japanese major, in part, to preserve her family's history and language.
"But as I went along and learned more about my family history: my grandparents were interred [in the Japanese internment camps in the United States during World War II] and, as a result of that and the nascent racism of the US, the Japanese language was lost to my family which is why I can't speak it today," Yumibe. "It became a personal mission of mine to continue taking Japanese classes and work towards fluency so I could get that knowledge back. Reading that they wanted to cancel the major and also cancel 300 and 400-level classes made me feel like that experience and that resolve wasn't seen as valid by Whitman."
The Wire reached out to President Kathy Murray and her cabinet for a response to clarify why first-years were being barred from declaring their majors. 
Gina Ohnstad, the Senior Director of Communications, emailed the administration's response on Sunday, Feb. 28. 
"The decision to temporarily stop allowing first-year students to declare majors was made by the President's Cabinet with the purpose of getting accurate information to make decisions during the college's financial sustainability review.  The cabinet is aware of the strategy of students declaring a major as a statement about the financial sustainability process with no intention of actually carrying through with that major.  Cuts that are a result of the financial sustainability review are data-driven and the goal is to affect as few students, faculty and staff as possible with any decisions that are made. Without a clear understanding of the majors Whitman students plan to graduate with, which is obscured by declaring majors in protest, committees and eventually the board of trustees, are unable to make informed decisions about the finances of the college."
The email continued, "It is worth noting that it's rare for first year students to declare their major.  Most students declare their major during the second semester of their sophomore year. For example, this year prior to the protests, we have had only 4 first year students express interest in declaring their major."