Whitman switches to quick-return saliva COVID-19 testing
As students return to in-person classes, Whitman's new COVID-19 surveillance testing system faces its first big trial. 
Whitman had identified seven (six students and one employee) positive COVID-19 cases through two rounds of campus-wide testing during the initial two-week quarantine period. Until then, the college had used nasal swab PCR tests. 
Now that the quarantine period has ended, the college has adjusted its testing regime. Chair of the COVID-19 Task Force, Peter Harvey said about a third of students, staff and faculty that come onto campus are randomly selected for testing each week. Whitman community members self-collect saliva samples on Monday or Tuesday of every week.
Those selected for testing who fail to provide a sample in the allotted time frame have their access to campus buildings revoked. During the second week of classes (Feb. 1 – Feb. 5), 38 people failed to claim their allotted test, according to Harvey. All but four tested the next week.
Although the campus was closed this week on Tuesday due to heavy snow, the testing center at Cordiner Hall remained open. Testing was also extended to Wednesday. 
The testing regime and phase system were developed in consultation with epidemiologist Ben Miller, who consults with two other liberal arts colleges. Miller said one of the challenges unique to Whitman is the large off-campus student population.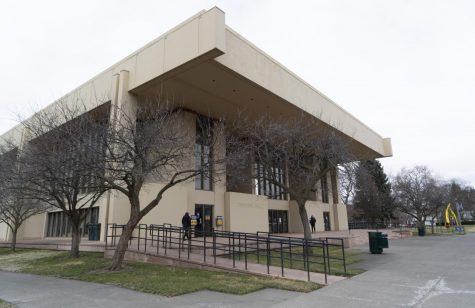 "By increasing the sample size [of those tested every week] we are trying to accommodate for the fact that more students live off-campus and might have more community exposures than students that live in a dorm setting," Miller said.
During the week of Feb. 8-14, just 0.61 percent of Whitman community tests had come back positive. By comparison, The New York Times reported on Feb. 15 that Walla Walla County has a positivity rate of 10.9 percent.
The surveillance testing system is designed to find small clusters of infected community members by testing a sample representative of the whole campus community before transmission accelerates into large-scale outbreaks. According to Miller, this is exactly what happened last week in Anderson Hall.
"Anderson is the perfect example of what surveillance program testing is supposed to detect," Miller said. "When we found positives through the surveillance testing that were linked to Anderson, the next step in that process was to do close contact tracing and testing of any close contacts."
Two of the cases in Anderson were identified through the surveillance testing system while the rest were discovered via contact tracing and rapid-return testing through the Welty Student Health Center.
After the surveillance testing samples are collected at Cordiner, they are sent to a lab and combined into pools of 24 to be tested. If the pool tests positive, the remaining saliva samples are tested in pairs, and then individually, to identify the infected individual, according to Harvey.
The college's decision to switch from nasal swab PCR to saliva testing on Feb. 1 was based on the recommendation of MEENTA, the digital platform Whitman contracts to manage the logistics and notifications regarding COVID-19 testing. Harvey said that the saliva samples are processed at a different lab that can provide results more quickly. 
Miller, the epidemiologist working with the college, said that ultimately, saliva testing is equally as effective at detecting COVID-19 as nasal swab PCR tests. 
Sophomore Adel Peck was selected for testing the week of Feb. 1 and said that they found the restrictions around eating and drinking before the saliva test to be inconvenient and potentially inaccessible. Peck added that the routine important to disabled people like them can be disrupted by the saliva test's stipulations. 
"Rituals and routines are extremely important," Peck said. "While thirty minutes doesn't sound like a lot, it could mess with someone's whole schedule for the day."
Another concern with saliva testing is in the difficulty of producing the amount of saliva needed for the test. Junior Hannah Glover said that she spent more time in Cordiner producing a sample than she had when she was tested with the nasal swab. 
Junior Emma Hamill said that she preferred giving a saliva sample to the nasal swab. 
"I'd heard from people that had done it before that it was a little difficult to get it going logistically and spit in the little funnel, but I had a generally positive feeling going into it just because it's a new kind of test, and that is exciting and hopefully useful for the school." 
Hamill was surprised that she was not instructed by a person on how to take the test like she had been with the initial nasal swab test, but found the instructions easy to follow.