A reckoning and a celebration: IPECC and PIC host Indigenous Peoples' Day town hall
In celebration of Indigenous Peoples' Day on Monday, Oct. 12, leaders of Whitman's Indigenous People's Education and Culture Club (IPECC) and Pacific Islander's Club (PIC) hosted a town hall that discussed the meaning of the holiday and the ways Whitman can recognize and honor Indigenous peoples. The Zoom event drew an audience of 35 students, faculty and staff.
The town hall began with an acknowledgement honoring Indigenous peoples — specifically the Cayuse, Walla Walla and Umatilla People on whose historical and spiritual homeland Whitman College is located. IPECC and PIC leaders discussed the origins of Indigenous Peoples' Day (IPD). Participants then shared perspectives on the definition and importance of the day, and small groups continued the conversation about how individuals and Whitman College can recognize and support Indigenous peoples.
While Columbus Day is still federally recognized, sixteen states recognize Indigenous Peoples' Day instead of or in addition to Columbus Day at the state-wide level. This list does not include Washington state. However, Seattle began recognizing Indigenous Peoples' Day in 2014, and several other cities and regions in the state followed suit.
Cheysen Cabuyadao-Sipe, class of 2023, is Kanaka Maoli (Native Hawaiian) and co-president of both IPECC and PIC. He was an active participant in the creation of the town hall.
"Organizing the Indigenous Peoples' Day Town Hall was necessary," Cabuyadao-Sipe said in an email to The Wire. "It was necessary for us (IPECC and PIC) to create a space for the Whitman community to come together, celebrate Indigenous Peoples' Day and find ways to continue making spaces for Indigenous people at Whitman College. Our goal for this town hall was to first educate and spread awareness while allowing room for discussions that would be based upon celebration and calls for action. It was meant to address Indigenous topics within our Whitman Community and foster an overall understanding of Indigenous Peoples' Day."
Kawohi Duvauchelle, class of 2023 and Budget Manager for PIC, was happy with the town hall's turnout and the conversations it prompted.
"It really means a lot to know that there are other people who care and want to learn more about something that really is a part of my life and who I am," Duvauchelle, who is Native Hawaiian, said. "It's also very empowering to know that others are willing to hear me out and listen to my thoughts and perspectives."
Erica Keevama, class of 2021 and Co-President of IPECC, was also proud of the town hall.
"We accomplished what we set out to do, which was to host a space to intentionally engage with IPD. As we all know, participation in Zoom calls can be difficult, especially with an audience the size of a large class, but I am absolutely pleased with the conversations that were sparked!"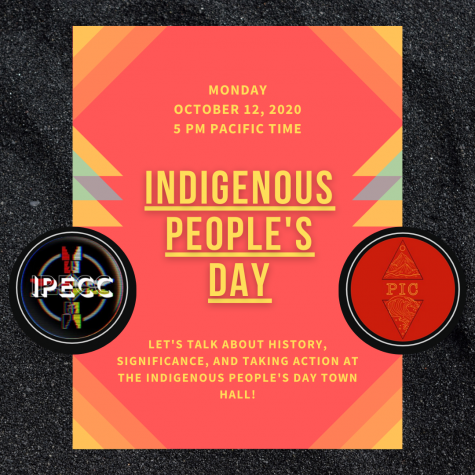 Those conversations included discussion on the Marcus Whitman statue on campus, the Christopher Columbus statue in downtown Walla Walla, the official Whitman College land acknowledgement (sent to students in an email from Whitman College President Kathy Murray on Oct. 12), the College's lack of Indigenous faculty, the need for an Indigenous Studies department and the wish for additional BIPOC spaces on campus. 
Keevama, who is from the Pueblo tribes of Poh-Woh-Geh Owingeh, Ohkay Owingeh and the Hopi tribe, said IPECC would continue these conversations by hosting an event on decolonizing Thanksgiving.
During the town hall, participants also argued that celebrating Indigenous Peoples' Day rather than Columbus Day corrects the historical record by acknowledging a history of violence towards Indigenous peoples. Megan Suka, class of 2023 and co-president of PIC, defines Indigenous Peoples' Day as a reckoning and a celebration.
"[IPD] also has its place to remind and educate people about the history and hardships of Indigenous communities. Indigenous people are the original storytellers; therefore, I try not to exclude the good or the bad stories on this day."
During the town hall, Cabuyadao-Sipe described the day as both a call to action and a celebration, saying that action is necessary to fully celebrate Indigenous lives.
"We are all responsible to continue these conversations in every setting," he said. "We need to first create more spaces where Indigenous people feel safe and heard … Whitman College must provide more spaces for that to happen," Cabuyadao-Sipe said, adding that this need extends beyond Indigenous people. "Spreading awareness of Indigenous topics and histories, developing an Indigenous Studies Department and Program and holding more conversations are some of the possible action plans to create these spaces … I urge individuals to continuously engage with their local Indigenous communities … Match your goals, professional and/or personal, with the intention to uplift and create positive change for Indigenous communities."
"Indigenous Peoples' Day and every movement is every day," Cabuyadao-Sipe added.