Under new leadership, ASWC adjusts to virtual learning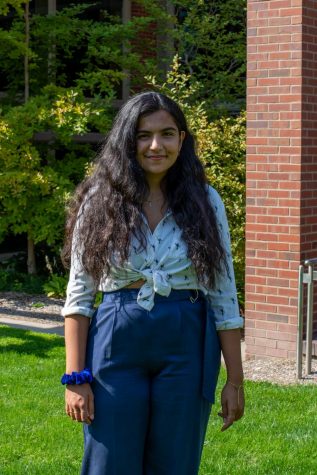 Under new leadership, the Associated Students of Whitman College (ASWC) are optimistic they'll find innovative ways to support the student body during the fall semester online.
On July 29, Sneh Chachra, an undeclared sophomore from Los Angeles, formally introduced herself as this year's ASWC president. In her email to the school, Chachra addressed Whitman's announcement that the fall semester would take place fully online.
"I hope we are all able to give ourselves the space necessary to recognize all we will deeply miss this semester, from catching up with a friend in Cleveland Commons, to working on projects with our peers in Penrose, to connecting with our professors during office hours, and so much more," Chachra wrote.
Chachra was a part of the ASWC Sustainability Committee last year because of her passion for environmental justice and her growing love for student government. Chachra described her decision to run for ASWC president in an interview with The Wire.
"I wanted to take up a position that would empower me to not only create the biggest impact in the realm of a student's sense of belonging and sense of support at Whitman," Chachra said, "but I also wanted to put myself in a position where I would be challenged in a way that would let me grow as a student, as a leader and as a member of society. I've only been in this position for four months now, and I can tell you that I picked the right position for those goals."
Kazi Joshua, the Dean of Students and Vice President of Student Affairs, applauded ASWC's efforts to begin the semester. 
"Trying to build community in the post-George Floyd moment and during COVID-19, in a context of remote learning, is truly commendable," Joshua said. "I think ASWC has risen to the unscripted times from the work on the virtual campus, as well as budget planning… Just trying to ensure that student self-governance continues in this period is no small feat."
One of the most impactful ways ASWC is helping students this semester is through its Emergency Fund. Every Whitman student who faces financial burdens from the COVID-19 pandemic is qualified to use it.
Jeff Mutethia, a sophomore computer science major from Nairobi and the Chair of Student Outreach in ASWC, is hoping to continue a sense of community online. 
"Because of the situation we're all in, it's probably more important than ever to forge that sense of community," Mutethia said, "and how I intend to do that is by pretending that 'everything is the same.' We'll try to continue with all the programs we had previously to ensure that we don't only have a sense of community, but we have a community that's thriving."
For example, Mutethia plans to continue ASWC's tradition of town halls, for which community members can virtually attend assembled panels and Q&A sessions.
Mutethia is also focused on emotional support and plans to send resources to students or to incorporate the Counseling Center into the Virtual Campus, which launched last semester during the beginning of the pandemic.
The expansion of the Virtual Campus is a focal point of ASWC's semester agenda, with emphasis being placed on the new Rest as Resistance Program. The expansion is intended to amplify student voices, specifically surrounding the anti-racist movement and wellness. 
"[Rest as Resistance] is composed of two series: the rest component and the resistance component," Chachra said. "The resistance component has to do with anti-racism and activism, and the rest component has to do with wellness, and that can be wellness pertaining to activism and activists, or it can be wellness related to anything to promote the idea of rest as resistance."
Another new opportunity for engagement this semester can be found through online academic communities, with groups on Discord servers that try to emulate the feeling of camaraderie formerly found in academic spaces like the campus library.
While Chachra recognizes the uniqueness of this semester, she also sees a lot of ASWC's goals staying the same.
"ASWC's role and commitment to supporting and empowering students through facilitating difficult conversations, providing platforms for community engagement, providing resources… none of that is really changing," Chachra said. "Our role is really just shifting to what students are doing at home."
You can reach Sneh Chachra at [email protected] and Jeff Mutethia at [email protected].