Valley Transit to add electric buses to routes
Valley Transit, Walla Walla's transit agency, is planning to introduce electric buses this fall in hopes to reduce their carbon footprint. Valley Transit will start testing two of their electric buses in early October and is planning on phasing them in over the next month or so.
Valley Transit has been using compressed natural gas (CNG) for their Dial-A-Ride vehicles, a transport service for people with mobility issues, and diesel fuel for their trolley buses. As the push to substitute diesel for cleaner energies developed, Valley Transit had to consider whether they ought to fully commit to CNG or explore other clean energies.
Angie Peters, General Manager of Valley Transit, attributes the choice to launch electric buses to the cumbersome process of replacing diesel tanks with CNG tanks, and the recently governor-signed state mandate which loosely struck out the ability to purchase non-electric vehicles.
Walla Walla's Metropolitan Planning Organization (MPO) is a federally-designated agency that is responsible for the coordination of regional transportation investments — which includes public transit. It has been cooperating closely with Valley Transit in its incorporation of electric buses by overseeing its use of funding for the project.
Andrea Weckmueller-Behringer, MPO's executive director, further explains the state mandate that Peters mentioned. She clarifies that the mandate is unfunded, meaning that costs are generally covered by transit agencies. 
"If an agency wants to continue with a different alternative fuel like CNG, they can, but they have to specifically justify it," Weckmueller-Behringer said.
Valley Transit is in the process of adding four electric buses to their fleet, that will run on the main route — the plan being that all of the trolley buses will eventually operate on electricity. However, Peters states that the technology for smaller vehicles is not quite there yet, which is why she says that the plan for Dial-A-Ride vehicles is to transition to renewable natural gas — a type of biogas.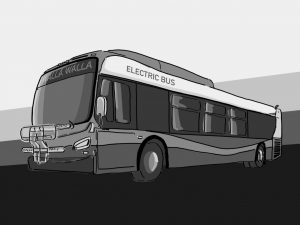 "The market technology [for smaller vehicles] isn't there in a sustainable, consistently reliable way. But there are options. Using renewable gas instead of tap-out-of-the-ground gas [would allow us] to be sustainable while the technology catches up to where we need it to be," Peters said.
According to both Peters and Weckmueller-Behringer, the process of replacing a vehicle is time-consuming. The current trolley buses, running on diesel fuel, have a useful life of 15 to 20 years, and Peters emphasizes that it wouldn't be feasible to replace them before those years run out. She estimates that it would take at least a decade to completely replace diesel buses with electric buses.
Another issue she brought up is the necessary infrastructure to be able to equip electric vehicles. 
"If [we were] running electric buses for every route downtown, and then they all needed to charge at the same time, we would shut off downtown's power," Peters said.
Peters also emphasizes the significant fiscal cost of switching fuel sources. Since CNG and diesel have been used for many years, the infrastructure — which includes an underground diesel tank and several CNG compressors — costs a lot to build and maintain. By switching to electrical energy, new infrastructure would have to be built. According to Weckmueller-Behringer, there originally weren't any charging stations in place for transit.
Meanwhile, Peters states that a lot of agencies suffer from finding the capital to make these large-scale changes, but Valley Transit had been fortunate enough to obtain a Federal Transportation Administration (FTA) grant that has subsidized this project thus far.
Peters is optimistic about electric buses' long-term profitability, claiming that once the infrastructure is in place, electricity will turn out to be cheaper than diesel. On the other hand, Weckmueller-Behringer points out that weather conditions have a notable impact on an electric bus's lifespan.
"We get much, much colder winters, which drain the batteries so quickly," Weckmueller-Behringer said. 
Peters recognizes the opportunity that electric buses provide — reckoning that it will be a learning experience.
"The main brands that [we'd typically] buy from — they have a name of reliability in the industry — don't have an electric vehicle out, and they don't have it out for a reason — because it's not working well enough to be out. The ones that have it out are new brands, so [we] take a gamble with that," Peters said.
In 2017, the Walla Walla Union-Bulletin interviewed the former General Manager of Valley Transit, Dick Fondahn. "Over the last two years, the technology for battery-electric vehicles has improved by leaps and bounds," Fondahn said.
Peters says that Valley Transit is excited for the opportunity to try something new, but also reflects on the uncertainty that surrounds this change. 
"It could be the best thing we've ever done, [or] it could be something where we go — 'oh, we should've stuck with CNG'," she said. 
Overall, Peters emphasizes her excitement for the electric trolleys, which maintains that "old-town vibe we have."
She concludes by expressing Valley Transit's commitment towards its passengers — "we're just passionate about, no matter which way we deliver it, keeping Washington green one bus at a time."
Weckmueller-Behringer states that ultimately, the choice between electric and CNG will come down to practicality. 
"If electricity production was completely sustainable… then electrification of the entire fleet would make sense," Weckmueller-Behringer said. "We built our cities here for automobiles, not for people, not for buses, not for bikes and we're paying for it."
Valley Transit will have a ribbon-cutting ceremony down at the Transit Center sometime in late October or early November to officially launch their electric buses.