New York Times Bestseller Sarah Kendzior Speaks at Annual Hosokawa Lecture
St. Lewis-based author and journalist Sarah Kendzior came to campus on Apr. 25 to lecture and answer questions based on her experience as a journalist, authoritarian governments specialist, podcaster, widely-followed Twitter user and author of the book "The View from Flyover Country." Her talk was funded through the Hosokawa endowment.
The Hosokawa endowment was established by David and Beverly Hosokawa in 2000, and provides annual funds for awards in student journalism and to bring a noted journalist to come speak on campus. Media Relations Strategist Gillian Frew, who works in the communications office, organized the awards dinner and speaker event this year.
"In the past, we've been lucky to host journalists from big-name traditional outlets like The New York Times and Washington Post, as well as from alternative weeklies. We've had editors, humor columnists, tech reporters and even a correspondent from the Weather Channel," Frew said. "This year, I'm excited that our speaker is someone with a national profile and significant online following, who has a background in both journalism and academia."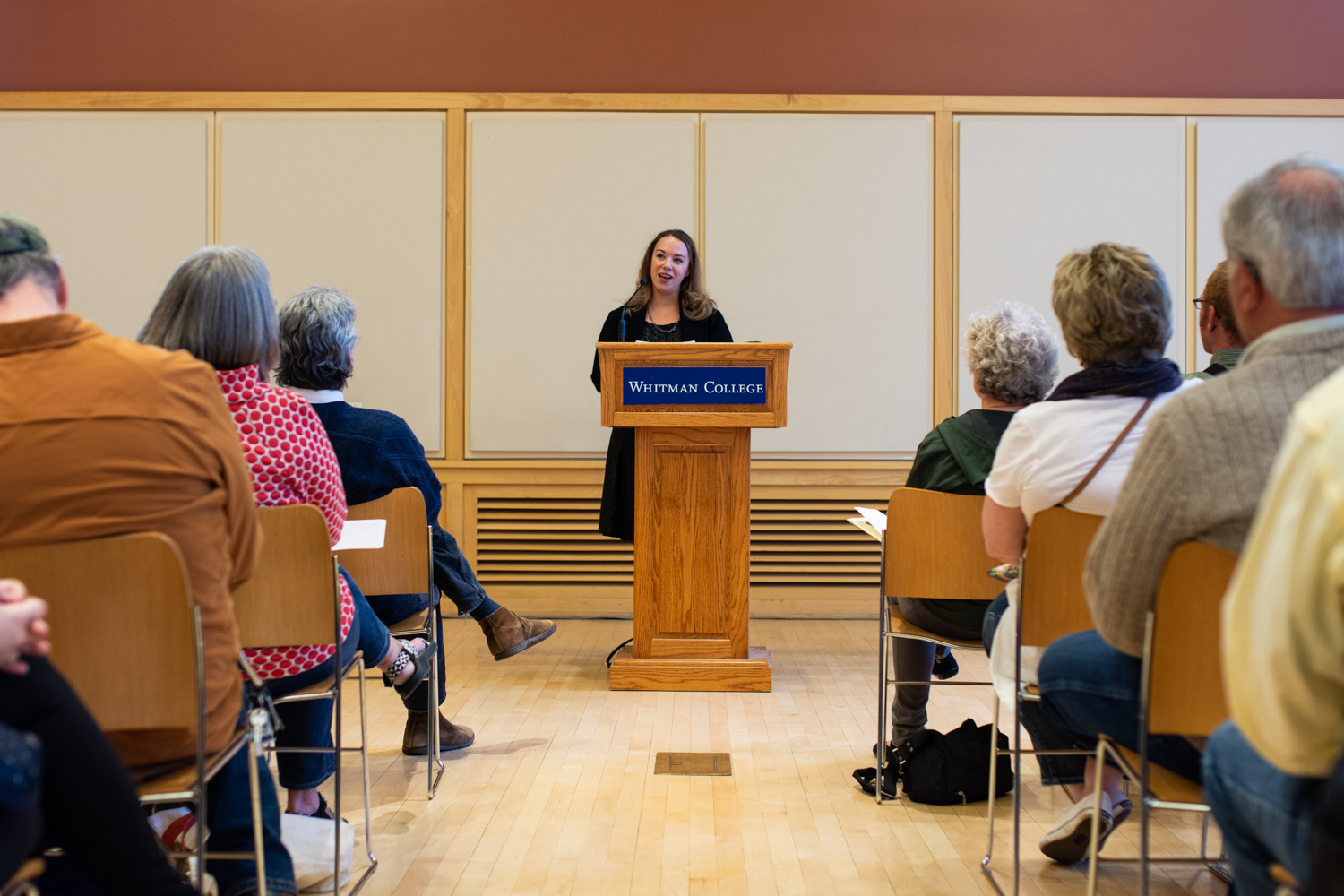 Kendzior first got into journalism in college. She spent three years post graduation with the New York Daily. She then went into academia to get her PhD in anthropology before returning to journalism. She published her book "The View from Flyover: Dispatches from the Forgotten America" as an e-book in 2015 before republishing it in print in 2018. It quickly became a New York Times Bestseller.
"I was not a typical journalist. I got a PhD in Anthropology and I studied authoritarian states, I studied how countries become or stay dictatorships and unfortunately that proves relevant for our time," Kendzior said. "So I've had an unfortunate kind of career boost from our current political circumstances."  
In her talk, Kendzior focused on the transition the media has gone through since she started in journalism and how current journalism contributes to politics.
"As a college student I would get $1000 for one article, now they try to pay young journalists in exposure," Kendzior said. "It's a white collar profession that pays blue collar wages. It's exploitative, it's exclusionary, it's also very necessary."
While Kendzior talked about the difficulties of staying in journalism because of low salaries combined with high expected levels of education, she also highlighted the importance of young people, particularly women and people of color, entering journalism careers.
"If you look at political media in particular, like 80 percent of articles are written by men, mostly white men," Kendzior said. "We're headed into an election cycle where women are running but not getting the kind of coverage they should."
The Hosokawa endowment tries to support student journalists who might enter these journalism careers. Part of the Hosokawa awards process includes professional journalists providing constructive feedback on all the students' submissions.
Director of Communications Gina Ohnstad used to organize the Hosokawa event. This year, she was a member of the panel that read the student submissions and attended the dinner and lecture.
"We think of the Hosokawa Awards as a combination of professional development and overall recognition and appreciation for Wire journalists and photojournalists," Ohnstad said. "I very much enjoy reading the pieces that our student journalists are the proudest of, but the highlight is enjoying dinner with Wire staffers and getting to know the students, their interests and the personalities behind the bylines!"