Effects of Christchurch Terror Attack Resonates in Walla Walla
During afternoon prayer on Friday, Mar. 15, a gunman in Christchurch, New Zealand opened fire on two separate mosques, killing 50 people and injuring others. While the shooting happened during Whitman's spring break and on the other side of the globe, the act of terrorism still prompted support in the Walla Walla and Whitman communities.
Senior Fathi Assegaf, a member of the Muslim Student's Association, learned of the shooting while staying with a friend in Washington, D.C. over spring break.
"I heard the news when I woke up," Assegaf said. "I was about to go to Friday prayer later that day, and it certainly solidified a sense of fear in me, not knowing whether the attack could happen in the U.S. It certainly could because the attacker based his ideology on partly what Donald Trump has said in his speeches and what other right wing groups [have said] that would espouse white supremacist ideology."
The gunman, Brenton Harrison Trenton, an Australian citizen, used social media extensively. He posted a 74-page manifesto online prior to the shooting and uploaded a video stream of the shooting.
Assegaf visited New Zealand over winter break. His impression of the country was that it was safe and supportive of the Muslim communities living there.
"The real irony too is that [New Zealand] was voted the most tolerant place for Muslims; I mean an attack like this hadn't happened in New Zealand for I don't know how many years," Assegaf said. "This was the place that was supposed to be safe for Muslims. But an attack having happened there really instilled fear in a lot of our hearts because if it could happen there, it could happen anywhere, especially in the U.S."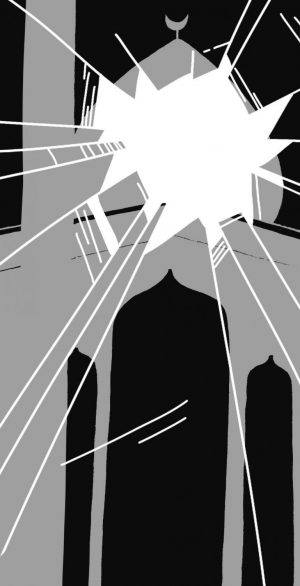 Professor of film and media studies Tarik Elseewi views the shooting as another attack in a stream of similar attacks, particularly in the U.S.
"We have got a totally toxic environment where ethnicity and religion get bounded up with politics in a way I do not think they necessarily should be," Elseewi said. "It is just a bad situation all the way across. That [the shooting] happened in New Zealand totally surprises me. That it happened [at all]? No, doesn't surprise me at all. Sadly."
The Friday after the shooting the Christchurch mosque held a widely-attended and broadcasted Friday prayer. Also following the shooting New Zealand's prime minister Jacinda Ardern banned all military-style semi automatic weapons.
"On 15 March our history changed forever. Now our laws will do," Ardern said in a conference in Wellington, New Zealand.
In Walla Walla, Beth Israel Synagogue organized a candlelight vigil the week following the attack.
"We're a small Muslim community and so we can't really organize anything but [it is meaningful] to know there are others in our community that really care," Assegaf said. "There was an attack on a synagogue last year, and we as a community, we really need to stand together and that is certainly what I felt [at the vigil]."
Professor of history Elyse Semerdjian also hosted a dinner at her home for students and community members on the Sunday a week after the shooting. Assegaf appreciated this gesture as well as the various emails of support he received from Whitman staff.
"It makes you feel seen, it makes you feel supported," Assegaf said.
Elseewi spent part of his childhood in the Middle East and has returned on numerous visits. He considers improving relations between Islamic and American cultures a major focus of his life.
"I should have hope, because I am dealing with [students] all the time and you guys are young and I want to give you hope, but I have just been watching this unfold my whole life," Elseewi said. "I have done everything that I could — I have been teaching, I have been engaging with human beings, I have gone and visited the Middle East numerous times… and I only see it getting worse."
One of the major contributors to this sort of racially-motivated shooting, Elseewi believes, is the prominence of negative Muslim representations in the media.
"My version of the Middle East, I've been there a million times and I spent part of my childhood there, are people who make rice pudding for me, people who buy me comforters and tuck me in at night," Elseewi said. "And that is obviously different from your average standard American view, because all they see are these horrible negative representations of violence."