Acupuncture Pop-Up Promotes Free Healthcare
On April 5 through 6, Whitman and Walla Walla community members are invited to attend a free acupuncture pop-up clinic with the purpose of promoting accessible healthcare for all. It will be held at The First Congregational Church of Walla Walla.
Olivia Hagmann, a senior Anthropology major, is the organizer of the event, with the pop-up serving as her senior thesis.
There has been a recent cooperative movement led by a group called The People's Organization of Community Acupuncture (POCA). POCA inspired Hagmann to use the acupuncture clinic as a medium for the expression of the importance of free and accessible healthcare.
"For my senior thesis project, I planned to put up this acupuncture clinic to provide free treatment to anyone and everyone who is interested," Hagmann said. "I am lucky enough that I can use my thesis for this good cause."
Hagmann expressed that acupuncture can often be overlooked as a viable form of healthcare. The pop-up will provide free healthcare to show its importance and its assistance in providing holistic medicine with little to no risk involved.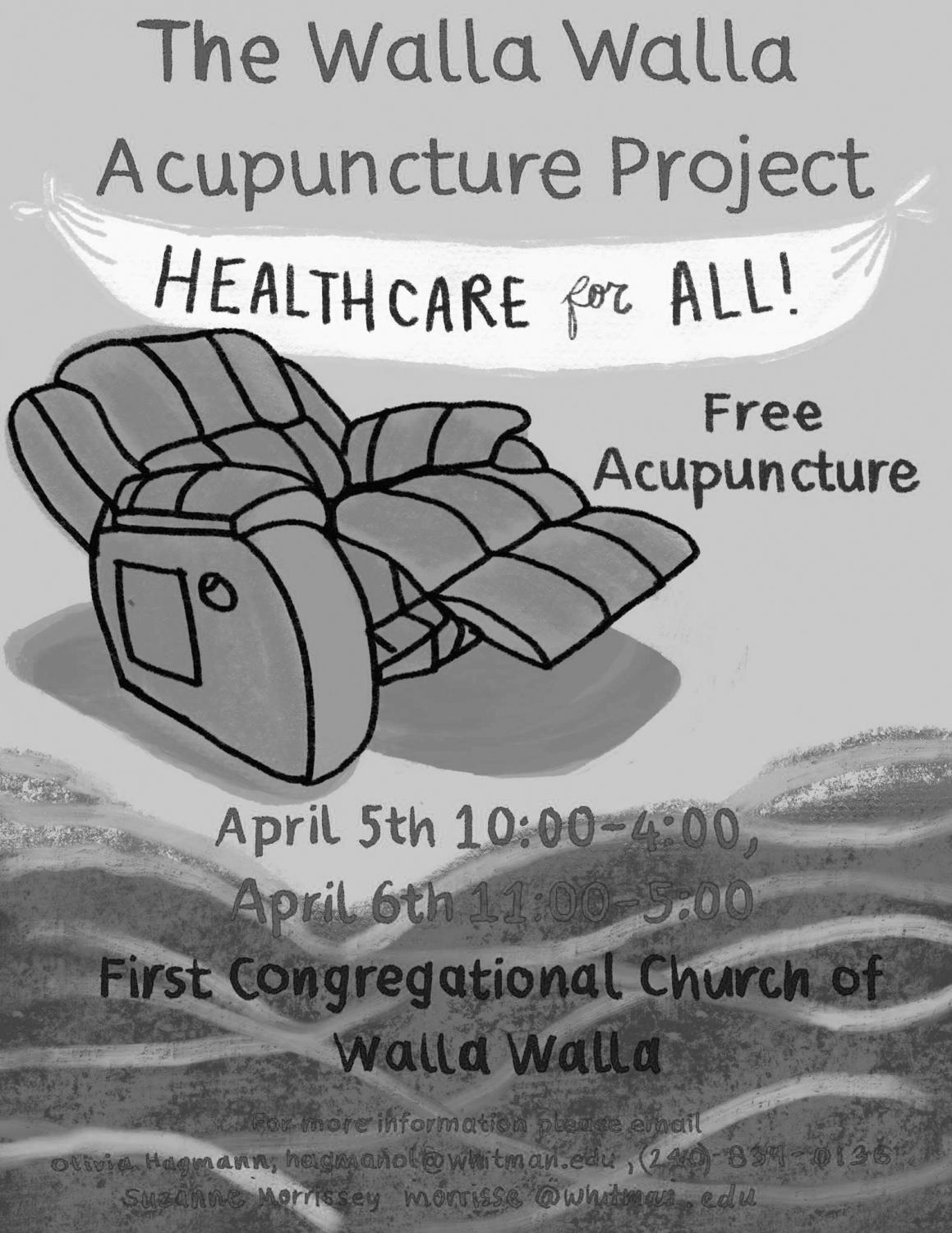 "I want people to know I am feeling passionate about the intersection of healthcare and innovative medicine," Hagmann said. "We are going through public health crisis right now, especially in our current political state, and acupuncture is needed as an efficient form of healthcare because it can help with so many problems."
Whitman College provides a Mellon Grant, which looks at particular people with aspirations of community engagement. Hagmann's ideas of bringing together Walla Walla at a community event based off affordable healthcare were well deserving of such a grant. With the help of Whitman's Mellon Grant, Hagmann was able to organize this event, which will ensure that anyone who shows up will be given a  free treatment. According to Hagmann, acupuncture treatment in a private setting can be very expensive in the United States, and she hopes to help make this form of healthcare more affordable and accessible.
"This movement simplifies acupuncture and makes it cheap. This is community acupuncture instead of being a patient in a solo setting," Hagmann said.
The First Congregational Church is involved with assistance of the homeless. Hagmann stressed how anyone can come to the pop-up, including members of Walla Walla's homeless population. The pop up is on a walk in basis, with no appointments necessary. Hagmann also encourages Whitman students to attend as well. 
"By showing up, you are promoting accessible healthcare," Hagmann said.