Narcissa Whitman Revisited
This is a continuation of our 'Narcissa Whitman Painting Defaced' article.
In recent months, the United States has seen an uptick in vandalism of statues portraying figures from throughout its history, from Christopher Columbus to Robert E. Lee, from Theodore Roosevelt to Jefferson Davis. Across the country, dozens of statues have been removed from public spaces, raising questions about the role and impact of public art––and art in general––in the everyday lives of Americans.
In the past few years, Whitman College has found itself embroiled in a similar kind of identity crisis. On the heels of the college newspaper's name change from The Pioneer to The Wire in the spring of 2016, Whitman replaced the Fighting Missionaries mascot with the Blues. The latest incidents to come into conversation with the campus's colonial past occurred on October 9 (nationally recognized as Columbus Day) when a portrait of Narcissa Whitman in Prentiss Hall was defaced with black paint. A short note denouncing the veneration of the Whitmans had been taped to the painting's frame. That same day, the hands of the Marcus Whitman statue at the corner of Boyer Avenue and Main Street had been painted red.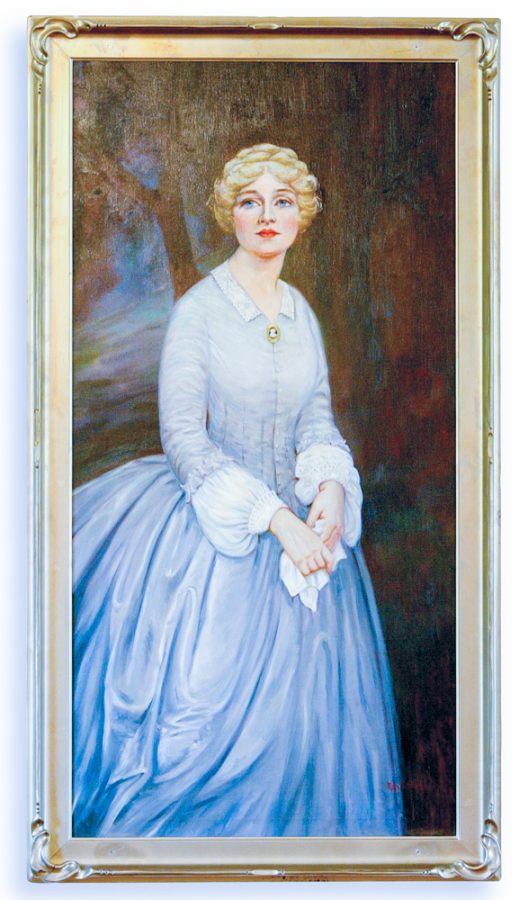 The portrait of Narcissa, which purportedly hung in Prentiss Hall since the 1920s, is itself a bit of a mystery. "It's not even in our database," said Kynde Kiefel, Exhibitions and Collections Manager for the Sheehan Gallery. "It is not an accessioned piece––it seems to have been gifted directly to Prentiss Hall. The back of it says 'Amy Prentiss' … it's not part of the college's official collection," she said. The name of the painter and the date of the portrait's creation are unknown to gallery staff. According to Daniel Forbes, Director of the Sheehan Gallery and Adjunct Assistant Professor, it is somewhat unsurprising that little is known about the portrait since the college's official accessioning process did not begin until the 1980s.
"Under the advisement of the administration, we immediately took action because the longer [the paint] stays on there, the more it gets to seep into the canvas," Kiefel said. The painting is currently in the care of restoration experts at The Cultured Pearl, a vintage gallery in Portland, Oregon. As of November 8, the spray paint has been completely removed. "The conservators were remarkably quick with their work, but the aged varnish used to seal the canvas was far more enduring than the modern spray paint and really did its job protecting the pigments," Forbes said in an email, "the restoration will be paid from the Gaiser Art Endowment which provides funds for the preservation and exhibition of the College's collections."
When Forbes first heard about the incident, his initial reaction was shock and horror. "We don't have a larger formal museum space on campus and our storage facility … is somewhat limited. Kynde and I and our gallery staff have been working really diligently over the past few years to turn our campus into a kind of living museum," Forbes said. Most of the college's art collections are currently on display across campus.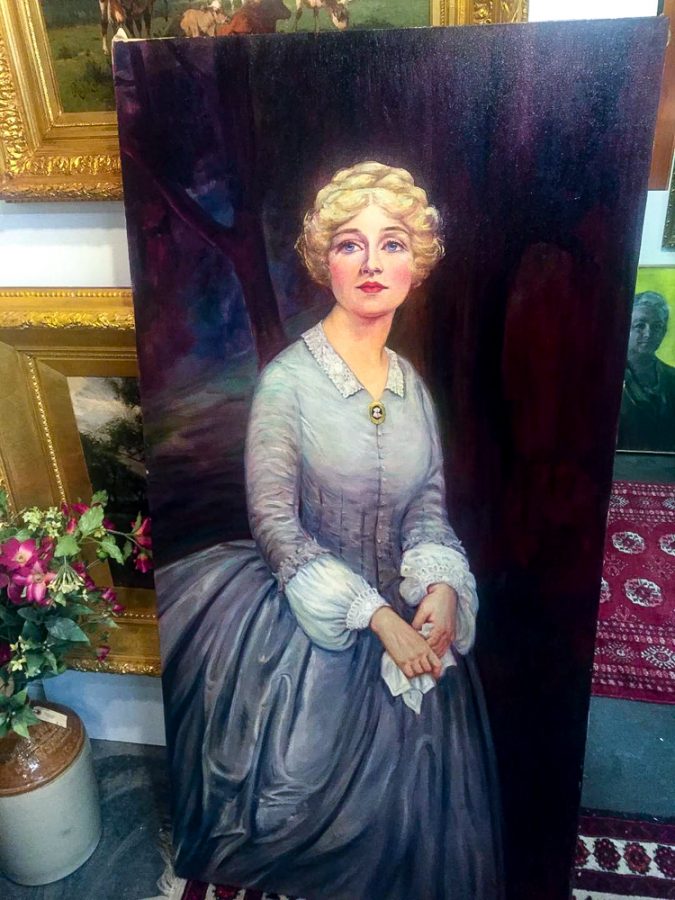 "We have been able to do that largely because of the security of our community, and it's a privilege to be in a place where its safe to put works out." Forbes is concerned that the defacement of Narcissa's portrait will set a precedent for vandalism of similarly provocative works of art elsewhere on campus. "History is filled with people who have destroyed cultural artifacts because they believe they're on the side of the right," Forbes said.
"As someone who works in the arts myself, my second thought was … this act was sadly unimaginative. You know, red paint, black paint––there are so many different ways that this could have been done if it was an act of protest. As it is, it is an act of vandalism, not an act of protest." Forbes said.
Kiefel shared similar thoughts. "I have to say, being one of the people that gets to clean up the mess … I feel like part of the intent of this particular act was to speak for the disappeared and the unprivileged and unspoken people. Well, frankly, the custodians and the people that get to clean up the mess are also those unseen and unspoken people that now get to wipe up and put back together."
Kiefel and Forbes said they would have welcomed anyone with concerns about the artwork on campus to talk to them directly about removing the painting. "I would invite people to own their protest. It's all worthy of conversation, but I would encourage folks who are angry to delve a little deeper and consider what impacts what and be a little more creative with protest," Kiefel said.
***
"I think vandalism, in a lot of ways, is activism … especially when it seems pretty targeted like this one was," said Kyla Rapp, a senior politics major. "To read it as anything less would be really self-serving in trying to preserve the status quo."
Rapp agreed with the sentiments expressed in the note left alongside the painting and supported the defacement. "In our classes, we talk about colonialism, but as soon as somebody tries to start a real conversation that isn't academic in focus, people start getting really angry about whether it was property destruction … We talk about [property destruction] as though it is violence––and that is a really capitalist thing to do when we don't talk about actual physical violence or longstanding violence or structural violence as violence" Rapp said.
"I think there's a fine line between acknowledging a history and glorifying it," she continued.
"In a lot of ways memorial paintings, statues, names, are not accompanied by the type of critical conversation that people assume that they would be, and therefore they end up being glorifications … If we're trying to create the world––or the Whitman––that we want to see we have to tear some things down and build other things up. We have to painfully look at our past and how that's enacted today and part of that goes into talking about white supremacy on campus."
Rapp hopes these incidents will spark more thoughtful criticism of the physical representations of the campus's history. "We're living on colonized land," she said. "[We can't] say that and move on, but we have to drastically change what's going on here … until we start to see this kind of thing as legitimate activism, we are going to stalemate ourselves … I think that the spray paint should stay on [the painting]. I think it should be preserved like that, with the note, and kept as a historical artifact of activism or interruption on campus." Rapp said.
***
First Year ASWC Senator Ari Louie lives in Prentiss Hall and noticed the painting was missing the morning of October 9. She said she and her friends in Prentiss often joked about the ghost of Narcissa haunting Prentiss Hall, so it was startling to see her portrait had been removed. "Whitman is a living breathing thing that changes," Louie said in an interview. "We're this super liberal student body grappling with a kind of horrible founding … [and] I don't think there's a really clear solution to that."
Louie was disheartened to learn the painting had been defaced and shared the opinion that there may have been a better way to communicate the same views that were expressed in the accompanying note.
"Whether or not you like Narcissa Prentiss Whitman and what she did in her life, [the portrait] is a historical artifact of the school [and] if you destroy it … you are also covering up history, which is bad. And if you care about discussing the wrongs of Whitman's history, you shouldn't cover it up. While [the defacement of the painting] is creating a discussion now, people who might come to Whitman [in the future] won't have those same discussions if the painting isn't there."
***
Stan Thayne, Visiting Professor of Politics and Religion, heard about the red paint on the Marcus Whitman statue the day it was discovered. "This isn't just random graffiti. It happen[ed] on Columbus Day, it's linking to the same way Columbus statues have been marked," Thayne said.
On and around Columbus Day, media outlets reported statues depicting Christopher Columbus in Houston, Chicago, New Haven, New York City, San Jose, Pittsburgh and Providence marked with red paint.
"Certain kinds of memorials are, in a sense, more offensive than the act of defacing [them]," Thayne continued.
For the past century and a half, Narcissa Whitman has been venerated as one of the first white women to cross the Mississippi. "She's being exploited, in a way, to celebrate what some historians have called 'manifest domesticity'––this way of celebrating the domesticating of the frontier and claiming this territory for whiteness, basically. Of course, she was complicit in ways, but the memorialization is about more than her, it's about the racial claim to this area," Thayne said. In an email, he added, "The death of Narcissa was used by President Polk and others to justify nationalist violence against Cayuse, Umatilla and Walla Walla people (and many others in the territory) … white womanhood was exploited by those who promoted U.S. white nationalism."
"As a faculty member, [I don't condone nor condemn it], but at the same time, as a faculty member … it's an opportunity pedagogically to think about categories like property, graffiti, memory… how this community and campus is represented, what's being memorialized. I would take it seriously as activism with a serious point to it." Thayne said.
"My hope is that rather than put it aside as graffiti to be ignored, I hope it will provoke an ongoing conversation about how the college should memorialize its namesakes, and provoke reflection and discussion on the political implications of material memory. Perhaps the portrait could be hung somewhere on campus now where students and faculty can see it and talk about it," Thayne wrote in an email.
***
Nancy Tavelli, Associate Dean of Students and Director of Residence Life, was one of the first to know that the painting had been defaced. "I think it's good to understand an historical figure and the life they lived in before you attack them," she said. Tavelli's daughters studied Narcissa Whitman in grade school and read portions of her diaries.
"I remember getting the feeling [from her diaries] that she realized she came out here but she wasn't really needed or wanted," Tavelli said. "I understand [the defacer's] statement and I also understand a little bit about her life and it's very different in the time she was in––to really think about what her life must've been like [is important]."
***
In an email to The Wire, Assistant Professor of Art History Lisa Uddin wrote, "The best public art is so because of how it activates a response to the ideas and conditions that swirl around and through it. Sometimes that requires altering an existing piece, or relocating it, or approaching it through another set of eyes, or publishing an article about it. The worst public art is so because it goes unnoticed and/or facilitates business as usual, which in this case we can understand as the afterlife of settler colonialism."
She continued: "For those who argue that these works are a part of the history of our institution and region and should treated (and conserved) as important evidence of previous time, I would call attention to 1) how these pieces extend a reference to that previous time into our present time, inflicting its expressive force along the way and 2) that the act of commemoration is distinct from the temporality of that which is being commemorated," Uddin wrote. "The Marcus Whitman statue, for example, is not a document of the 19th Century. Its first iterations were made in the 1950s, and the one on our campus was cast in 1992, after protest from some Whitman faculty a year prior and after the artist's son had began spearheading the project in 1987. These are not static objects to consult for historical lessons."
*
On November 8, President Kathy Murray delivered the following official statement to The Wire in an email: "Several weeks ago, I was disappointed to learn that the painting of Narcissa Whitman that hangs in Prentiss was vandalized. While a note was posted with the painting, I do not see this as a free speech issue.  Someone vandalized college property and defacing campus art is not acceptable. If we learn who is responsible, we will utilize our campus judicial processes."
Author's note: Since the initial coverage of the October 9 incidents in last week's issue of The Wire, I have been electrified by the community's response. This story, like all others, has a multitude of sides; some people are angry, some are appreciative, others are apprehensive or perhaps bewildered. With this article my aim was to offer an assemblage of opinions. Still, it remains incomplete. My hope is that our community will help me complete it. If you would like to add your angle to this ongoing conversation, please consider submitting an op-ed or a letter to the editor. Alternatively, reach out and share your thoughts with me in an email. I encourage you to use your voice.