Students Assemble for Change
This past Saturday, October 28, Whitman hosted the first ever Change Now conference for students of color and underrepresented student groups in the Pacific Northwest.
The conference lasted from 8:00 a.m. to 5:00 p.m. on Saturday, with students from ten colleges from across the Pacific Northwest. The conference was fully funded with a Diversity and Innovation grant from President Murray's office, making the conference itself free to attend and more accessible for student groups coming from far away. The format of the conference is similar to Power and Privilege, with panels running concurrently throughout the day. Groups of students from the ten different schools presented in these panels, with topics ranging from how to successfully organize protests on campus to navigating the process of sexual assault prevention and response as a person of color.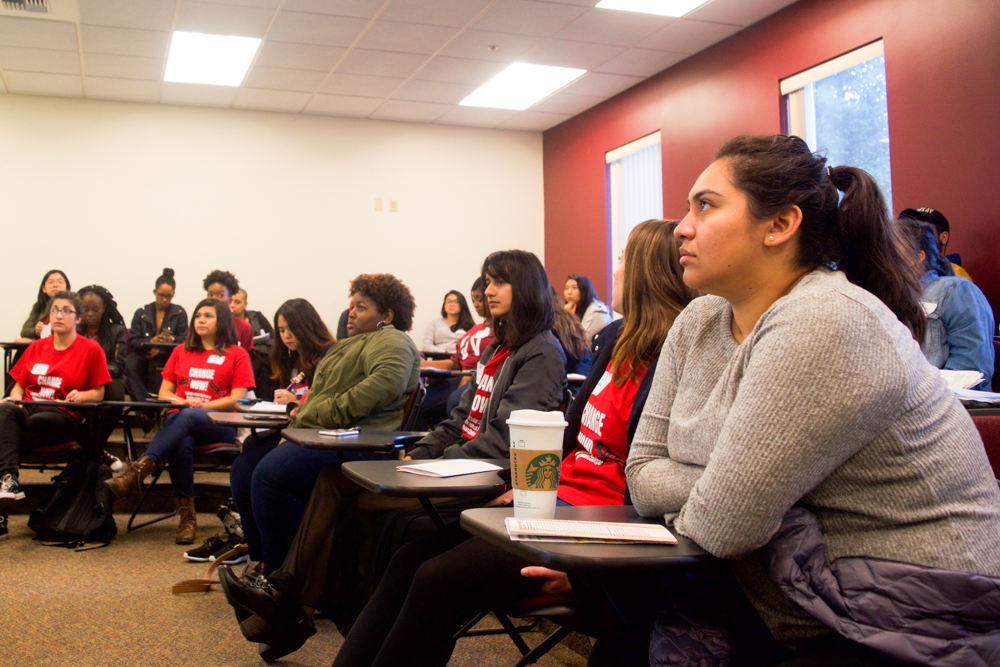 While the structure of the day was similar to Power and Privilege, the overall goals of the day were different. Change Now was developed by the Intercultural Center and students leaders from clubs across Whitman's campus to provide a space where underrepresented voices on small liberal arts campuses can be heard.
Cassandra Otero, one of the emcees of the event on Saturday, addressed the differences between the conferences.
"I think the point of Power and Privilege isn't to affirm people of color, the way I've seen it play out. While sometimes the workshops do amplify marginalized voices, the point is to educate the white majority," Otero said. "That's not really what we're trying to do here."
The emphasis of Change Now is the power that students have in creating change on campus and beyond, even if they feel like their voice often gets lost in favor of a majority opinion. All the panels were led by students, barring one, and the hosts of the day were two Whitman students, Cassandra Otero and Zach Turner. The keynote speakers of the event, Ashley Hansack '15 and Alisha Agard '15 are both activists who attended Whitman recently, overlapping with current students. This was an intentional choice by the organizers of the event to show the opportunities for leadership and ability to make a difference don't end when you graduate.
Agard spoke about her experience at Whitman and what she hoped to communicate through speaking at the conference in an email to The Wire.
"When I was a Whitman student, I organized around racial justice because I felt like as a student of color, I wasn't always supported. I felt isolated at times and as if I couldn't be myself without being watched or judged for being who I am. When I graduated, I was proud to be the first in my family to graduate despite the challenges I had faced," Agard said. "When Kazi reached out to Ashley and I, I knew that I wanted to give back to students who may also feel the way I felt while at Whitman; I wanted them to know that they have support."
Kazi Joshua, Chief Diversity Officer at Whitman, helped lead the effort to create and organize Change Now at Whitman. Having worked at other colleges where a conference like this takes place every year, Joshua wondered why there wasn't a similar opportunity for students at Whitman. One benefit he saw from participating in a conference like Change Now is the community it builds between the underrepresented students at these small schools.
"There's not really a space in the Pacific Northwest in which … underrepresented students can come together and realize [that] they may be present in small numbers on the campuses but when they come together, there's a broader network," Joshua said.
Zach Turner, one of the conference organizers, echoed Joshua's sentiments when he spoke about the intentions the student leaders had in planning the event.
"[We're] trying to get people past the feeling that they're alone, in an aspect of their identity that is underrepresented on college campuses," Turner said. "We're trying very hard to find a way to keep people in touch after the conference has ended as well."
As the students who attended the conference head back to their respective campuses, Joshua hopes that they leave with a stronger sense of their abilities to make an impact on campus and beyond.
"The temptation to adopt what is called 'deficit thinking' can be strong. That is to say, thinking in terms of what one does not have," Joshua said. "We want to emphasize here what we shall call 'asset thinking,' or 'capacity thinking.' Thinking in terms of the assets that students on Northwestern campuses have together to leverage change, to contribute and to transform."