On the Blotter: Whitman's 2016 Crime Report
On October 1, Whitman released the annual Clery Report which details crime statistics and summaries of security policies. After the Clery Act of 1990, all colleges and universities participating in federal student aid programs are required to to disclose campus safety information.
Director of Security Matt Stroe handles the crime and fire statistics while Juli Dunn, Associate Dean of Students, and Barbara Maxwell, Associate Dean of Students: Student Programs and Activities, focus on Title IX violations.
"I think that the statistics we report are as accurate as they can be. We use not only what is reported to Security and other officials on campus … but also crime data compiled by the WWPD to make sure we are as thorough as possible," Maxwell said.
While the act requires robberies to be reported, it does not require larceny reports. The Clery Act defines robbery as "the taking or attempting to take anything of value from the care, custody or control of a person or persons by force or threat of force or violence and/or by putting the victim in fear."
"So it is larceny if a bike in a bike rack is stolen, it is robbery if the bike is taken from someone who has the bike in their possession," Maxwell said.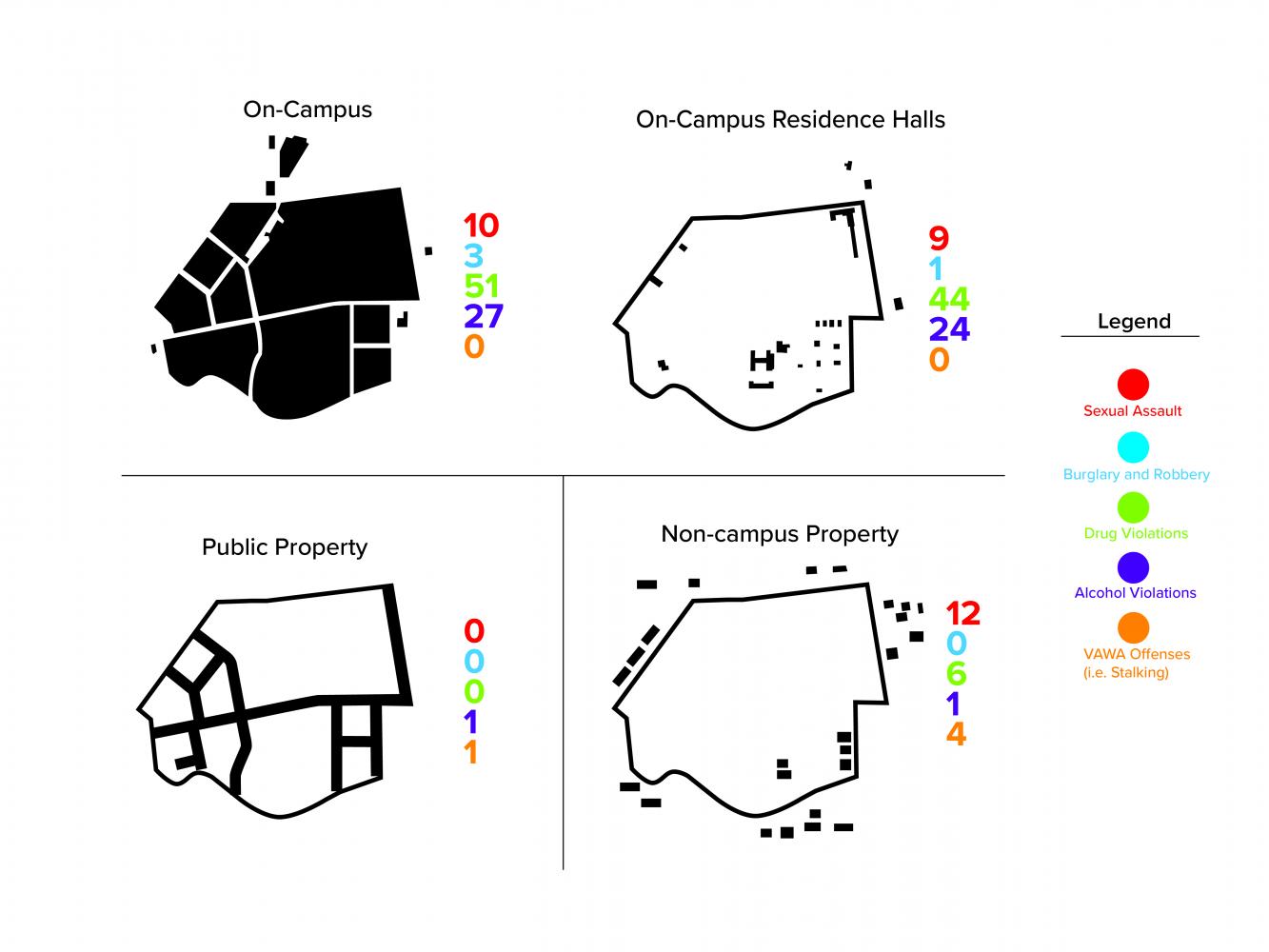 Because larceny is a less violent crime than robbery, it is included in the daily crime log, another important mandate of the Clery Act, but not in the Clery Report. Whitman College's daily crime log also reports incidents such as vandalism and malicious mischief, which is the destruction of personal property for vicious or mischievous purposes, are reported. According to Stroe, felony offenses are recorded in the Clery Act while misdemeanors and gross misdemeanors, such as larceny, remain in the daily crime log.
The Clery Act also requires the inclusion of the geographic area where the crime occurred.
"If the College is made aware of the incident through Security, Residence Life or the Dean of Students office, and it fits the Clery Crime reporting criteria in terms of geographical location or specific type, then it is accurately reflected in our numbers," Dunn said. "That said, there is a lot that happens, bike theft for instance, that occurs, but doesn't fit the Clery crimes criteria."
Unfortunately, if a crime occurs outside of the predetermined geographic area, it cannot be included in the report.
"A lot of stuff happens just outside of the geographical area or between two students away from campus," Dunn said. "While we count those situations for our Title IX log, they don't count for Clery, which can be difficult to reconcile."
Another challenge Dunn discussed is how the Clery Report functions on a calendar year, while the college tracks incidents of sex- and gender-based harassment, discrimination and violence on an academic year, making it difficult to compare.
If more information becomes available later, the report can be added to retroactively, creating a more robust and accurate data log.
Stroe has been the Director of Security for five years, and is happy to observe an active school culture of students looking out for each other.
"Luckily a lot of people do come forward and protect each other, and that's what's beautiful about Whitman," Stroe said. "It's Whitties taking care of Whitties and I love it."
---
Whitman College security regularly updates reported crimes on and around campus, available to the public here.
Quick Clery statistics are available here.