Shadowing Chalese Rabidue
I sit outside room 108 in the Courthouse on Main St., not knowing what to expect. I am greeted by Kandice, a YWCA advocate. She unlocks the room and Chalese Rabidue, the Domestic Violence Services Officer for the Police Department, comes in moments later. Every Monday-Friday, from 11:30-1:00, Chalese or a YWCA advocate leads an Order for Protection Clinic. The program, started by Rabidue, offers help to anyone who needs protection. Clients learn how to fill out the paperwork and told where to submit the forms. Nearly thirty pages long, the paperwork would be daunting to anyone and can be especially stressful for people in crisis.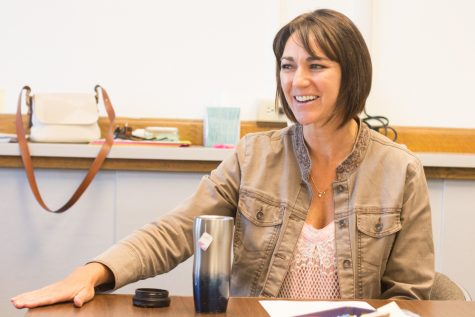 "Before this clinic, only 12 percent of protection orders were returned," said Rabidue. "Today, that number is closer to 80 percent."
The first person who comes in is a man in his early 40s. His hands are shaking. He's filing an order of protection against his wife, who, according to the man, is using prescription drugs and is unfit to be the primary caretaker. The hearing for this case is in two days. Kandice and Chalese answer all of his questions, including where to put supportive documents and which forms need to be copied. Chalese stresses the importance of having a plan for visitation, because if not provided with any, the judge will make his own.
While leading the clinic, Chalese receives a phone call from a client in crisis. She steps out of the room. When she returns, I can tell she is near tears. A few days ago, the woman had fled from her abusive husband and crossed state lines, a dangerous decision because she could be faced with kidnapping charges. The husband hired a private investigator and tracked her down. She decided to return back to Idaho instead of staying in a shelter.
"We have to let clients make their own choices, but it's hard." Chalese is visibly shaken. "This is really hard."
The next client who comes in is a mother. She's extremely worried about her teenage daughter who has recently started dating someone eight years older. As soon as the woman tells us his name, Chalese starts nodding.
"Oh yeah, we know about him."
The man, whose name cannot be included in the story, is a registered sex offender with felony charges. In this case, as in many others before him, he is paying for her nail salon visits, taking her out to meals and driving her around in his BMW. He's encouraging her to skip class, spend all of her time with him and delete her friends off of social media.
When the mother mentions his possessive behavior, Chalese immediately tells her to write that down in the testimony. The woman pulls up a picture of him on her phone and passes it around for us to see.
"He's an attractive kid. You would never think…" She trails off and we nod.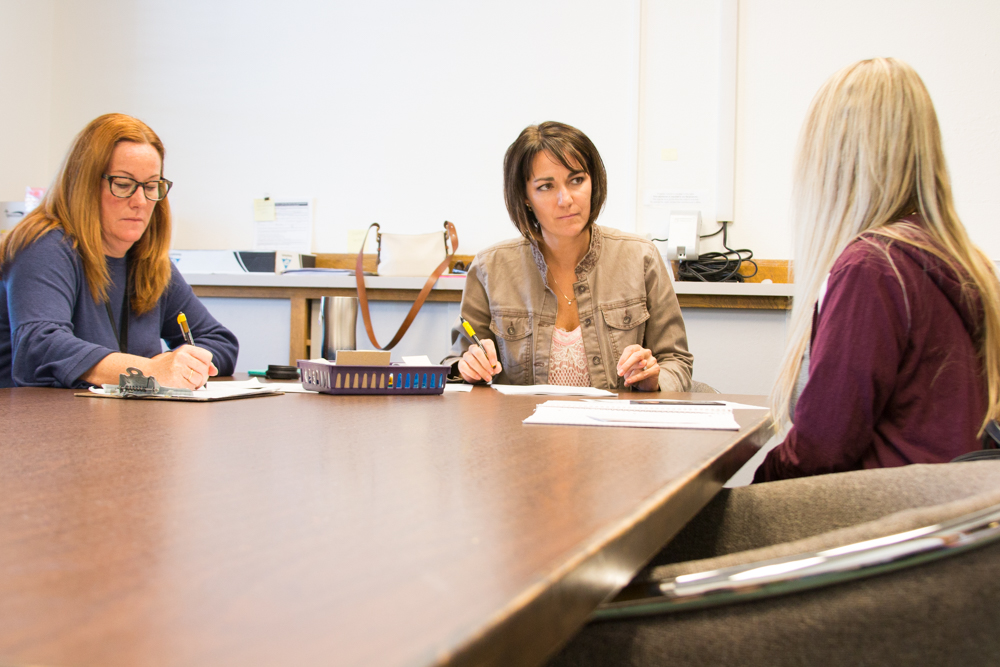 The next morning, Chalese picks me up and drives us to the Police Department. She introduces me to detectives, the captain and the officers specializing in narcotics and gang violence. It is a whirlwind. I stop to talk to Officer Michael Burnett.
"We're like medics. We deal with the situation right away. But Chalese, she's there for after care. She can walk them through everything." Senior Detective Marlon Calton agrees.
"When we need counseling, she's there. Our department is one of the better ones because we have an advocate. We're more in tune and able to respond better. Domestic violence used to be viewed as a family issue. Now that's not the case. It's a cycle, and it's tough for victims to get out of that cycle. Chalese helps them with resources, counselors … anything they need."
Chalese was the first social worker in Washington to be hired by a police department.
After touring the department Chalese and I sit down in her office and we start talking about the druggings on campus last year.
"Keeping our community safe means keeping our students safe. If someone is intentionally drugging people, that person needs to be held accountable," said Rabidue. "It's important to realize that this stuff does happen from people we know, and from people we like. Sometimes it's too close to see." She goes on to tell me about her own encounter with this. Chalese knew someone in high school who later strangled his wife to death.
"It's hard to talk to our friends and look back and see all of the signs."
While in her office, Chalese gets a call from a woman whose husband was the first client helped at the clinic yesterday. Chalese is working with both of them. She sounds extremely nervous, and Chalese tells her to write out her statement.
"It will help, you can get nervous up there. Make sure to plan what visitation would look like."
After the call we start talking about a client who is a victim of domestic violence. Her husband is a prominent member of the community, but she finally came in and filed an order for protection.
"Domestic violence happens everywhere, and across all socioeconomic levels." She tells me that, on average, women experiencing domestic violence will return to their abusers seven times. She often receives more calls from lower income areas, but explains that this can be a result of proximity.
"In lower income neighborhoods, it is often other people who call in the report. Neighbors are in closer proximity; it is easier to overhear when people are closer together."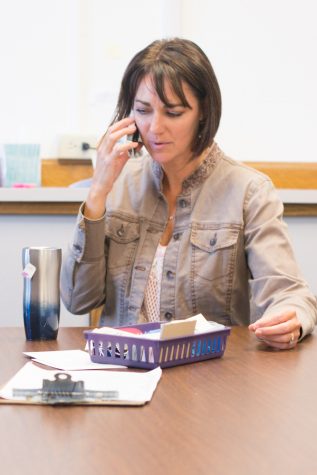 It is Friday, the last day of being in Chalese's world. I walk up the steps to the third floor of the courthouse on Main Street. After walking through the metal detector and being searched, I make my way to the courtroom. It is very small, with only room for about 25 people to sit in the pews. The room is full. It feels tense and uncomfortable.
A woman with two small children sits on a bench outside the room. Chalese walks over, and once she realizes the woman cannot speak English, she searches for a translator. She finds a bilingual YWCA advocate, and learns the woman's husband is in custody with ICE and will be deported to Mexico. She filed a missing person charge before finding out where he was and wants to drop her order of protection.
I learn later she is the victim of second degree domestic violence, meaning there was a weapon present. She lives with her husband's mother and has nowhere else to go.
The woman I heard on the phone yesterday is here with her parents and attorney. Both parties have filed orders of protection. The judge decides to rotate child visitation weekly, contingent on the husband's ability to find a suitable home with bedrooms.
I sit on the side with Chalese and a girl approaches the stand. She can't be older than sixteen. Her boyfriend is in jail and she wants to drop the order of protection, because she is pregnant with his child and wants to share the news with him. She asks if she can give him something; she reaches into her backpack and pull out a cut-out blue heart filled with writing. She is also the victim of second degree domestic violence.
The courthouse is only a few blocks away from Whitman College, but it could easily be a different world. I left each day near tears with waves of emotion that I didn't know how to reconcile. There is so much happening all around us that we like to pretend isn't there. As students, it's easy to block out everything that doesn't directly affect us and focus on what does. But in the process, we distance ourselves from even thinking about issues going on in our community, and the people we need to support. There is no way of knowing what people are forced to deal with every day of their lives, which is why it is so important to treat everyone with compassion. The past three days gave me a very real reminder of this. And it made me realize how vital people like Chalese are for our community and the world.
For great content like this delivered to your News Feed daily, like the Whitman Wire on Facebook.