Greek Life Attracts Fewer New Members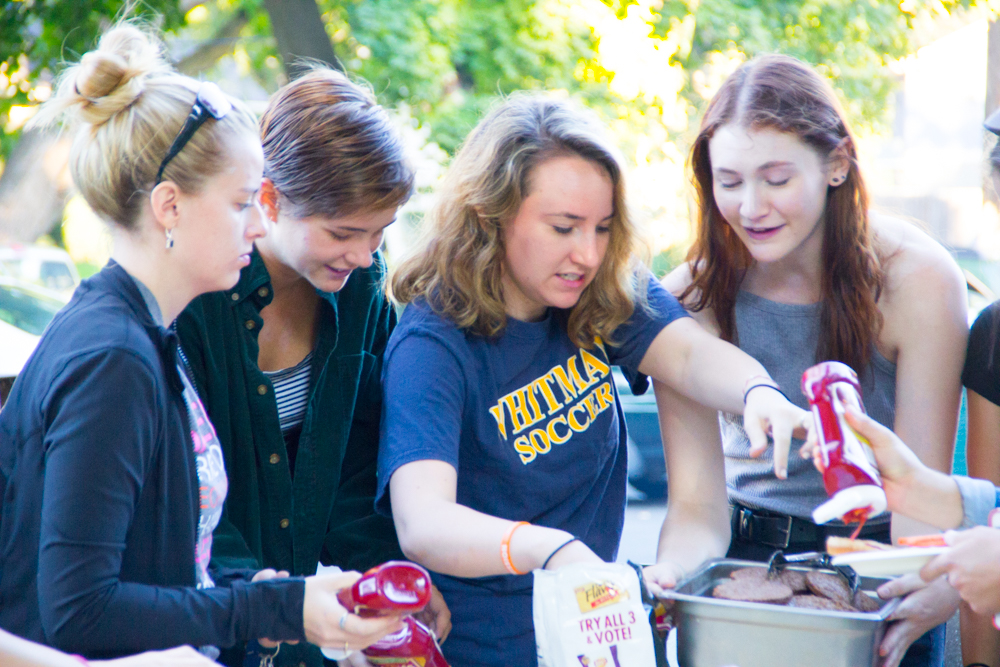 Sororities and fraternities this year both experienced a low turnout for recruitment and rush, resulting in smaller pledges classes all around. The fraternities received a total of 53 pledges, notably below their goal of 60. Sororities, which balance and distribute bids, lowered their pledge class size limit from 25 to 22 after low turnout throughout recruitment. In total, they gained 77 new members.
By comparison, in 2016, fraternities gained 74 pledges and sororities gained 99 pledges.
It is unclear what the cause is of the low turnout for sororities this year. Molly Unsworth, President of Panhellenic (the governing body of the sororities), points to the recruitment process as part of the problem. "It is a lot. In three days of recruitment, we often place over 100 women into four chapters." Recruitment competes with the already packed schedule of first-year students. "The issue we had with a lot of women dropping out [of recruitment] this year was they didn't want to spend that much time as a first-year woman."
Unsworth also considers the increased transparency around the financial cost of joining Greek life to be an important factor in students dropping recruitment. "In the past, when I was a first year, they wouldn't answer your questions. If you tried to asked them, straight up, how much it costs to be in a sorority … no one would answer you. This year, right off the bat, we have tried to be really upfront and really clear about how much it costs to be in a Greek organization," Unsworth said.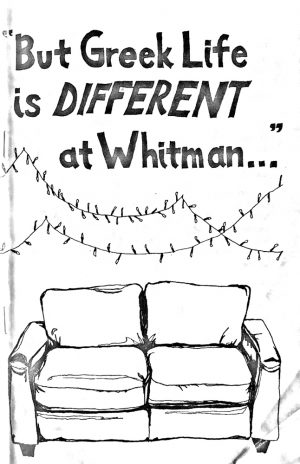 Kyle Fix, the Interfraternity Council (IFC) President, also identified an anonymously published zine titled "But Greek Life is Different Here" as a potential factor for the low rush numbers. The zine circulated around campus and residence halls in the beginning of the school year with the stated purpose to "share some of [the author's] insights and opinions about the Greek system that first-years may not otherwise hear during the recruitment process." Fix surmised this zine could "throw people off, seeing it at face value" and might "cast that doubt in Greek life that's not usually there."
The low turnout of recruitment is affecting each chapter differently. While three sorority chapters received 22, 21 and 20 pledges, one chapter only received 14. This is much lower than last year when the distribution of sorority pledges was at 26, 26, 25 and 22. Unsworth plans on promoting a more structured continuous open bidding into the semester (an informal process allowing students to join a sorority after recruitment has officially ended) in hopes of equalizing pledge class size.
This disparity has been an ongoing issue in fraternities, the IFC has taken steps to resolve this. This year TKE and Phi received 21 and 19 pledges, respectively. Sig received 9 and Beta received 4. In the 2016 fall rush season, TKE received 35 pledges, Phi 20, Sig 15 and Beta received four. For Beta this is a particularly potent issue, as they nearly lost their house last year due in part to low numbers of live-in members.
President of Whitman's Beta Theta Pi, Jules Choquart highlighted that the entire Beta chapter was motivated to recruit pledges and "very committed to that goal." Although they did not reach their goal of 10 pledges, they will remain open and will continue to rush throughout the year.
This year the IFC has made rush significantly more structured. They have removed 'open lunches' whereby fraternities invite students out to lunch, and implemented 'open house tours' to allow students to visit each house. "This reduced the financial burden put on the smaller houses and allowed them to gain equal exposure to everyone interested in fraternity rush," Fix said. "It is IFC's place to make sure all houses receive an opportunity to do well."
Unsworth and Fix both expressed relief that the process was over. "Rush and recruitment are a necessary part, but not everyone's favorite part," Unsworth said.