Mt. Trashmore highlights Whitman recycling woes
But where do recycled materials actually go?
On April 5, 3,600 pounds of trash was dumped onto the Cordiner lawn, a week's worth of waste for the college. Included in the mix were Bon App dishes, unopened packages of chips and a Nalgene water bottle. In total, an estimated 70 percent of the materials thrown away could have been recycled.
Mt. Trashmore, a new event on campus, aims to educate the Whitman community about recycling and the ways we can improve sustainability efforts. Genean Wrisley, the student outreach coordinator for the Office of Sustainability, said the purpose of the event isn't to guilt-trip.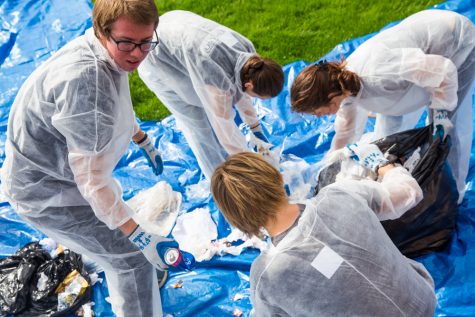 "Educating yourself is really important," Wrisley said. "On the ASWC Sustainability Survey, everyone who took it chose the option 'I work very hard to recycle everything'. To go through our trash … obviously there's a disconnect.
Of the 800 pounds processed at the event, 60 percent of the waste was paper products, 4 percent was aluminum and 8 percent were plastic products. Only 10 percent of the waste processed were materials that could neither be recycled or composted. The Bon App bowls, cups, coffee mugs and silverware were returned to the dining halls.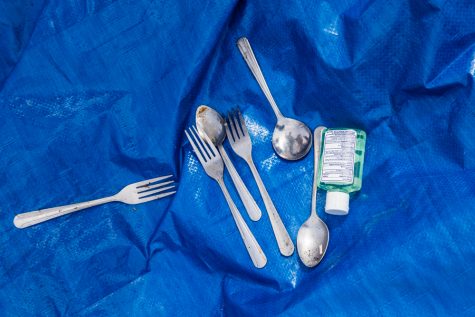 Volunteers recovered 100 pounds of uncontaminated materials that can be processed and recycled.
Once materials such as paper, cardboard and aluminum are processed at the campus recycling facility and Walla Walla Recycling then all materials are sent to Pioneer Recycling in Tacoma to be processed. According to Brandon Bishop, the Campus Sustainability Coordinator who put on the event, the recycling process is difficult for rural municipalities such as Walla Walla Recycling. A major reason why glass is not recycled in Walla Walla is because of the single stream recycling policy.
"The policy implications of single stream recycling have had detrimental impacts on the recycling industry," Bishop said. "With increased hauling costs, sorting costs and safety concerns at Material Recovery Facilities, a number of entities will no longer take glass. These costs coupled with glass recycling and production have made recycling glass unviable for a number of rural and small municipalities. This has significantly impacted glass recycling programs within eastern Washington and Oregon."
The financial element of recycling is the major factor in determining the answer of what, where and how products get recycled.
According to Walla Walla Solid Waste Coordinator Melissa Pike, the recycling industry is fundamentally based on commodity pricing, with prices fluctuating dramatically.
Walla Walla currently runs a $15 deficit per ton of recycling, but sometimes the number is positive. Pike remembers times when revenue was as high as $45 per ton, and as low as a deficit of $35 per ton.
The number comes down to a number of factors, namely local and global commodity pricing.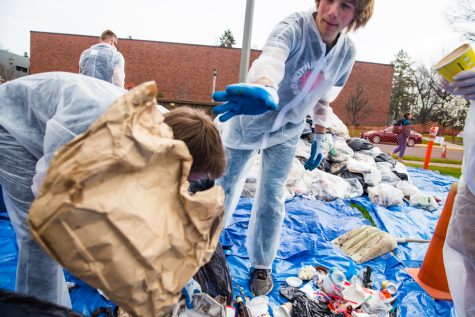 The ultimate fate of the majority of products recycled in Walla Walla is decided at Pioneer Recycling, where commingled bails are sorted and shipped off for processing. Pioneer Recycling makes an effort to recycle locally, but the global manufacturing process renders this task more and more unfeasible, according to Pike.
Some materials have a strong enough domestic market to keep them in the United States. These often include cardboard, aluminum (which Walla Walla recycling actually purchases from individual entities like Whitman College) and newsprint paper.
Plastics, some tin and mixed paper almost always go to China. The country purchases the materials so that its manufacturers may repurpose them into entities like consumer products. As for the Whitman rumor that these materials are "burned" in China," Pike said this is generally not the case because it wouldn't make any sense economically.
"[However] if material is not deemed high-quality enough to use in recycling, there is a change that that material is sent to a waste to energy plant," Pike said. In this case the waste is burned for energy.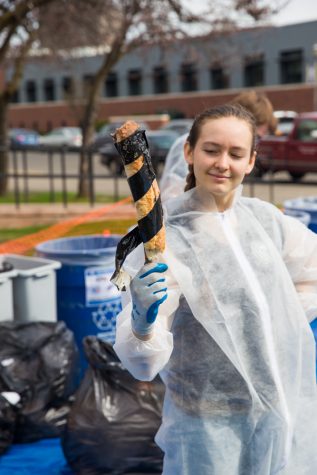 Bishop said incentive systems that encourage such carbon-heavy processing is partially "due to the decreased value of petroleum." But these factors are in continual flux.
In particular, China has begun to crack down in recent years of abuses to the recycling system, in which bales of "recycled" materials arrive full of trash and smuggled products. Pike described an enhanced potency in the Chinese regulatory apparatus. "National Sword 2017" is a new program where Chinese inspectors often analyze materials before they even embark on the trans-Pacific voyage. Because American recyclers must absorb the return cost of a rejected shipment, the program is sending waves through the industry.
This dramatically affects commodity prices. Since only March, paper-grade prices have dropped over 50 percent, according to Dave Claugus, owner of Pioneer Recycling in Tacoma. In an email to Pike, he wrote that he has "not [seen] such a dramatic decrease at any other time" in his career.
Pioneer Recycling, for its part, claims to have added sorters to meet these higher certification standards on its recycling shipments.
"Recycling," said Pike, is a "commodity based industry. It's not sunshine and unicorns. It's a business."
For members of the Whitman community, Mt. Trashmore provided a strong visual reminder about the amount of waste the campus generates, and aims to have individuals rethink the way they look at waste and recycling.
"Reduce, reuse, and then recycle," Wrisley said. "Recycling is a last resort."