Robart Comes to Campus
Whitman Alumnus Judge James Robart '69 made national and international headlines earlier this year for blocking President Trump's so-called "Travel Ban." The Wire wrote about Judge Robart a week after the decision, and the Honorable Judge visited campus last Friday, March 31.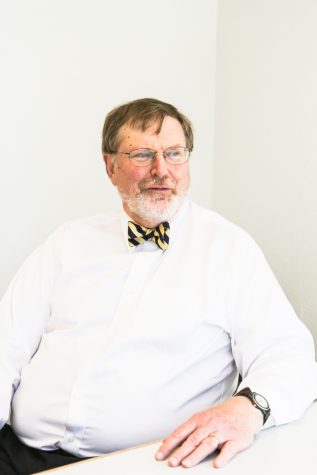 During his visit to Walla Walla, Judge Robart met with students in the classroom and at the lunch table. He answered questions about the suspension of the travel ban as well as responding the imminent legal battle over Supreme Court Nominee Neil Gorsuch's Senate hearing.
Judge Robart also took time to sit down with Wire News Editor, Chris Hankin. Below is a partial transcript of that conversation:
Can you tell us about any experiences you had while at Whitman that were particularly impactful to your current career?
"While I was an undergraduate [in Sigma Chi] the decisions we made about preventing discrimination in the fraternities and sororities was a situation that arose during my time at Whitman. I think that it brought home some of the racial questions that were under active discussion in America at that time."
Can you talk about whether or not the value of a Liberal Arts education has changed since you graduated?
"I'm not sure it has changed. It seems to me that if you're going to go to College, you have a number of choices that are open to you. A professional, vocational program, for example. The value of liberal arts to me was distribution requirements that force you to have experiences in a number of different experiences in the liberal arts. For me, that was followed by three years of law school. So I also got that professional, vocational education. I was exposed to a lot of different things through my liberal arts education. An emphasis on researching, analyzing and writing, which has served me well when I got into law school. You apply those skills later."
Can you address some of the critiques that have been made in regards to your suspension of President Trump's travel ban?
"The issue of activist judges, interfering with the President's prerogatives in regards to the travel ban, the executive orders. Those kinds of claims were made in Brown v. Board of Education of Topeka, with judges integrating education. In Roe v. Wade, the policy in regards to a woman's right to abortion as opposed to state regulation of it. In Gore v. Bush the court appeared to make a political decision rather than leaving it to the people. Those are an example of a historical reaction to a decision which was perceived by some part of the country as activist judges.
"Go back to the Dred Scott decision, the civil war, when Lincoln suspended the right of habeas corpus. Explain to me how that was not a political decision. If you're going to have a court that is involved in all of the issues that arise under federal laws and the constitution, it is inevitably going to touch on issues that are politically charged. The holding in many of those cases is judges trying to do as little as possible, because they understand that they are not a political body, but rather a constitutional one."