Excess Success
Every Thursday at 7:30 a.m., Molly Burchfield and Julia Gratton, two dedicated members of Campus Climate Coalition's (CCC) food recovery program, arrive at the back loading dock of Prentiss Dining Hall. After loading up to 150 pounds of prepared meals, they drive to the Center at the Park, a local senior community center. The donated meals provide senior community members with access to affordable, freshly prepared food. Any person over the age of sixty can join the free meal service.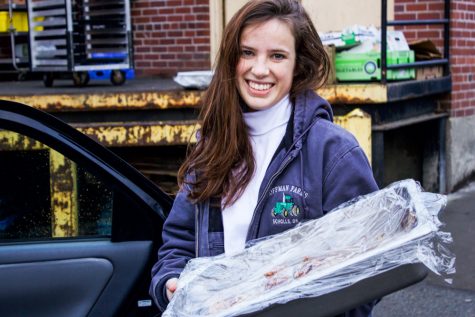 Currently, the program recovers an average of seventy pounds of food from the Monday to Wednesday Prentiss dining hall services. Burchfield started the food recovery program last fall and hopes to expand to a full-week program that recovers food from all campus dining halls. "The dining halls produce a lot of food waste, and in a town where we have a lot of hunger, it seems like an efficient system to work on both at the same time," Burchfield said.
If not recovered, the meals would be classified as pre-consumer food waste. On any given Thursday morning, food items such as whole pizzas, stuffed bell peppers, quinoa salads and full trays of chicken breasts and ground beef are recovered. All of this would end up in a landfill simply because of overproduction.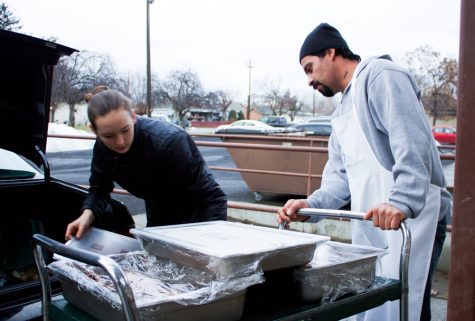 Brandon Bishop, the Campus Sustainability Coordinator for the Office of Sustainability, believes food waste is a big problem in the United States.
"The amount of resources such as water and energy that went into growing, processing and transporting this amount of food is staggering. Not only does food waste have an impact on greenhouse gas emissions, but it diminishes the optimal use of our resources," Bishop said.
Walla Walla County census data collected in 2015 found that 17.6 percent of residents and 9 percent of seniors (65 and older) lived below the poverty line. According to the USDA Food Environment Atlas, 23.7 percent of Walla Walla County residents have low access to grocery stores and the county was given a C rating for food access in general. The rating was determined based off the following criteria: percentage of population with low access to grocery stores, number of fast food restaurants per 1,000 residents, percentage of students in the county eligible for the free and reduced lunch programs and food stamp redemptions in dollars divided by the number of food stamp eligible stores.
The last food audit on campus was conducted in 2007. It was found that kitchens on campus produce about 5,488 pounds of food waste per week, which amounts to 192,000 pounds of food waste per academic year and 128 pounds of food waste per student per academic year. This audit did not include post-consumer food waste. If included, this would likely double the overall food waste produced by Whitman College, according to Bishop.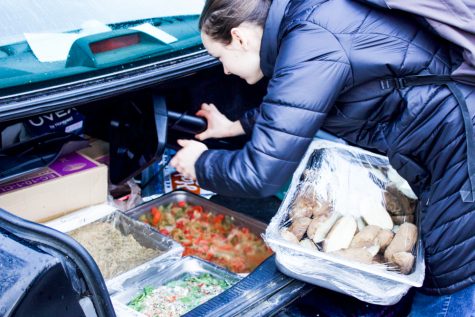 Genean Wrisley, the Outreach Coordinator for the Office of Sustainability, believes the amount of food waste on campus is too high. "People constantly waste food without even thinking about it, which is easy to do with buffet style dining … it is essential to pay attention to our food waste and try and minimize it as much as possible," Wrisley said.
Food recovery programs, such as the one run by Burchfield, not only combat the ecological and economic externalities of food waste, but they also provide freshly prepared meals to those who otherwise may not have access.
"Food waste is the full embodiment of economic ineffectiveness and ecological degradation, and is a significant issue of social justice," Bishop said. "CCC's food recovery program is commendable."