36 Years of Chuck
Dean of Students Chuck Cleveland reflects on legacy.
The Washington State Penitentiary looms large and mysterious from its sprawling complex on the outskirts of town. After an evening of drinking in the early 2000's, two Whitman students decided to appreciate its charms in the only way immediately available: breaking in.  
"They went out and they started to scale a fence… it was on the south side of the prison, barbed, razor wire-top. Next thing you know, tower lights come on, officers are pointing guns at them.  So they got arrested, and so we worked through that," Dean of Students Cleveland said, laughing.
After 36 years as Dean of Students, Chuck Cleveland will retire after this year. Whitman is currently searching for his replacement and is in the final stage of the process, with four candidates remaining. Whichever candidate ends up with the job will have quite the legacy to live up to.
Dean Cleveland is no stranger to late night shenanigans. He has dealt with many challenges during his time at Whitman. Reflecting upon the more serious incidents, he explained the importance of his relationship collaboration with law enforcement.
"I've been able to work with the police over the years and the city prosecutors to help put things in a learning context…My philosophy about conduct is not punishment, it's about learning. You want to do the minimum thing you have to do to result in changed behavior," he said.
The ability to remain level-headed while dealing with complications is a crucial skill for any Dean of Students and one Dean Cleveland utilized time and time again. This requires an eye for the big picture.
"You gotta be careful that in these jobs that you're not taking a narrow focus, you've got to have broad perspective and you have to listen," he explained.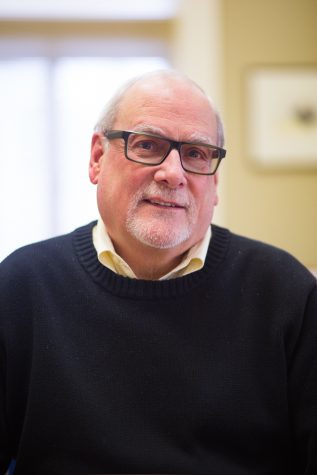 He also stressed his skill at forming durable relationships as a contributing factor to his longevity. This is especially relevant at a college of Whitman's size where the tight-knit nature of the community is often a drawing factor for both students and faculty. Dealing with conflict, he tries to maintain this comprehensive perspective.
"I always tell my staff, 'It's better to build bridges than burn bridges,' that's been a philosophy that has been important to me," Cleveland said. "I tell them, 'We live in a grey area; things aren't necessarily right or wrong and you've got to get comfortable with the grey area because what you want to do is make decisions that are best for students, best for the college all around.'"
In his work with specific identity groups, Dean Cleveland acknowledged both the advances the school has made and the strides it still needs to take. He referenced his efforts to make LGBTQ students feel more welcome.
"Early on in the 90's, I had a student who was my advisee come in and want to fly the rainbow flag from the flagpole. I found out then that Whitman only flies the American flag and so I took it to the President's cabinet and we agreed to fly it and we hung it in the center of campus… I'm very proud of those things," he said.
The flag then flew, but diversity on campus remained an often overlooked issue. This manifested in the state of clubs championing diversity at the time:
"There wasn't a logical place for them to meet. They'd be in nooks and crannies in the Reid center; they'd meet in classrooms; they'd meet wherever they could," he recalled.
In this challenge, he saw an opportunity. Formerly the senior art studio, the Glover-Alston center was at the time in a state of disarray. The new art center was soon built and an idea came to Dean Cleveland.
"My thought was, 'Wow. We could take that house,' it's a beautiful house, the bones are there, 'and turn it into a center where diversity clubs could meet.' It took us a while to get it going, but the chair of the diversity committee at that time was Judge [James] Robart and he, with the diversity committee along with me and students, came up with the concept and put it together."
Much of his legacy seems grounded in the improvement of student resources. Along with the nation, Whitman has begun to improve its support of students with psychological issues. Though certainly an ongoing issue, Dean Cleveland takes pride in the steps the college has taken.
"It's sometimes difficult to help them be successful. Virtually all of them graduate and they do well, but there's oftentimes a period of time that's really hard for them and we try to help them work through that.  That's been a big change probably in the last 15 years," he observed.
A lot has changed under his watch over the past 36 years and Dean Cleveland seems to think the time is ripe for another, both for himself and Whitman.
"It's just time. I think Whitman will benefit from a new vision and a new voice and you tend to know when the time is right. So, while I have no qualms leaving, when I walk out that door for the last time, I'm not quite sure, I worry about being bored, but I don't think I will be."